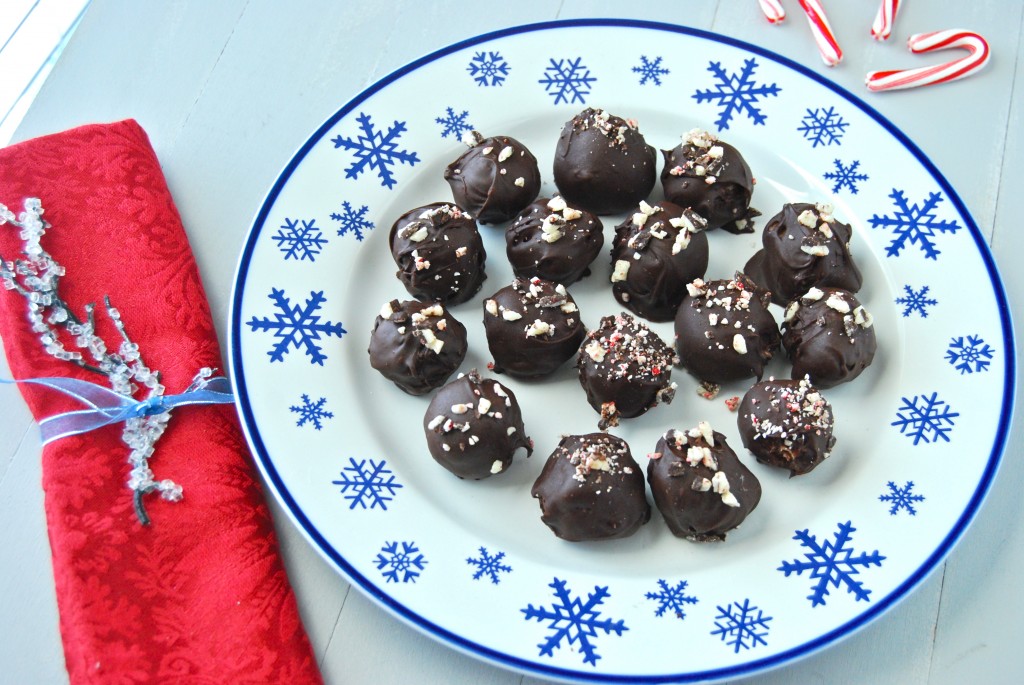 This past weekend, I helped throw my best friend a baby shower.  When I was trying to figure out what to make, I came across this recipe for Peppermint Bark Cheesecake and thought it sounded phenomenal! I wanted to do it in a mini version and then I thought, why not make it into a truffle since that's easier to pick up and eat? I did actually try to make it into mini cheesecakes too, but I burned the oreo crust so I scrapped that idea pretty quick and just went with the truffles.
I'm so glad I did, because these little bites were amazing! So creamy and the peppermint bark gives it a refreshing flavor and crunch in the middle.  Everyone kept asking me, "what's in these, they are so good?!" I made a double batch and got 5 dozen, so I dipped the ones I needed and then put the rest undipped in the freezer for parties later on this month.  These are a bit of a process with making the peppermint bark a day ahead, then the batter and chilling it, then rolling and chilling, then dipping.  But trust me when I say, they are worth every bit of the wait! These are the perfect Christmas treat for a party or family gathering.  I can't wait to try these with different add-ins and flavors!
Thank you so much to everyone who entered the Black Friday giveaway! I enjoyed reading everyone's responses so much! It was so neat to see your traditions.  It seemed about 50/50 on the shopping/no shopping.  Here is the winner from the giveaway:
Comment # 115 was Hillary S.
Hillary, I have sent you an email, please respond and I will get you your Amazon gift card.  If no response by Friday, I will pick a new winner.  Thanks so much again everyone! I am so blessed to have you all here at Macaroni and Cheesecake! Now, onto the recipe…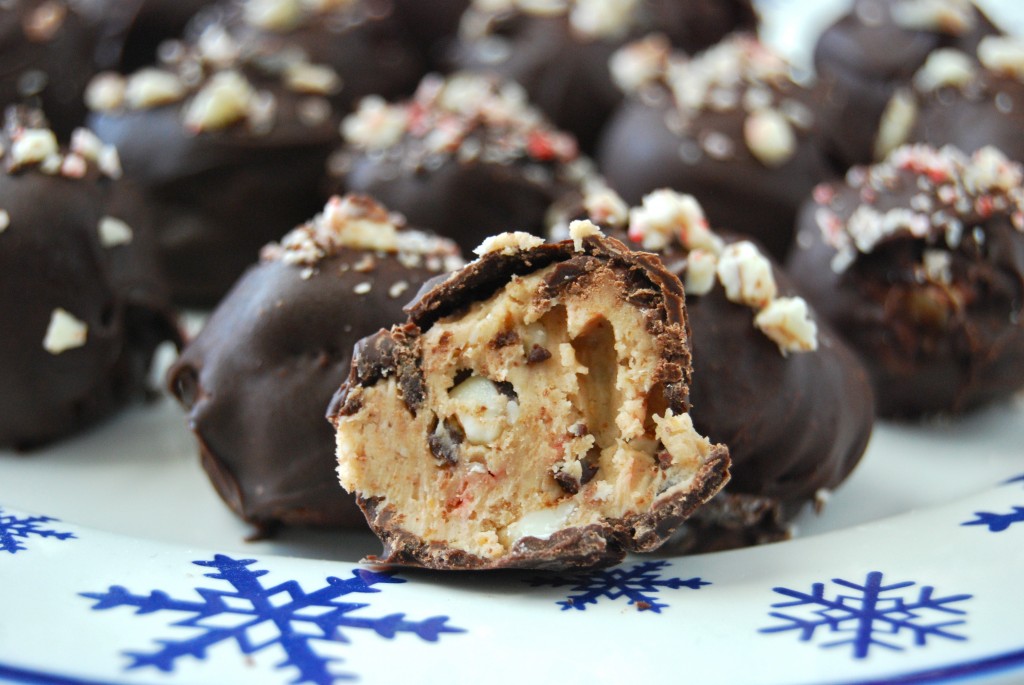 Peppermint Bark Cheesecake Truffles
Source: Inspired by Baked By Rachel, recipe adapted from Annie's Eats
Makes approximately 2 1/2 dozen truffles depending on the size you make them
Ingredients:
1/2 recipe Peppermint Bark
8 oz. 1/3 less fat cream cheese, softened
1 cup plus 2 tbsp. graham cracker crumbs
1/4 cup confectioner's sugar
1/4 tsp. Peppermint Extract
4 oz. white chocolate, melted
For Coating:
16 ounces semi-sweet chocolate chips, melted
splash of canola oil if chocolate becomes too thick
Directions:
The day prior to making truffles, make your Peppermint Bark and place in refrigerator to chill.
Once ready to make truffles,  Break the Peppermint Bark into large pieces so they are easier to work with, then place on a cutting board and chop into very small pieces.  (You could use a food processor here but I felt it broke up the bark to much and prefer it chopped by hand).  Reserve 2 tbsp. of chopped Peppermint Bark and store in refrigerator to sprinkle over the truffles after they are dipped. Set the rest of the Peppermint Bark aside to be added to the truffle mixture.
In the bowl of a stand mixer, add the softened cream cheese, graham cracker crumbs, confectioner's sugar and peppermint extract.  Mix on medium high speed until fully incorporated, scraping down the sides if necessary.
Meanwhile, Place water in a small pot and heat over medium low heat until steam rises.  Place a double boiler over top and add in the white chocolate.  Stir until melted and smooth.  Once melted, add the white chocolate to the cream cheese mixture and mix until fully incorporated.
Add all remaining Peppermint Bark to cream cheese mixture and with the mixer on medium low speed, mix until evenly distributed.  Remove bowl from stand and place in refrigerator to chill for at least one hour, until it's a consistency that is firm enough to roll together.
Once chilled, Place wax paper on a baking sheet that will fit in your refrigerator.  Roll cream cheese mixture into balls about the size of a tablespoon.  Place on wax paper and repeat with all remaining batter.  Place balls in refrigerator to chill for at least 1 hour.
When ready to dip, Place water in a small pot and heat over medium heat until steam rises.  Place a double boiler over top and add in the chocolate chips.  Stir until melted and smooth. If chocolate is too thick, stir in a splash of canola oil (I used about 1 tsp) until its a dippable consistency.
Using a fork, dip each ball into the chocolate, coating completely and scrape off any excess as you remove the ball from the bowl.  Place back on the wax paper. Repeat for remaining truffles. Once dipped, sprinkle with the reserved Peppermint Bark. Let truffles set on the wax paper until chocolate has hardened.
Store in an airtight container in the refrigerator.
To Freeze: Follow recipe up until the dipping process. Place them undipped on a baking sheet covered with wax paper and place them in your freezer and freeze for at least 30 minutes. Once frozen, transfer them to a ziploc bag and store in the freezer until ready to use.  When ready to use, simply remove them from the freezer and let thaw in the refrigerator and dip.
Note: I haven't tried it, but I bet you could use store bought peppermint bark, or maybe even the Ghiardelli Peppermint Bark Chocolates.