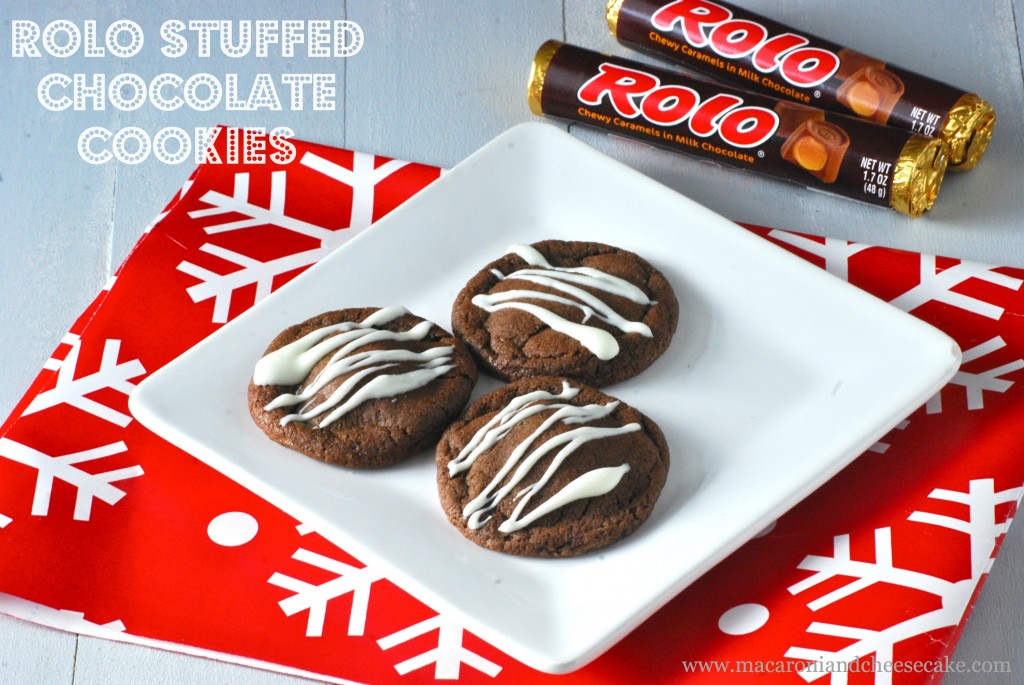 I  went to a cookie swap this weekend and when I was trying to figure out what to make I reached out to you all on social media and someone suggested rolo cookies and I thought they sounded fabulous, so I went in search for a recipe.  The original recipe called for nuts, but I opted to leave those out and they were still wonderful.  They were soft and chewy and the caramel in the middle from the rolos was nice and gooey, especially if you heat them up slightly right before you eat them.  These were great for the cookie swap and there was none left over, so that's got to be a great sign! I halved the recipe and it made a little over 2 dozen cookies.  The recipe below is the halved recipe, but it's easily doubled to make 4 dozen.  Also, I bought the rolos in the stick with the candy bars near the cash register.  There is 8 in a package and they weren't individually wrapped, which made it a lot easier!!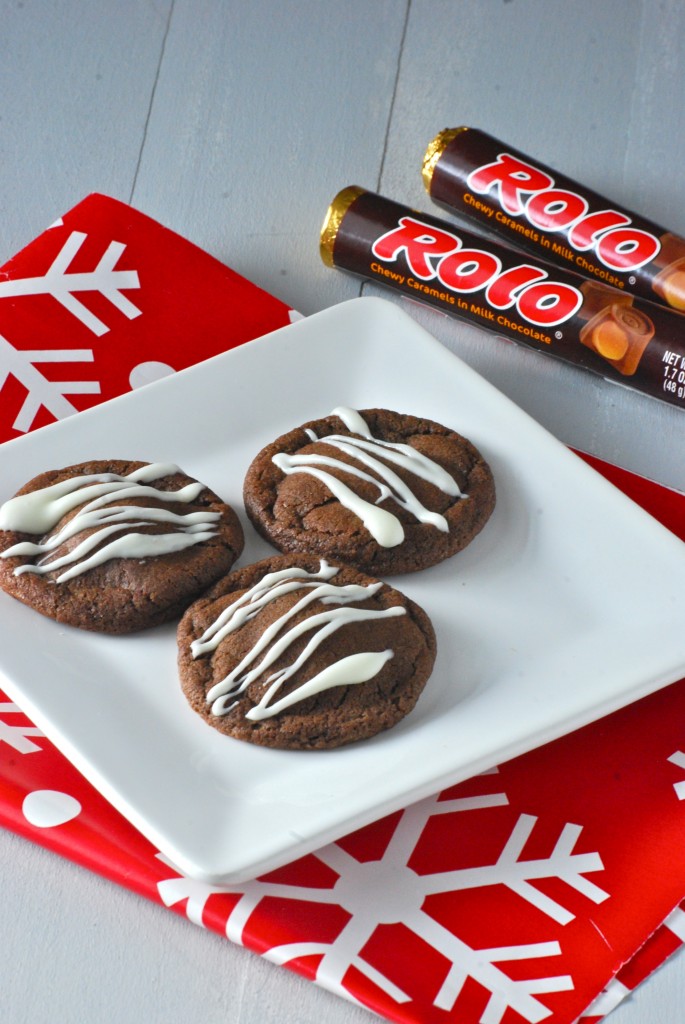 Rolo Stuffed Chocolate Cookies
Source: Pillsbury
Makes approximately 2 dozen cookies
Ingredients:
1 1/4 cups all purpose flour
1/4 plus an 1/8 cup unsweetened cocoa powder
1/2 tsp. baking soda
1/2 cup sugar
1/2 cup light brown sugar, packed
1/2 cup unsalted butter, softened
1 tsp. vanilla
1 egg
24 Rolos
4 oz. white chocolate, optional
splash canola oil
Directions:
In a medium bowl, whisk together the flour, cocoa powder, & baking soda.
In the bowl of a stand mixer, mix together the butter, sugar & brown sugar until fully incorporated and light & fluffy. Add in eggs & vanilla & mix until combined. Gradually add in the flour mixture and mix until just combined.  Chill dough in the fridge for approximately 30 minutes.
Preheat oven to 375 degrees. Line a cookie sheet with parchment paper, set aside.
Scoop out approximately 1 tbsp. of dough and press a rolo into the center.  Wrap the dough around the rolo and roll into a ball making sure the rolo is completely covered.  Place the dough ball onto the prepared cookie sheet.  Repeat for remaining dough, placing cookies 2 inches apart.
Bake for approximately 7 to 10 minutes, until centers are set and the edges are slightly cracked.  Let cool on the baking sheet for a couple of minutes, then transfer to a cooling rack to cool completely.
While the cookies cool, place a small amount of water into a small pot and place over medium low heat.  Once steaming, place double boiler over top and add the white chocolate and a splash of canola oil and stir until it's completely melted and smooth.  Using a spoon or fork, drizzle the melted white chocolate over top of each cookie and allow to cool until set. Store in an airtight container.