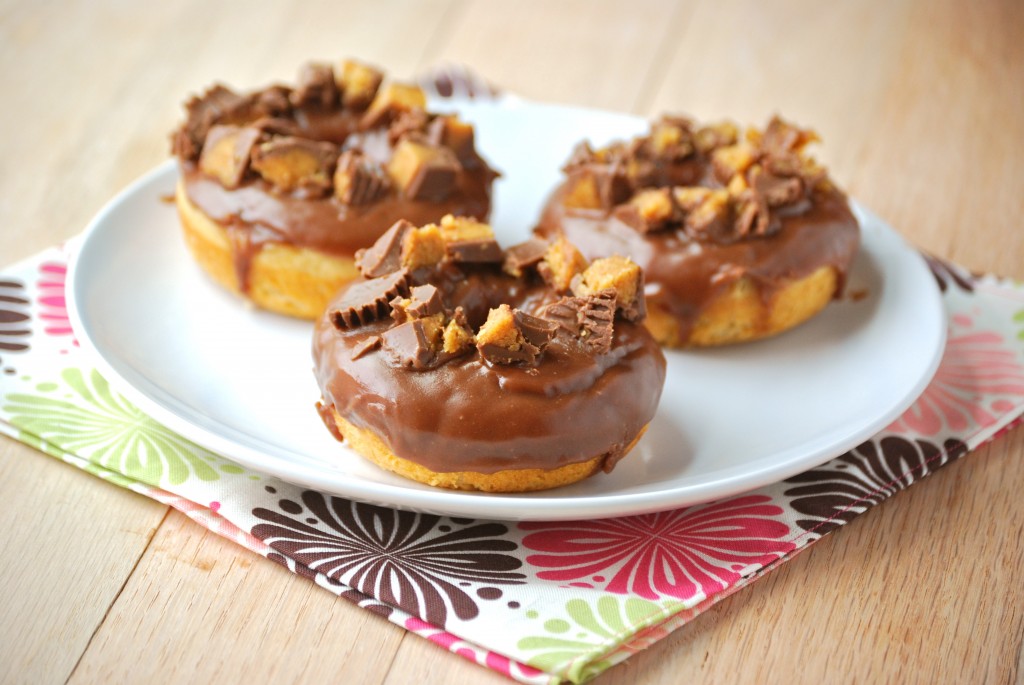 I may have mentioned it on here, but back in the fall I was in a baking/cooking/blogging rut where I couldn't figure out what to make and just didn't want to get in the kitchen.  I powered through it and kept getting in the kitchen and looking for inspiration and with the holidays and God's help, I quickly came out of it.  I had a sort "bloggers cooking block" and I just could not figure out what to make and blog and Adam was helping me brainstorm one night and said, why not make Peanut Butter Donuts? So I put them on my list of things to make and then the holidays came and went and I realized I had never made them.
Some friends of mine recently had a baby and we were taking them dinner and I knew that would be the perfect time to try them.  So I went in search of a recipe and found a fabulous one! The first batch I made came out a little dry so I upped the wet ingredients and they came out perfectly the second time! Very moist and flavorful,  and this glaze is phenomenal!! Definitely do not skip out on it!  I did try a couple dipping the entire donut in the glaze and the donut kind of fell apart, so I recommend just dipping the top half like I did in the ones pictured here.  Also, they were just as good without the reese's on them if you want to skip that part.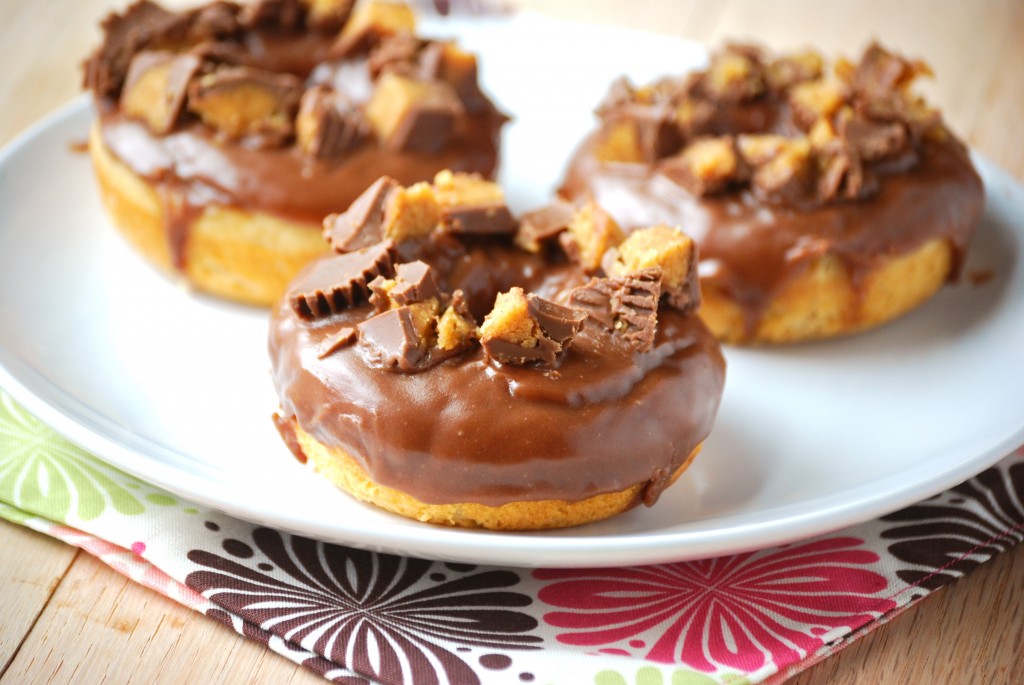 Baked Chocolate Glazed Peanut Butter Donuts
Source: Donut Recipe from Fake Ginger, Glaze from Group Recipes
Makes 6 Donuts
Ingredients:
For the Donuts:
1/4 cup peanut butter
1/4 cup sugar
1/2 cup milk
2 tbsp. canola oil
1/2 tsp. vanilla
1 egg
1 cup all purpose flour
1 tsp. baking powder
1/4 tsp. salt
For the Glaze:
1/4 cup unsalted butter
1/8 cup milk, warmed
1/2 tbsp. light corn syrup
1 tsp. vanilla
2 oz. semi-sweet chocolate chips
1 cup confectioner's sugar
Reese Cups, chopped for topping (optional)
Directions:
For the Donuts:
Preheat oven to 325 degrees.  Lightly spray your donut pan with cooking spray, set aside.
In a small bowl, whisk together flour, baking powder, and salt, set aside.
In the bowl of a stand mixer, add peanut butter and sugar and beat together until light & fluffy.  Add milk, oil, vanilla and egg and beat together until fully incorporated.
With the mixer on low, gradually add in the flour mixture and mix until just incorporated.
Place a ziploc bag in a large glass and turn the opening of the bag out over the glass, making it easier to transfer the batter to the bag.  Add the batter to the bag and cut a large slit in the corner of the bag and pipe the batter into the prepared donut pan, filling each donut tin almost full (you want to use all of the batter for the 6 donuts).
Bake for approximately 8 to 10 minutes, until golden brown and donuts bounce back when touched.  Using a fork, gently pop each donut out of the tin and transfer to a cooling rack.
For the Glaze:
While donuts are baking, make the glaze.
In a small saucepan, add the butter, milk, corn syrup, and vanilla and heat over medium heat until the butter has completely melted.  Remove from heat and pour mixture through a sieve into a heat safe bowl.  Transfer drained mixture back to the saucepan.
Place saucepan over low heat and add in the chocolate chips and stir until chocolate is melted and smooth. Remove chocolate mixture from heat and pour mixture through sieve again into another small bowl.  Add confectioner's sugar  to the chocolate and whisk together until fully incorporated.  If mixture is too thick add a splash of milk (approx. 1 tbsp). if too thin, add approx. 1 tbsp. of confectioner's sugar.
Once donuts have cooled slightly (for just a few minutes) dip each donut into the chocolate glaze and place back on the cooling rack.  If desired, sprinkle chopped Reese Cups on top of the glaze. Allow to set for approximately 30 minutes. Store donuts in an airtight container.