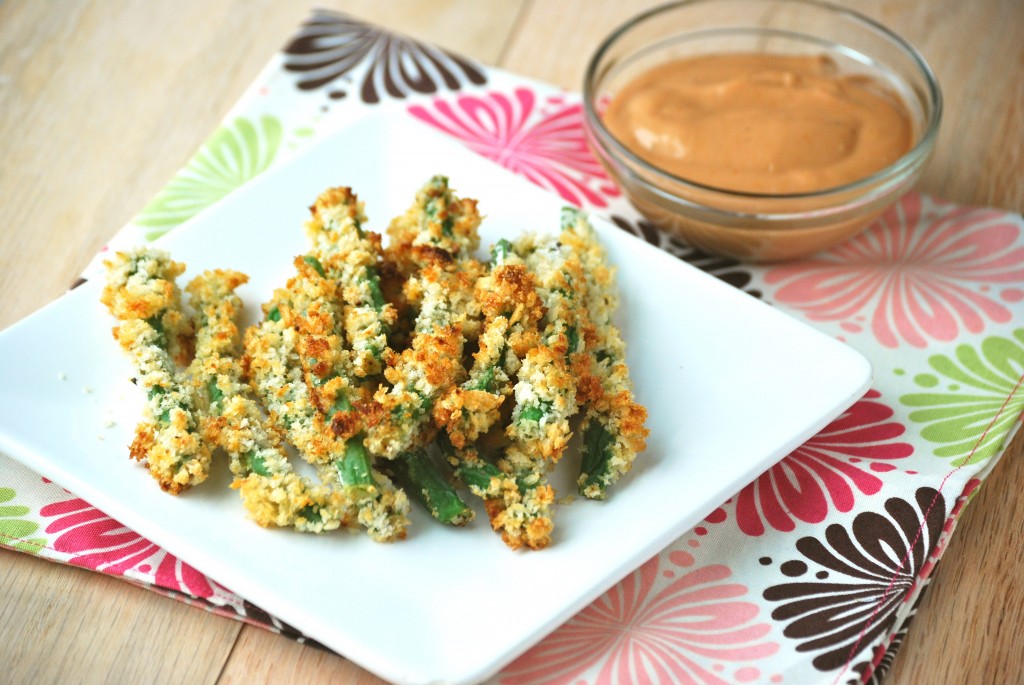 This summer my bible study went on a boat ride and ate at a restaurant on the river.  While there we got an appetizer of fried green beans and I was immediately smitten! They were so amazing and I've been wanting to replicate them at home ever since.  I finally got around to making a similar version but I didn't want to fool with frying so I looked around until I found a good recipe for a oven fried (aka baked) version.  These were fantastic! They are bit time intensive just because of all the dredging into the flour, egg, then breadcrumbs, but they were definitely worth it.  I paired these with a "fry sauce" and it went perfectly! I served these alongside the Actually Delicious Turkey Burgers which made for an awesome and healthier burgers & fries meal.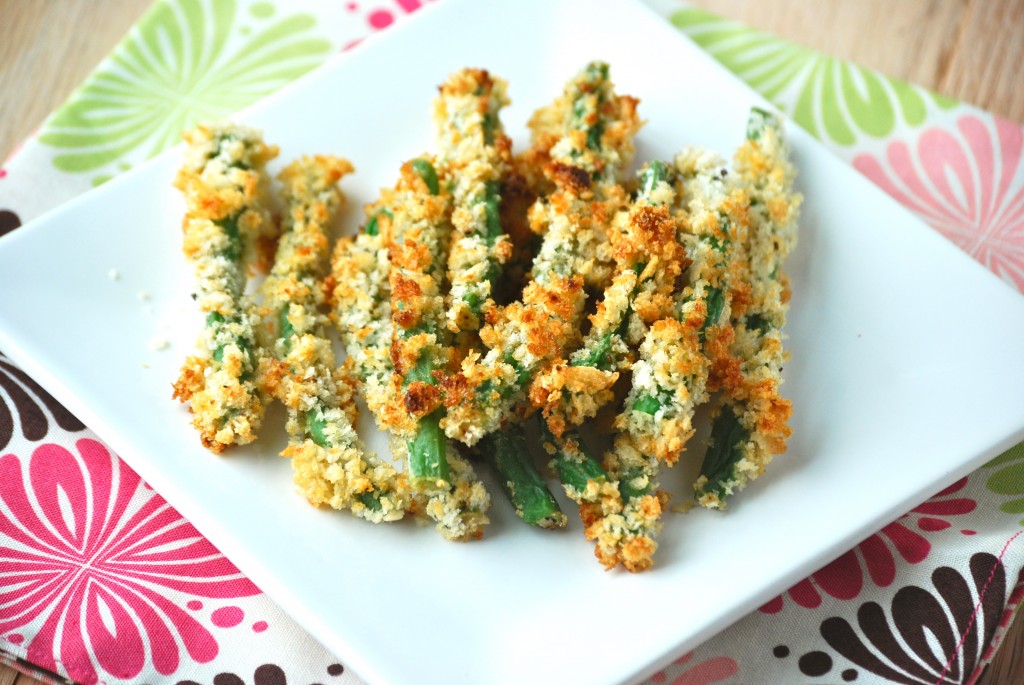 Baked Green Bean Fries with Fry Dipping Sauce
Source: Green Beans from Prevention RD (originally Savory Reviews), Fry Sauce from Oklahoma's News 9
For the Green Bean Fries:
Ingredients:
1/2 lb. fresh green beans
Water
For Flour Mixture:
1 cup flour
2 tsp. garlic powder
2 tsp. paprika
1 tsp. onion powder
For the Egg Mixture:
1 egg
1/2 cup skim milk
For the Breading:
2 cups Panko Breadcrumbs
Salt & Pepper
Directions:
Preheat oven to 425 degrees.  Cover a large baking sheet with foil and spray lightly with cooking spray, set aside.
In a medium sized pot, add 2 to 3 inches of water.  Bring water to a boil.  Meanwhile, trim the ends off of the green beans. Once boiling add the green beans to the water and boil for approximately 3 minutes.  Meanwhile, add ice and water to a large bowl.  Once green beans are blanched, drain from boiling water and add green beans to ice bath.  Let set in the ice bath briefly then drain and pat green beans dry.
For the Flour Mixture:
In a shallow bowl, add the flour, garlic powder, paprika, and onion powder.  Whisk together to combine, set aside.
For the Egg Mixture:
In another shallow bowl, whisk together the egg and milk. Add 2 tbsp. of the flour mixture to the egg mixture and whisk to combine.
For the Breading:
In a third shallow bowl, stir together the panko breadcrumbs with salt and pepper (I used approx. 1/4 tsp. each of salt and pepper).
To Assemble:
Dredge each green bean first in the flour mixture, then dip it into the egg mixture, and finally dip it into the bread crumbs coating as much as possible.  Place each green bean in a single layer on the prepared baking sheet.  Spray tops of green beans lightly with cooking spray.
Bake the green beans for approximately 15 minutes, until breading is golden brown and crispy.  Remove from oven and sprinkle with salt.  Serve with fry sauce or dipping sauce of your choice.
For Fry Sauce:
Ingredients:
1/2 cup light mayonnaise
1/2 cup ketchup
2 tbsp. Worcestershire sauce
1/2 tsp. freshly ground black pepper
1/4 tsp. garlic powder
pinch salt
pinch cayenne pepper
Directions:
Stir together all ingredients.  Add more cayenne to taste if necessary. Store in refrigerator to let flavors marry until ready to use.