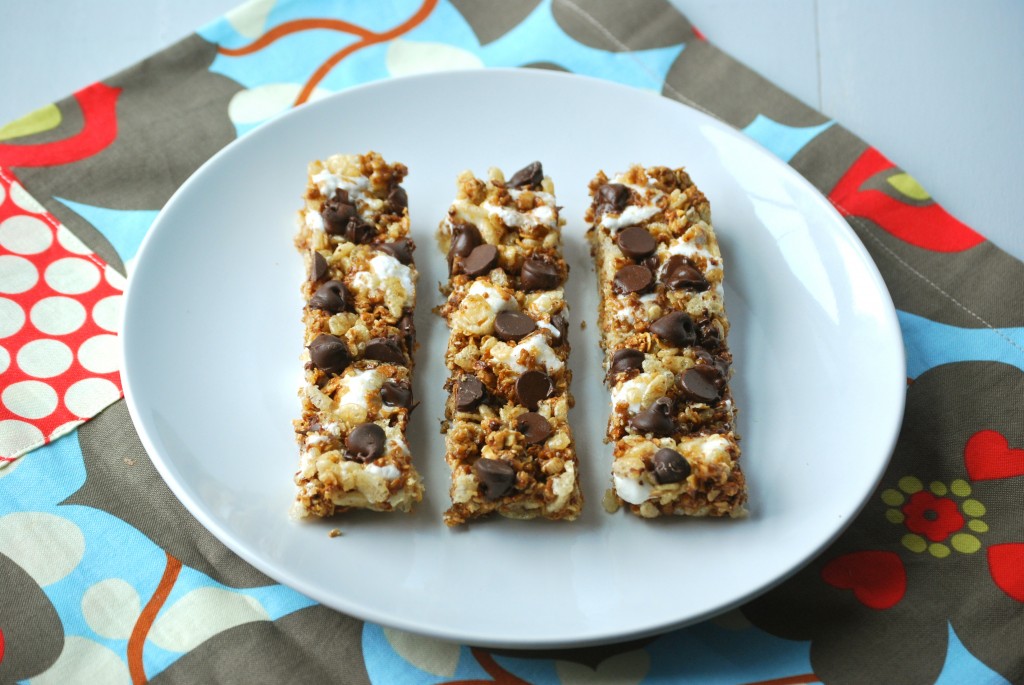 As promised, here are the granola bars that I made with the Applesauce Granola that I posted last week.  I always used to love getting the Quaker Chewy Granola bars and the S'mores were always my favorite, so when I came across a recipe for a homemade version I knew I had to try them! These were SO good! Soft and chewy and sweet and they had the perfect S'mores flavor that I loved.  The great thing is you can mix this up and incorporate different flavors, leave out the marshmallows and add peanut butter and peanut butter chips, or do white chocolate chips and dried cranberries and add in some nuts.  The possibilities are endless! These really were very easy to make and they are a no bake recipe, which is even better!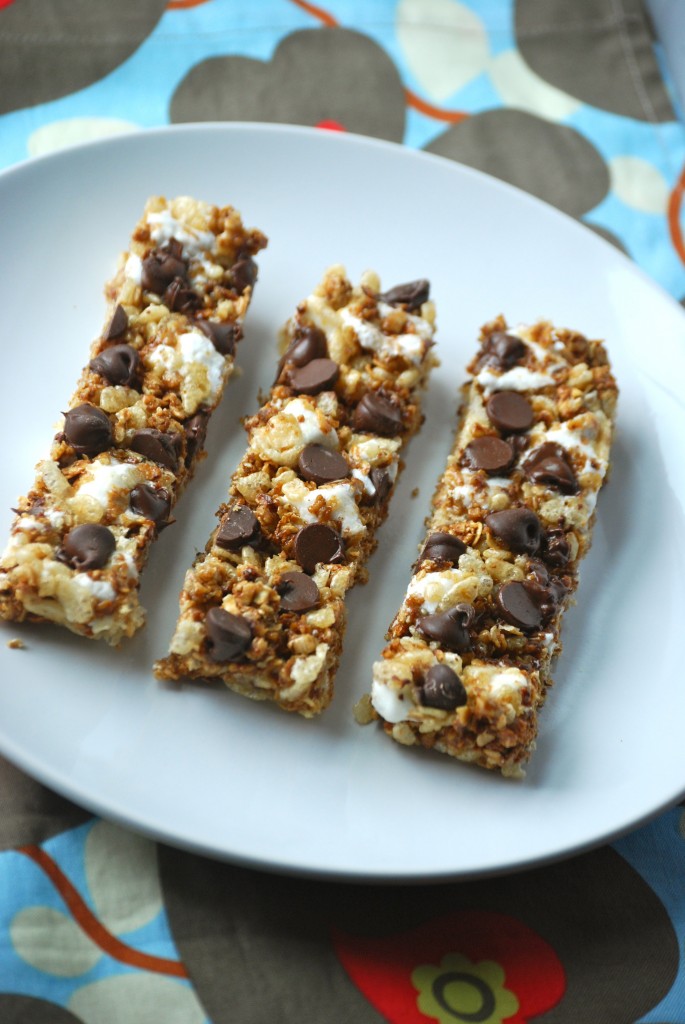 Chewy S'mores Granola Bars
Source: Back to the Cutting Board, Originally from Rachael Ray
Make approximately 16 to 18 bars, depending on how you cut them
Ingredients:
4 tbsp. (1/2 stick) unsalted butter
1/4 cup light brown sugar, packed
1/4 cup honey
2 cups granola
1 cup Rice Krispies
2 tbsp. graham cracker crumbs (optional)
1 cup mini marshmallows
1/2 cup semi-sweet chocolate chips
Directions:
Line two 9 x 5 loaf pans with foil and spray lightly with cooking spray, set aside.
In a medium sized saucepan, add butter, brown sugar, and honey. Heat over medium heat and stir together to combine. Continue stirring until butter has melted completely.
Bring butter mixture to a boil. Once boiling, lower heat to medium low and simmer approximately 2 minutes, until sugar has dissolved.  (I wouldn't heat for more than 2 minutes so that your bars will remain soft once put together).  Remove pan from heat.
Add in the granola, rice krispies, and graham cracker crumbs and stir to combine, ensuring they are evenly coated.
Gently stir in the marshmallows. Divide the mixture evenly between the two loaf pans and spread and press the mixture down into each pan.  Press chocolate chips into the bars, distributing evenly.
Let set for approximately 15 to 20 minutes until cooled and mixture has set.  Lift bars out of the loaf pans and cut into individual granola bars.  Store in an airtight container.