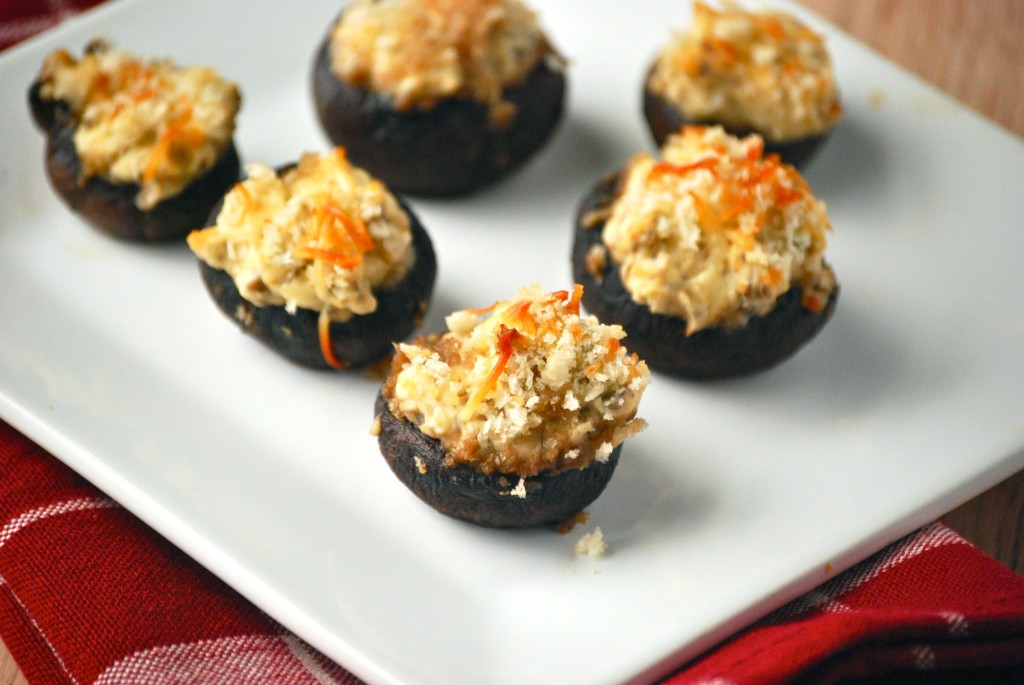 Adam & I recently hosted a small party right after Christmas, more on that in my Strawberry on Top post this weekend.  We made a few different appetizers and I had never tried making stuffed mushrooms before so I thought I would try them and see how they turned out. The verdict? Amazing!!! These were awesome! Even one of our friends who doesn't like mushrooms liked these! They had such a depth of flavor and were so creamy and delicious! They definitely lived up to their mouth watering name! These are a little bit of a process, but I de-stemmed the mushrooms and made the filling the night before and refrigerated them and then right before the party I filled them and popped them in the oven, so it was a really great party dish because you can do so much of it ahead of time. The great thing about these is that they are great for an elegant dinner party or a casual gathering of friends around a football game.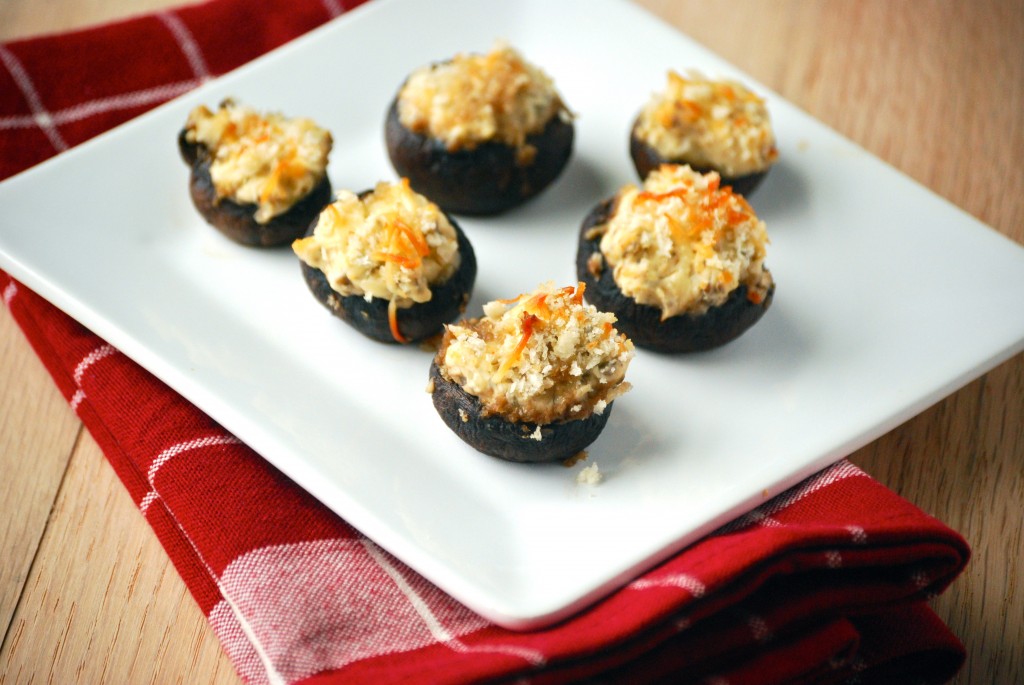 Mouth Watering Stuffed Mushrooms
Source: Allrecipes.com
Ingredients:
24 to 30 Baby Bella Mushrooms, stems removed
1 tbsp. extra virgin olive oil
1 tbsp. minced garlic
1 (8 oz.) package 1/3 less fat cream cheese, softened
1/4 cup shredded (or grated) Parmesan cheese, plus 1 to 2 tbsp. for topping
1/4 tsp. freshly ground black pepper
1/4 tsp. onion powder
1/4 tsp. ground cayenne pepper
splash of  worcestershire sauce
1 tbsp. butter, melted
1 to 2 tbsp. Panko Breadcrumbs
Directions:
Wipe tops of mushrooms with a damp paper towel.  Carefully remove the stems, ensuring not to break the caps.  Keep half of the stems (12 to 15) for the filling and discard the rest. Chop the stems you kept very finely.
In a large skillet, add the 1 tbsp. olive oil and heat over medium heat.  Add in the chopped mushroom stems and garlic and cook, stirring frequently, until almost all moisture has been removed and mushroom stems have reduced in size. This takes several minutes.  Once cooked, set aside to cool slightly.
Once the mushroom stem/garlic mixture has slightly cooled, but is still warm, Add it to a large bowl. Stir in the cream cheese, 1/4 cup parmesan cheese, black pepper, onion powder, cayenne pepper, and worcestershire sauce.  Stir until ingredients are fully incorporated.  Mixture will be thick.
Place a ziploc bag into a large glass and fold the top over the sides.  Spoon cream cheese mixture into the bag and seal and place in refrigerator until you are ready to fill the mushroom caps.
Once ready to bake the mushrooms, preheat oven to 350 degrees.  Spray a mini muffin baking pan with cooking spray. Remove filling from the refrigerator and let come to room temperature.
Melt 1 tbsp. of butter and brush the top of each mushroom cap with the butter.  After you brush the mushroom caps with butter, place each mushroom into a cup in the muffin pan (if they are slightly too big just set it atop the muffin tin, it will reduce in size while baking and pop down into the cup).
If using a ziploc bag, cut the tip off (make sure it's a slightly large slit so your bag doesn't explode like mine did:)) and pipe some of the filling into each mushroom, filling each mushroom completely full. (If you don't want to use a bag, you can just spoon the mixture into each mushroom).
In a small bowl, combine 1 tbsp. panko breadcrumbs with 1 tbsp. parmesan cheese.  Sprinkle a pinch of the mixture over each filled mushroom.  (If you run out, combine an additional 1 tbsp. panko and 1 tbsp. parmesan). Bake for approximately 20 minutes, until tops are golden brown and liquid begins to form under each mushroom.  Using a spoon, remove mushrooms from the muffin pan and place on serving dish.  Store leftovers in an airtight container in the refrigerator.
*If making ahead, wipe mushroom caps with damp cloth and remove the stems.  Place caps in an airtight container.  Prepare filling and place in a ziploc bag or airtight container and store in the refrigerator.  I removed the filling about 30 minutes before I wanted to use it to get it to room temperature for easy piping and actually microwaved it for just a bit to get it softer.  Then just brush your caps with butter, fill and bake.  After baking if a few of your guests are running behind, You can keep them warm in a 200 degree oven until guests arrive.
*If you don't have a mini muffin tin you can use a rimmed baking sheet or regular sized muffin tin, the mini muffin tin just helps the mushrooms not roll over.