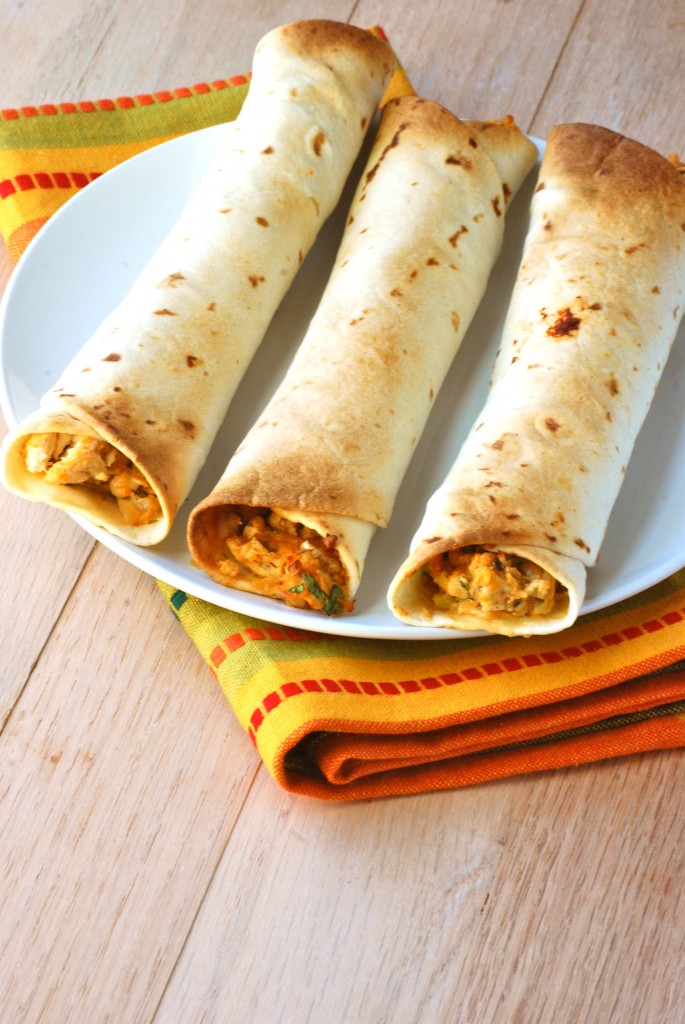 I've made BBQ Chicken taquitos, but I was looking for an easy dinner to make with some leftover shredded chicken and I thought it would be the perfect time to try the traditional creamy taquitos that have been floating around the internet.  These were so creamy and we loved them topped with salsa, sour cream & guacamole.  They are so easy to pull together and are fun to eat too! A great twist on Mexican instead of eating tacos or quesadillas.
Baked Creamy Chicken Taquitos
Source: Chef -In-Training, originally Our Best Bites & Pennies on a Platter
Makes Approximately 12 Taquitos
Ingredients:
3 ounces 1/3 less fat cream cheese, softened
1/4 cup green salsa*
Juice from 1/2 lime
1/2 tsp. ground cumin
1 tsp. chili powder
1/2 tsp. onion powder
2 cloves garlic, minced
3 tbsp. cilantro, chopped
2 tbsp. green onions, sliced
2 cups shredded cooked chicken
1 cup shredded Mexican flavored cheese
small flour tortillas
salt
cooking spray
Salsa, Sour Cream & Guacamole for topping
Directions:
Preheat oven to 425 degrees.  Line a baking sheet with parchment paper, set aside.
In a large mixing bowl, stir together the cream cheese, salsa, lime juice, cumin, chili powder, onion powder, and garlic until fully incorporated.  Add in the cilantro and green onions and mix until combined.  Next stir in the chicken and shredded cheese and mix until fully incorporated.
On a microwaveable plate, place 2 to 3 tortillas at a time and top with a damp paper towel.  Microwave for approximately 15 to 20 seconds until softened and pliable.
Once tortillas have softened, scoop 2 to 3 tbsp. of the chicken cream cheese mixture into the center of the tortilla.  Roll up the tortilla as tightly as possible.  Place seam side down on your prepared baking sheet, ensuring taquitos don't touch each other on the baking sheet.  Repeat with remaining tortillas until all chicken mixture has been used.
Spray the tops of the taquitos with cooing spray and lightly sprinkle with salt.
Bake for approximately 15 to 20 minutes, until tortillas are crispy and lightly golden. Serve topped with salsa, sour cream & guacamole if desired.
*I used regular salsa because that is what I had on hand and they still tasted great!