How do you like your bananas? Do you like them super ripe, slightly spotted, or under ripe? I like mine under ripe where they are bright yellow, just past the green phase and I won't eat them once they get a spot on them. So I had 3 bananas on my counter fully spotted and definitely not going to get eaten in my house and I came across this recipe for banana bread cookies and it called for 3 very ripe bananas, perfect! Shelly At Cookies & Cups put the icing on the top, but I opted to flip them and sandwich the icing between two cookies making them into whoopie pies!:) These were wonderful! They were soft and flavorful but not too sweet and definitely don't skip the frosting because it adds so much flavor. These aren't overly banana-y either, just have a hint especially if you add in the chocolate chips. This is a fun different way to use up your ripe bananas!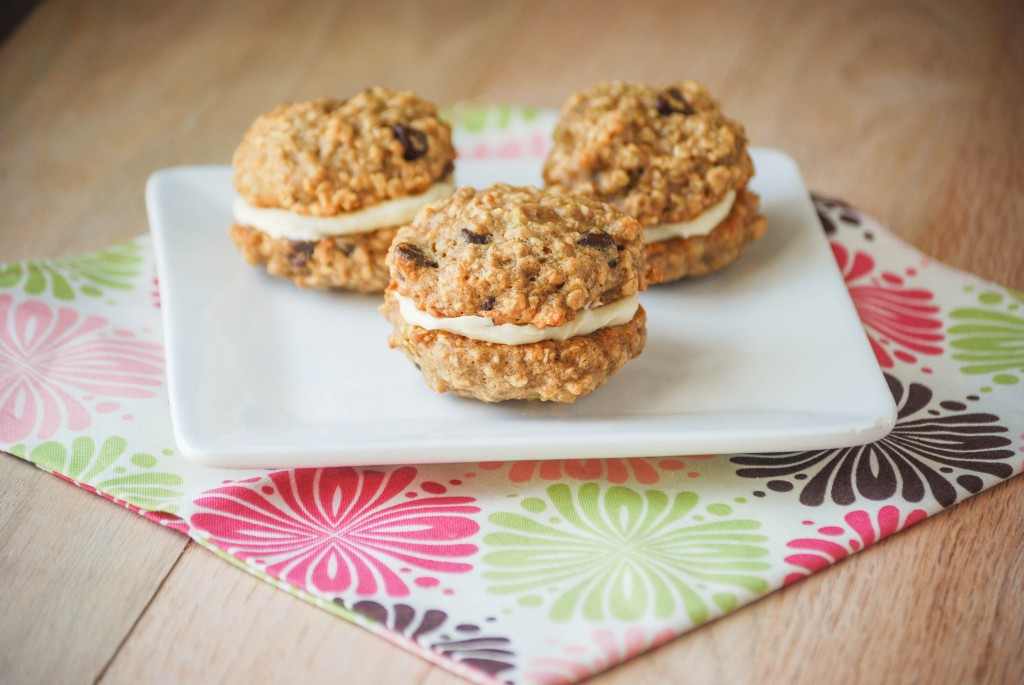 Banana Bread Whoopie Pies
Source: Cookies & Cups
Makes approximately 20 whoopie pies
Ingredients:
For the Cookies:
3 very ripe bananas
1 cup brown sugar (light or dark)
1/4 cup unsweetened applesauce (or canola oil)
1 1/2 tsp. vanilla
1 egg
1 1/2 cups all purpose flour
1 tsp. baking soda
1 tsp. kosher salt
1 tsp. cinnamon
1/4 tsp. nutmeg
2 cups quick cooking oats
1/2 to 3/4 cup semi-sweet chocolate chips
For the Frosting:
3 oz. cream cheese, room temperature
1/2 cup (1 stick) unsalted butter, room temperature
1 1/2 tbsp. vanilla (yes tablespoons)
1 1/2 cups confectioner's sugar
Directions:
For the Cookies:
Preheat oven to 350 degrees.  Line baking sheets with parchment paper, set aside.
In the bowl of a stand mixer add in bananas (can mash ahead of time but I just put them straight in), brown sugar, applesauce (or oil), egg and vanilla.  Mix until combined (mixture will still be slightly chunky).
In a small bowl, whisk together flour, baking soda, salt, cinnamon & nutmeg.  With the mixer on low, gradually add in the flour mixture to the wet mixture until mixture is combined and smooth.
Remove bowl from stand mixer. Add in oats and chocolate chips (I started with 1/2 cup and then added another handful) and stir until evenly distributed and fully combined.
Using a small cookie scoop, scoop out tablespoon sized balls of dough onto the prepared baking sheets, placing them 2 inches apart.  Lightly press each ball of dough with the back of a spoon or your hand to flatten slightly.
Bake for approximately 10 to 12 minutes until edges are lightly golden brown and center of cookies are set.  Remove from oven and using a spatula, carefully transfer cookies to a cooling rack to cool completely.
For the Frosting:
While cookies are cooling,  in the bowl of a stand mixer on medium speed, beat together cream cheese, butter and vanilla until combined and fluffy.
Reduce mixer speed to low and gradually add in the confectioner's sugar until just incorporated.  Increase mixer speed to medium and mix until light and fluffy consistency (approximately 1-2 minutes).
Assembly:
Once cookies have cooled, spread a generous amount of frosting on the bottom of one cookie.  Top with the bottom side of another cookie, making your whoopie pie.  Repeat for all cookies and store in an airtight container in the refrigerator.
Prior to serving, let them set out for at least 5 to 10 minutes or so to knock the chill off.