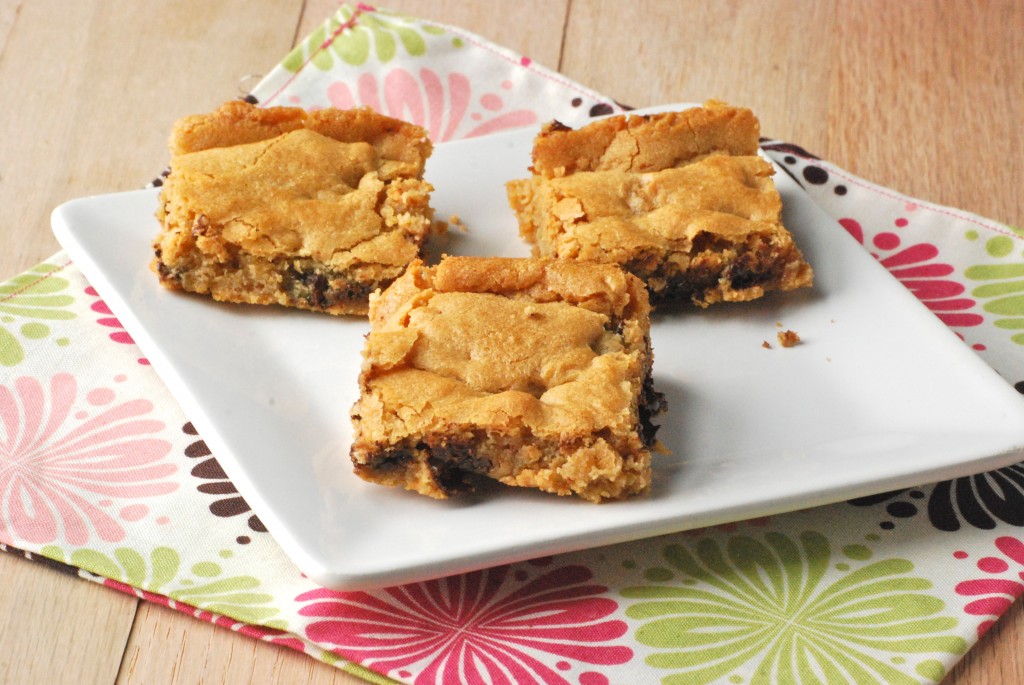 I was wanting to make a dessert and I think you all probably know by now how much I love dessert bars.  They can be so easy to just mix everything in one bowl and pour it in the pan, pull out and cut and enjoy. So easy and delicious! I was asking my mom what I should make and she told me about these bars her friends brought to a party at their house and she just happened to have the recipe.  I had pretty much everything on hand, so I thought they sounded perfect, but of course I had to add chocolate chips! Because to me a peanut butter dessert just isn't the same without chocolate!:) These were soft and chewy and pretty addictive! I kept getting little pinches off, you know "just one more bite!"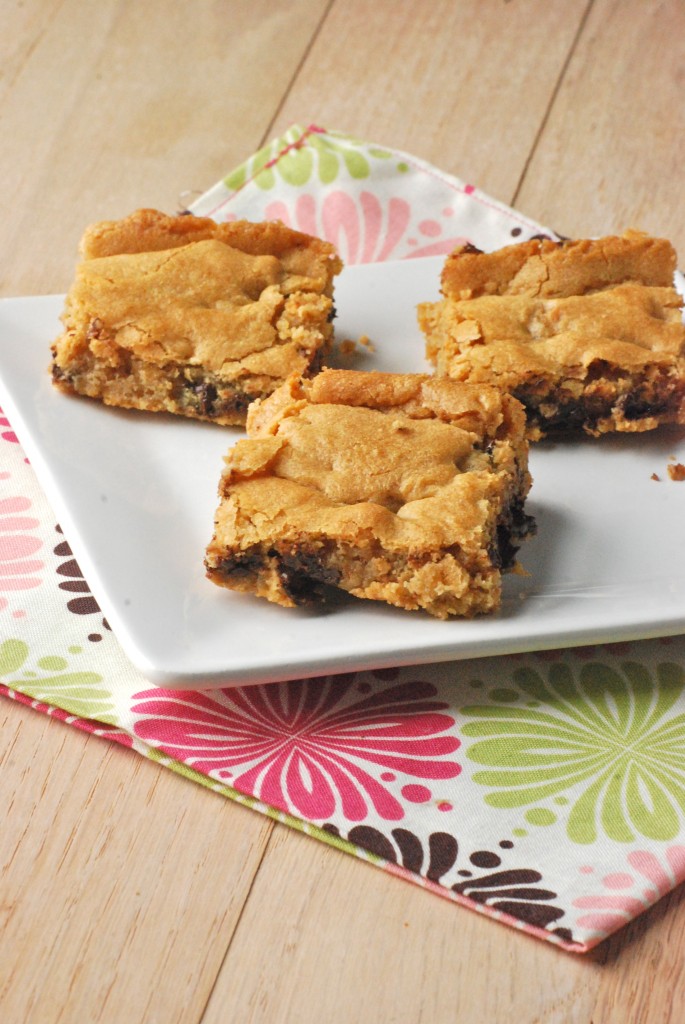 Chocolate Chip Peanut Butter Bars
Source: The Yielding Family
Ingredients:
1 stick butter
1/2 cup crunchy peanut butter
1 cup self rising flour
1 1/2 cups sugar
2 eggs
1/2 cup light brown sugar, packed
3/4 to 1 cup chocolate chips
Directions:
Preheat oven to 350 degrees.  Line a 9 x 13 pan with aluminum foil and spray liberally with cooking spray, set aside.
In a medium heat safe bowl, add the butter.  Heat in microwave for 20 seconds, stir and heat for an additional 20 seconds. Add in peanut butter and microwave for 20 seconds and stir together until incorporated.  Heat in additional 20 second increments if necessary until melted.
Add butter mixture to the bowl of a stand mixer.  Add in the flour, sugar, eggs & brown sugar.  Beat to combine.  Stir in 3/4 cup chocolate chips (adding up to 1 cup if desired) until evenly distributed. Batter will be thick.  Pour into prepared pan and spread evenly.  Bake for approximately 22 to 25 minutes until golden brown and middle has set.  Remove pan from oven and place on cooling rack.  Once bars have cooled, lift out of pan using aluminum foil and transfer to cutting board. Cut into squares and store in an airtight container.  I think these are best served slightly warmed up.
Note: Mine took a little longer to bake and it was still a tad underdone but that actually made them nice and soft and chewy.