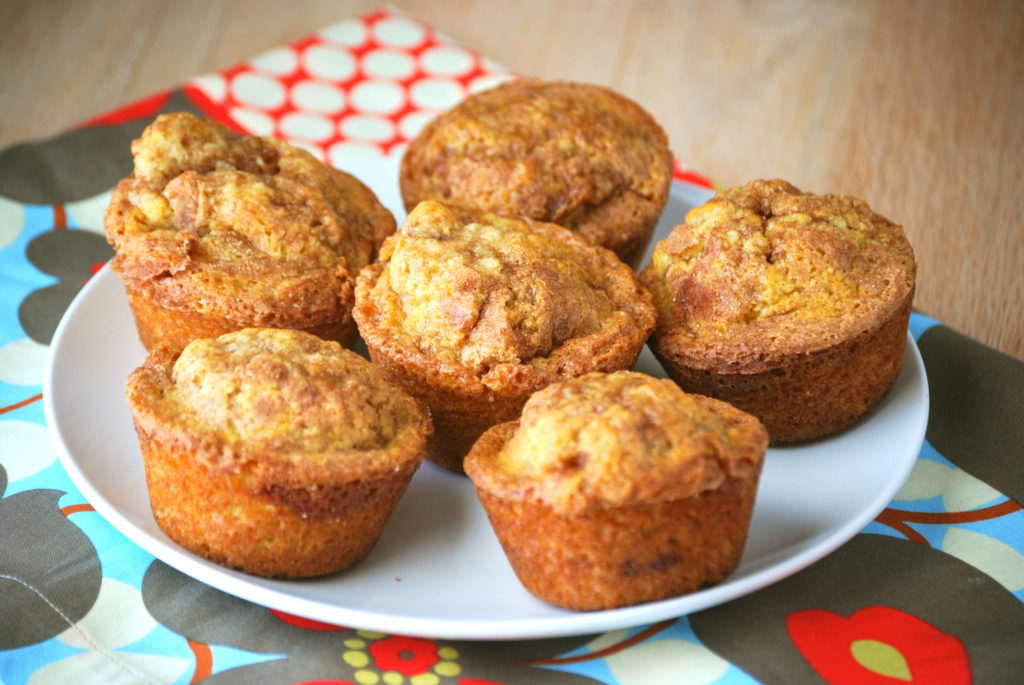 Have you ever had Amish Cinnamon Bread? It is out of this world! My friend recently gave me a starter and I was so excited.  You do have to do something with it every day for 10 days (knead it, add flour & other ingredients, etc.) so it's a bit of a process and somewhat time consuming, but it's so delicious! I made my bread from the starter and then had the other starter leftover (I did the version where you end up with just one starter) and I was going to keep it going, but I had to go out of town so needless to say, my starter died.  Well, to my delight I saw this recipe for a bread very similar to the Amish Bread with no starter required and no kneading pop up on my Pinterest feed and I made it pretty much right away.  I decided to make mine into muffins and they are so fabulous and full of cinnamony goodness! They are moist and cakey and more like dessert, but you can certainly have them for breakfast (trust me I plan on devouring one tomorrow morning)! I know I will be making these over and over and I bet they would be great for Easter brunch too! And it may seem like a lot of sugar and butter in the recipe below but these are not overly sweet, they are just right.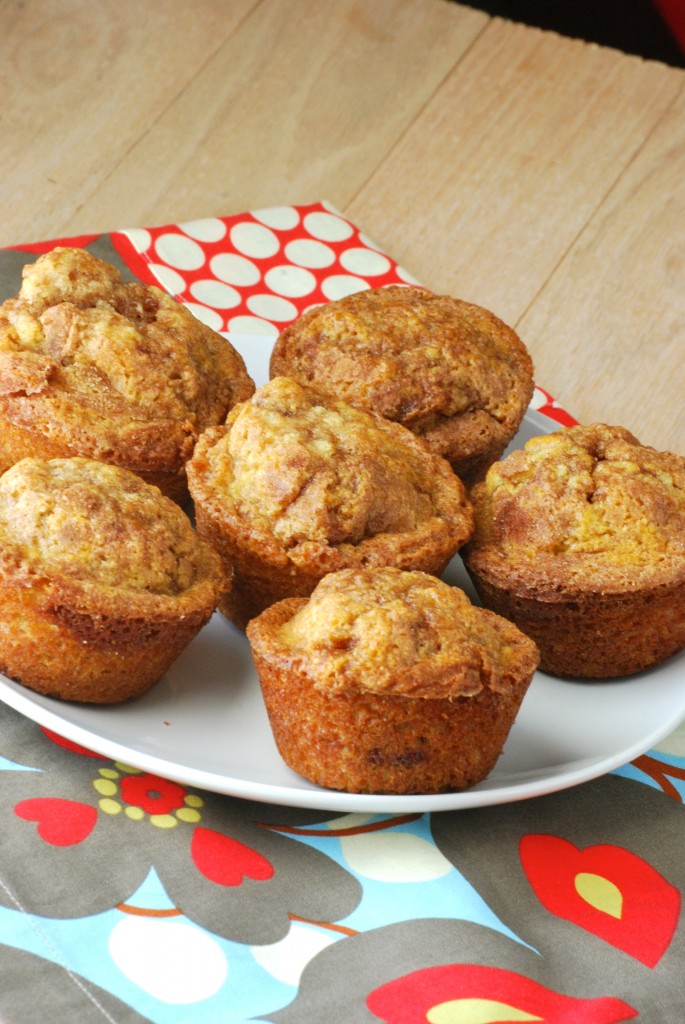 No Fuss Amish Cinnamon Bread Muffins
Source: RedFly Creations
Recipe Makes 24 muffins (or 2 loaves of bread)
Ingredients:
1 cup (2 sticks) butter, room temperature
2 cups sugar
2 eggs
2 cups buttermilk
4 cups all purpose flour
2 tsp. baking soda
Cinnamon Sugar Mix:
2/3 cup sugar
2 tsp. cinnamon
Directions:
Preheat oven to 350 degrees.  Spray 2 muffin tins with cooking spray, set aside.
In the bowl of a stand mixer beat together 2 cups sugar, butter and eggs on medium speed.  Add in buttermilk, flour, and baking soda and mix until fully incorporated.
Using a little less than half the batter, place a spoonful of batter into each muffin cup (I used about 1 1/2 tbsp or half of a large cookie scoop full).
In a medium sized separate bowl, stir together the 2/3 cup sugar and cinnamon. Using approximately half this cinnamon sugar mixture, sprinkle over the batter in each muffin tin (Using approximately 1/2 to 3/4 tsp for each muffin).
Top each muffin with the remaining batter, filling the muffin tins 2/3 full.  Sprinkle remaining cinnamon sugar mixture over top of each muffin tin.  Using a butter knife, swirl each individual muffin so that the cinnamon sugar mixture will be throughout each muffin.
Bake for approximately 25 to 30 minutes, until a toothpick inserted comes out clean.  Let cool in pan for a few minutes. Run a butter knife around the edge of each muffin and use a fork to pop them out.  Place on a cooling rack to cool completely.  Store in an airtight container.
*Notes:  
For Buttermilk you can use 2 tbsp. vinegar and fill the measuring cup the rest of the way with milk until it reaches 2 cups. Let set for 10 minutes before using.
If you make bread loaves instead of muffins, place 1/4 of the batter in each loaf pan, top each loaf with 1/4 of the cinnamon sugar mixture.  Top with remaining batter and cinnamon sugar and bake for approximately 45 minutes.