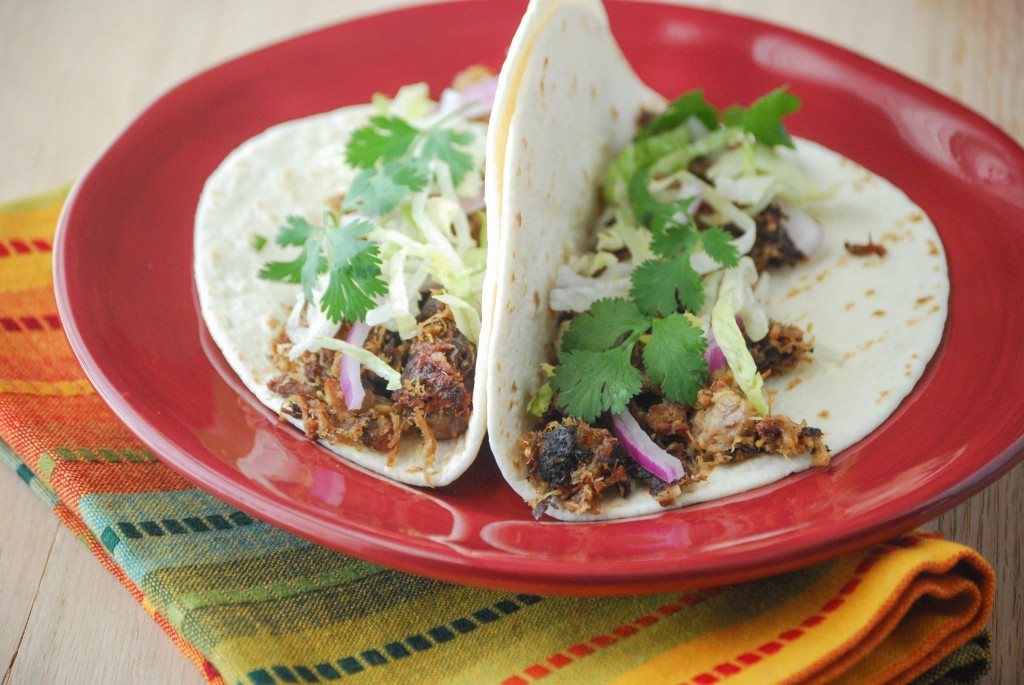 Several years ago I went to Don Pablo's (LOVE!) with a few of my girl friends and saw they were featuring their carnitas. I had never even heard of that before, but I love pork and it had lots of fresh toppings (red onion, avocado, cilantro) so I rolled with it.  They were amazing!! To this day, if carnitas are on the menu I'm probably going to be ordering them.  They just have such a deep level of flavor.  So when I came across this at home recipe, I knew I had to try it.  Now, this isn't really something you would cook on a weeknight as it's a bit of a process, but it reheats really well so you could make it on the weekend and use it to make different meals during the week.
What I loved about this recipe, was that the pork gets a little crispy and it has such a wonderful flavor, which comes from the slow cooking in the juices & spices.  We ate this first on tacos and then the next night in quesadillas, which I loved even more! Check out Karly's recipe for Carnitas Pizza for another great way to use this recipe.  Also, I halved the recipe, which I listed below, so easily double it, but made plenty for 3 meals for us.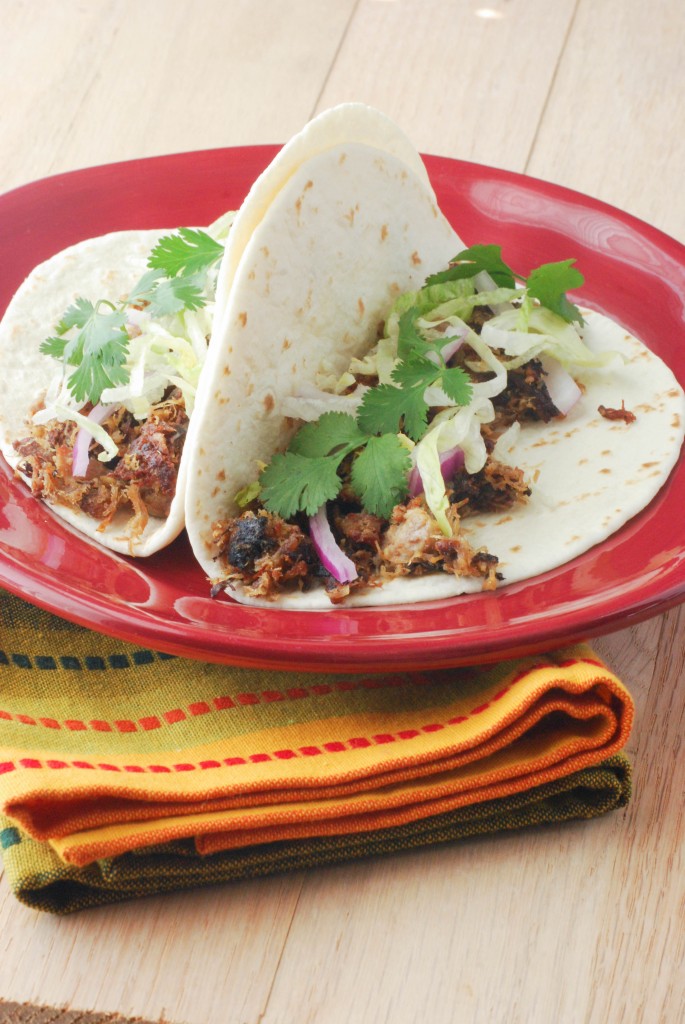 Carnitas
Source: Buns in My Oven, originally Smitten Kitchen & Homesick Texan
Serves Approximately 6
Ingredients:
2 to 2 1/2 lbs. pork butt or shoulder, cut into approximately 2 inch cubes, fat left on
1/4 cup plus 1/8 cup orange juice
1/8 cup lime juice (juice from 1 to 1 1/2 limes)
2 cloves garlic, minced
1 tsp. ground cumin
1 tsp. kosher salt
To serve:
Flour Tortillas
Avocado or Guacamole
Lettuce
Cilantro
Salsa
Cheese
Directions:
In a large dutch oven or heavy bottomed pot, add the cubed pork.  Pour in the orange juice, lime juice, garlic, cumin & salt. Add enough water to just cover the pork.
Bring mixture to a boil. Once boiling, reduce heat and let mixture simmer uncovered for 2 hours. Do not stir during this time.
After 2 hours, increase the heat to medium high and stir occasionally.  As you stir, the meat will begin to shred and fall apart.
Cook meat for approximately 30 to 45 minutes, until water has evaporated and meat begins to become slightly crispy. Stir frequently during this period.  And it will probably have lots of steam and your pot will begin to turn black, this is normal. (Soak the pot overnight and it should clean up easily).
Once water has evaporated and meat is slightly crispy, remove from heat and transfer to serving platter.
Serve in tacos with desired toppings, or use meat in quesadillas with toppings or even on pizza! The meat is great by itself too with just rice & beans!
*I didn't try this, but if you want it less crispy, just take it off a bit sooner.