We went to Easter service at our church on Saturday night this past weekend, so Sunday morning I decided to make breakfast (which is a rare occasion for me)! I've made pancakes several times but they are usually a healthier wheat version.  This time I decided to go all out and do the traditional buttermilk route since it was a holiday, after all.  These pancakes were fabulous! They were fluffy and sopped up the syrup perfectly! I will definitely be making these again when we want to indulge for breakfast a little and next time I will definitely be adding in chocolate chips to mine!:) Also, I made the original recipe and we only got 4 pancakes so I doubled it below. I bet these would freeze great too for a quick breakfast or easy breakfast for dinner!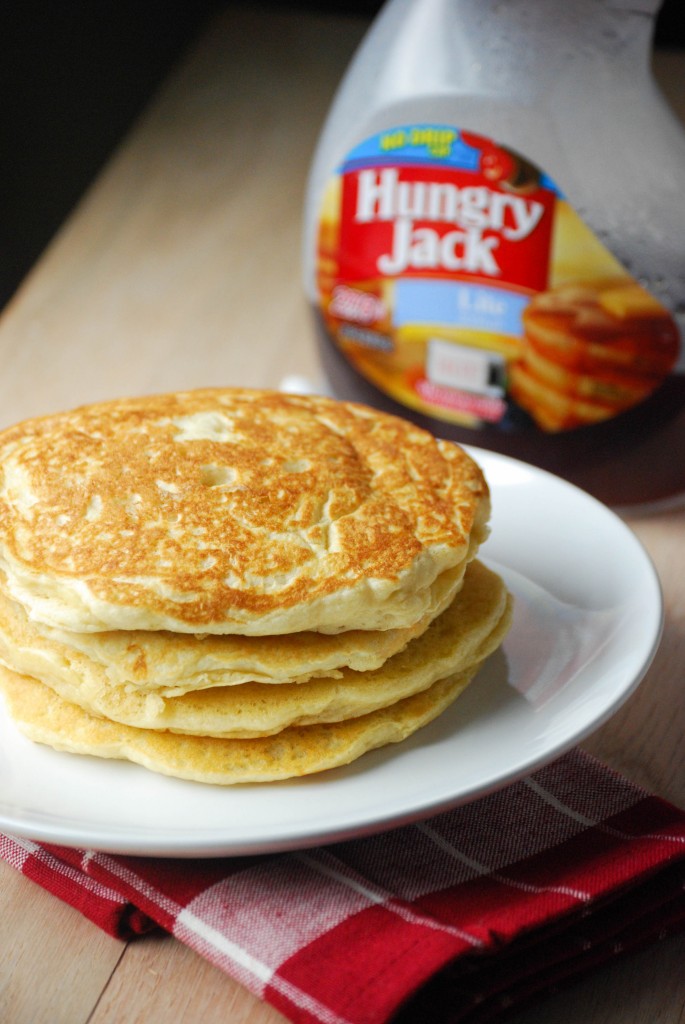 Fluffy Buttermilk Pancakes
Source: AllRecipes.com
Makes approximately 8 pancakes
Ingredients:
2 cups all purpose flour
4 tbsp. sugar
2 tsp. baking powder
1 tsp. baking soda
1 tsp. salt
1 1/2 cups buttermilk
2 eggs
2 tsp. vanilla
2 tbsp. butter, melted
Directions:
In a medium sized bowl, whisk together the flour, sugar, baking powder, baking soda and salt.
In a separate large bowl, add the buttermilk, eggs, vanilla & melted butter.  Whisk together until eggs are beaten and everything is fully incorporated.
Add the flour mixture into the buttermilk mixture.  Whisk briefly until ingredients are just incorporated.  Let mixture set for approximately 20 to 30 minutes before cooking.
Place a skillet over medium low heat and spray with cooking spray.  Spoon approximately 1/4 cup of batter (Batter will be very thick so you may need a little more than 1/4 cup) onto skillet and carefully spread out with the bag of a spoon so pancake is a circular shape.  Cook pancake until bubbles begin to appear.  Flip to the other side.  Checking pancake closely, cook both sides until lightly golden brown, flipping over as necessary. Remove pancake from pan and place on plate.  Repeat with remaining batter. (I carefully ball up a paper towel and wipe the pan out, taking care not to touch it with my fingers, and respray with cooking spray between each pancake).
Notes: Alternatively, you can cook these on a griddle and cook several at a time.