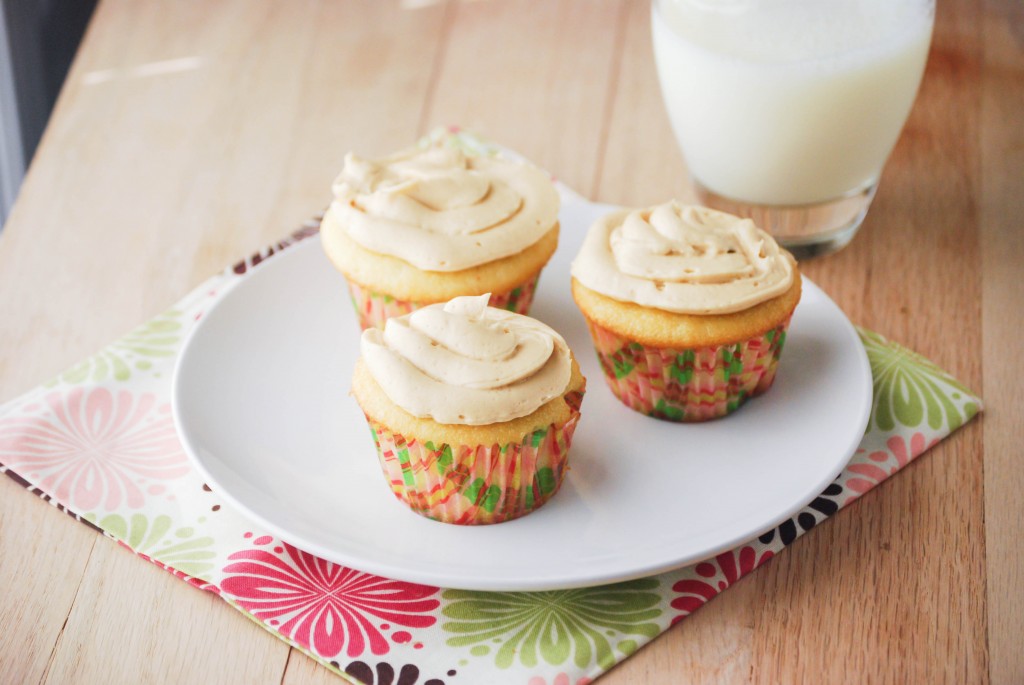 Today we are celebrating Krystal of Mrs. Regueiro's Plate and her new little boy coming soon! Krystal is a dear blogging friend of mine. We met about 5 years ago on a cooking message board on The Nest and became fast friends.  She is so sweet, thoughtful and always encouraging! I can't wait until we get to meet face to face, hopefully one day very soon! I'm so excited for her new little arrival coming and know her daughter, Elena will make a wonderful big sister! She and her husband refer to the baby as "cupcake" so it was only fitting that we do a virtual baby shower full of cupcakes! Check out the round-up of all the other amazing cupcakes on Eva Bakes!
I eat PB&J almost every day or every other day for lunch, and I've been wanting to turn my sandwich love into a cupcake and I thought this was the perfect opportunity! I came across a recipe from The Cake Boss, and well I love that show so much so I knew I had to try them.  The cake is a vanilla cake, which had great texture and was moist but still sturdy enough to not fall apart.  The peanut butter frosting was Ah-Mazing!!! So silky smooth and fluffy. I could've literally eaten it by itself with a spoon.  The jelly in the middle gives a great addition of flavor and satisfies any pb&j craving in such a fun way! This vanilla cupcake was a great base cupcake for using your frosting/filling of choice as well.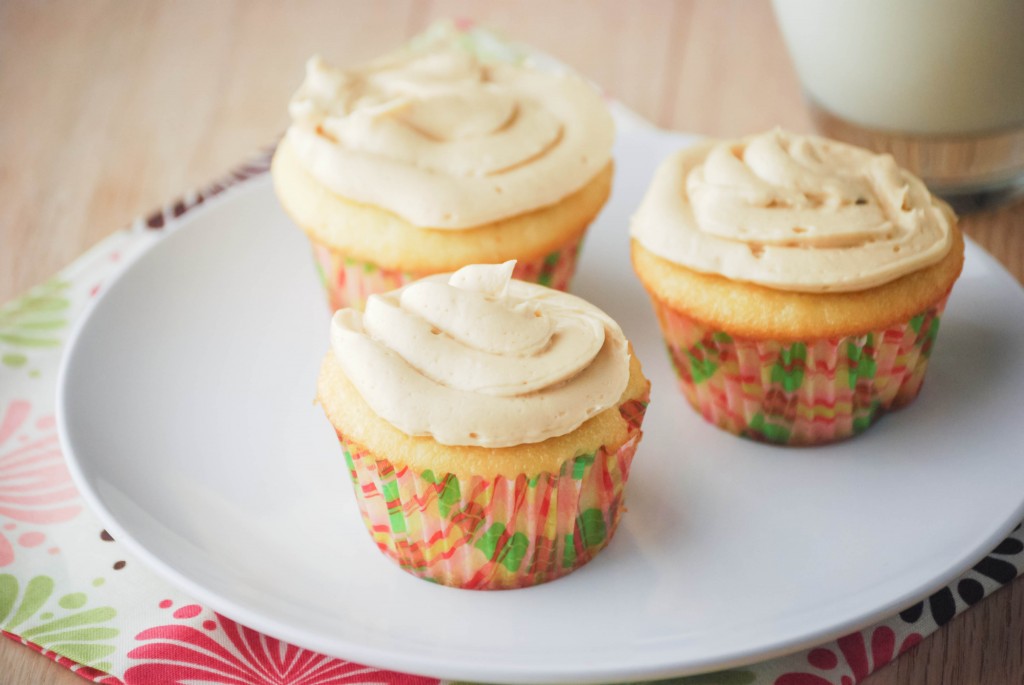 Cake Boss Peanut Butter & Jelly Cupcakes
Source: Buddy Valastro (The Cake Boss) featured on Rachael Ray Show
Makes 24 cupcakes
Ingredients:
For the Vanilla Cupcakes:
2 1/2 cups cake flour*
2 cups sugar
3/4 cup vegetable oil
2 1/4 tsp. baking powder
1 tsp. vanilla
1/2 tsp. sea salt
4 eggs
1 cup milk
For the Peanut Butter Frosting:
1 cup butter, softened
1 cup creamy peanut butter
5 1/2 cups confectioner's sugar
1 to 2 cups heavy cream
For the Jelly Filling:
1 cup strawberry jelly
Directions:
For the Vanilla Cupcakes:
Preheat oven to 350 degrees.  Place cupcake liners into a cupcake tin, spray each liner with cooking spray (this helps the cupcake to come out easily after baking so no crumbs are left behind), set aside.
In the bowl of a stand mixer fitted with the paddle attachment, add flour, sugar, vegetable oil, baking powder, vanilla & salt.  Beat on low until just combined.  Increase speed to medium low and beat approximately 1 more minute.
With the mixer on medium low, add in eggs, 1 at a time, and mix until each is combined.  Pour in milk, 1/2 cup at a time, scraping down the sides between each addition.  Beat until fully incorporated and mixture is smooth.
Using a large cookie scoop, scoop batter into the prepared cupcake tins, filling each cup 2/3 of the way full.  Bake for approximately 18 to 20 minutes, until lightly golden brown and a toothpick inserted comes out clean.
Let cool in pan for several minutes, then pop out and place on a cooling rack to cool completely.
For the Peanut Butter Frosting:
In the bowl of a stand mixer, cream together butter and peanut butter until combined and smooth.  Add in confectioner's sugar a little at a time, until it is a sandy consistency.  Pour in 1 cup of the cream and beat until incorporated.  Add in more cream if necessary.  You want it to be a smooth, fluffy consistency.
For the Jelly Filling:
Place jelly in a small bowl and stir together vigorously to break it down a bit and get it to a pipe-able consistency.
For Assembly:
Once the cupcakes have cooled, Cut an "X" into the top of each cupcake.
Place jelly into a squeeze bottle or a piping bag and place tip of bottle or bag into the "X" of each cupcake. Fill each cupcake with approximately 1 tbsp. of jelly.
Place peanut butter frosting into a piping bag, fitted with your favorite piping tip and frost the top of each cupcake.
Store cupcakes in an airtight container at room temperature.
Note: *For the cake flour: For each cup of Cake Flour you can place 2 tbsp. corn starch in a 1 cup measuring cup and fill the rest of the way full with all purpose flour. For the 1/2 cup, simply use 1/2 that amount.