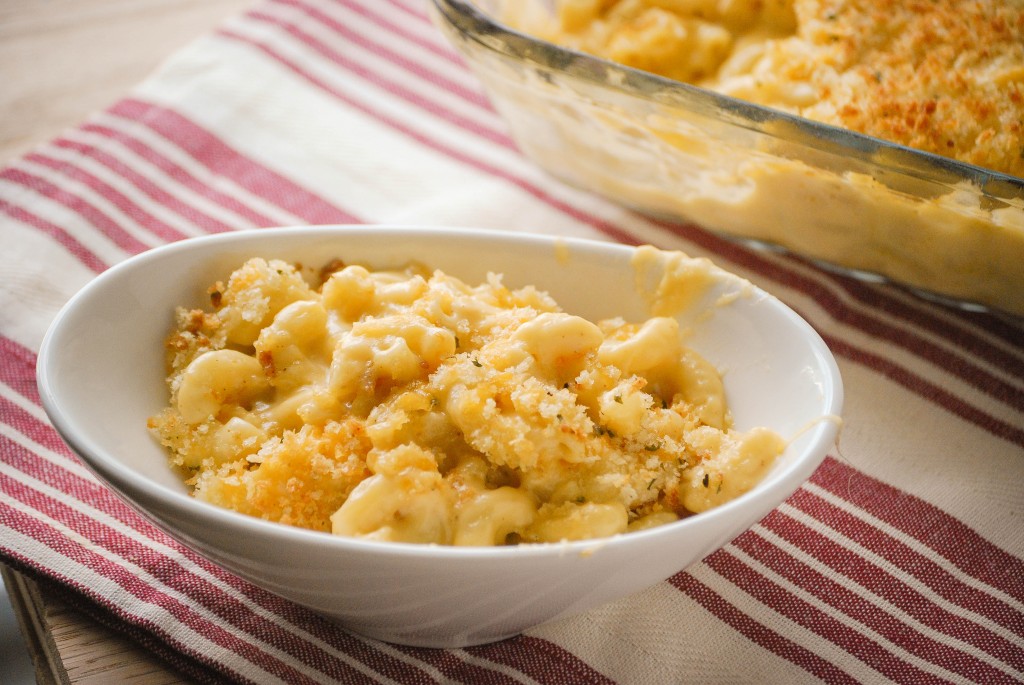 I have professed my love for stovetop macaroni & cheese many times in the past. It's my favorite way to eat mac & cheese. Shockingly, I realized I had never even tried making a baked version of mac & cheese before, and I thought it was high time! This was AMAZING!! It was kind of a lot of work, and required lots of attention and stirring on the front end, but TOTALLY worth it! It's a good thing I took this to a potluck meeting or I think I might've polished off the entire dish! Right out of the oven this was creamy and comforting, and the panko on top added such a nice crunch and texture (I had to taste test it, of course ;)).   En route to the potluck it did set up a bit and lose some of the creaminess, but it was still wonderful then too.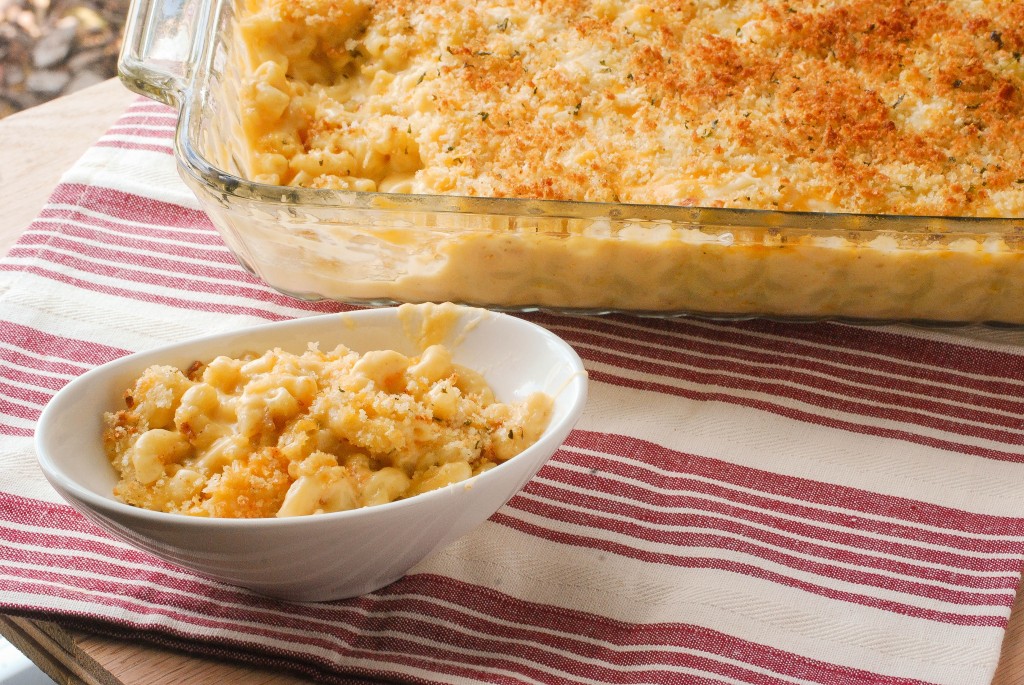 Baked Macaroni and Cheese
Source: Slightly Adapted from Food.com
Makes a 9 x 13 baking dish, serves approximately 8-10 people
Ingredients:
1 lb. elbow noodles
1/2 cup flour
1/2 cup (1 stick) unsalted butter
1 tsp. salt
1/2 tsp. freshly ground black pepper
1/4 tsp. paprika
1/8 tsp. ground cayenne pepper
1 cup heavy cream
3 cups milk
4 cups sharp cheddar cheese, grated, plus more for topping
For Topping:
1 cup panko bread crumbs
2 tbsp. butter, melted
Directions:
Preheat oven to 400 degrees. Spray a 9 x 13 glass baking dish with cooking spray, set aside.
In a large pot cook elbow noodles according to package directions, drain and let cool slightly.
In a small bowl, whisk together flour, salt, pepper, paprika & cayenne until incorporated, set aside.
In a large pot, melt 1/2 stick butter over medium heat.  Add in flour mixture and stir until incorporated.  Gradually add in milk & heavy cream, stirring continually while pouring.
Bring mixture to a boil and boil for 2 minutes while continually stirring.  Reduce heat and cook mixture an additional 10 minutes, continuing to stir mixture.
Remove from heat and add in the 4 cups of grated cheese, stirring until cheese melts.  Add in the elbow noodles to the cheese mixture and gently stir to coat. Taste test at this point and add additional seasonings if necessary.
Pour mixture into prepared baking dish.  Sprinkle top with additional cheese (I did enough to lightly coat the top, approximately 1/4 to 1/2 cup).
Melt 2 tbsp. butter in a medium sized bowl. Once melted, add in panko and stir to coat. Evenly spoon breadcrumbs on top of macaroni in the baking dish.
Bake for 20 minutes, until top is golden and mixture is bubbly.  I also broiled for just a minute to get the top nice and crispy, but you have to watch very closely so it doesn't burn.
Serve warm and store leftovers in an airtight container.
Notes: Can easily half this recipe and bake in an 8 x 8 or 9 x 9 baking dish.