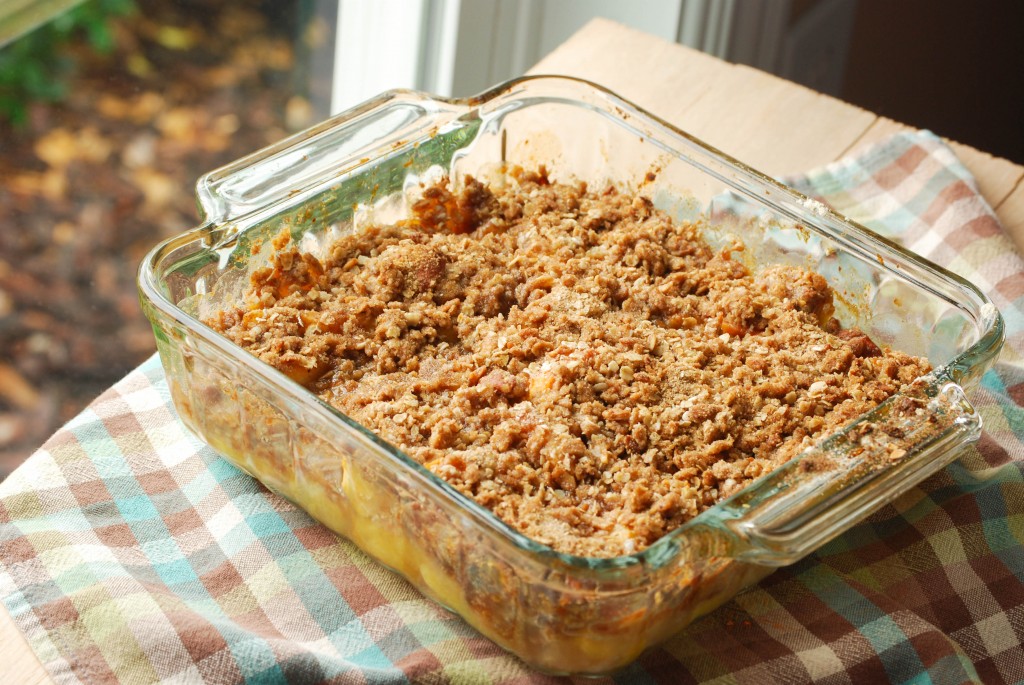 My mom's birthday was this past weekend and she asked for a fruity dessert that didn't have a ton of sugar, so I went in search of something that could utilize the delicious peaches that I got from the farmer's market.  I found this recipe that uses granola & oats in the topping which gave a nice crunchy and sweet topping that I really loved.  This dish was comforting and summery all at the same time.  I bet it would be great with apples too. And it was sweet without being overly sugary or rich.
Also, I want to thank all of you for your sweet comments on my giveaway post.  I read every one and each of you truly mean the world to me! The winner was chosen randomly using Rafflecopter. The winner is entry #191, Meghan M. and I have sent you an email! If I haven't gotten a response by Friday, July 12, I will choose another winner. Now onto the recipe: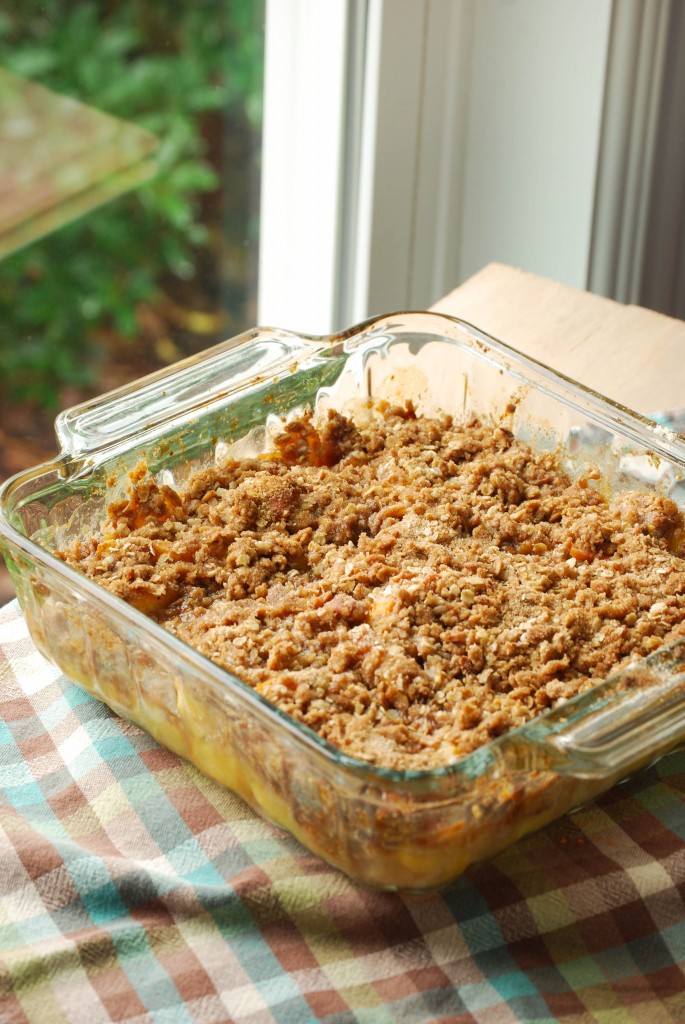 Fresh Peach Crisp
Source: All Recipes
Serves approximately 6 people
Ingredients:
5 cups peaches, peeled, pitted & sliced
1 tsp. vanilla
1/4 tbsp. sugar
1/2 cup quick cooking oats
1/2 cup honey sweetened granola
3 tbsp. plus 1 1/2 tbsp. all purpose flour, divided
1/2 cup brown sugar
1 tsp. cinnamon
1/4 tsp. apple pie spice (or all spice)
1/8 tsp. nutmeg
1/4 cup (1/2 stick) unsalted butter, cold & cubed
Directions:
Preheat oven to 375 degrees.
In a large bowl stir together the peaches, vanilla and 1/4 tbsp. sugar.  Spread peach mixture evenly into a 8 x 8 glass baking dish, set aside.
In a medium sized bowl,  add the oats, granola, 3 tbsp. flour, brown sugar, cinnamon, apple pie spice & nutmeg.  Whisk together.  Add the cold, cubed butter and cut into the oat mixture using a pastry cutter or two forks until crumbly.
Sprinkle remaining 1 1/2 tbsp. flour over top of the peach mixture in the baking dish.  Evenly distribute the crumbled oat mixture over top of the flour covered peach mixture.
Bake for approximately 30 minutes until bubbly and top is slightly crunchy.  Serve warm with vanilla ice cream.
Notes: If you don't have granola you can just sub 1/2 cup oats