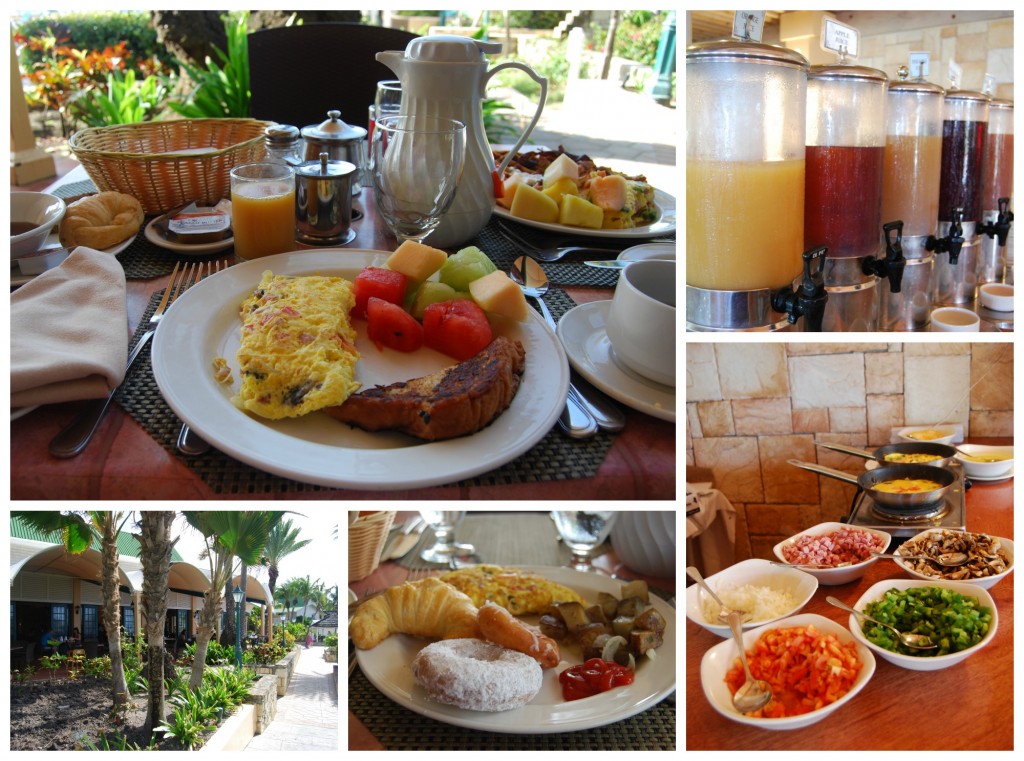 One awesome thing about our trip to St. James's Club in Antigua was the All Inclusive Meal Plan.  You got breakfast, lunch and dinner with appetizers and desserts included! Breakfast everyday was an expansive buffet with a variety of fruits, proteins, potatoes, cereals, breads and my personal favorite, the omelet station.  They had chefs that made your omelet to order and I partook everyday of that lovely station! So delicious! The potatoes were crispy and creamy at the same time and the fruit was so juicy and fresh.  The last day we were there, we dubbed "Donut Friday" because they had homemade donuts that were heavenly! They had regular and then powdered, which was my personal favorite.  It's probably a good thing they were only there the last day or I would've been in trouble! Also all of the restaurants were open air so you could enjoy the beautiful views.

Lunch every day was at the same restaurant as breakfast, the Rainbow Garden. Everyday we pretty much had a cheeseburger and fries.  One day I got tuna and one day Adam got the club, which were both good, but the burgers were just stellar, so we kept going back to them! And the fries were perfectly crispy and soft at the same time.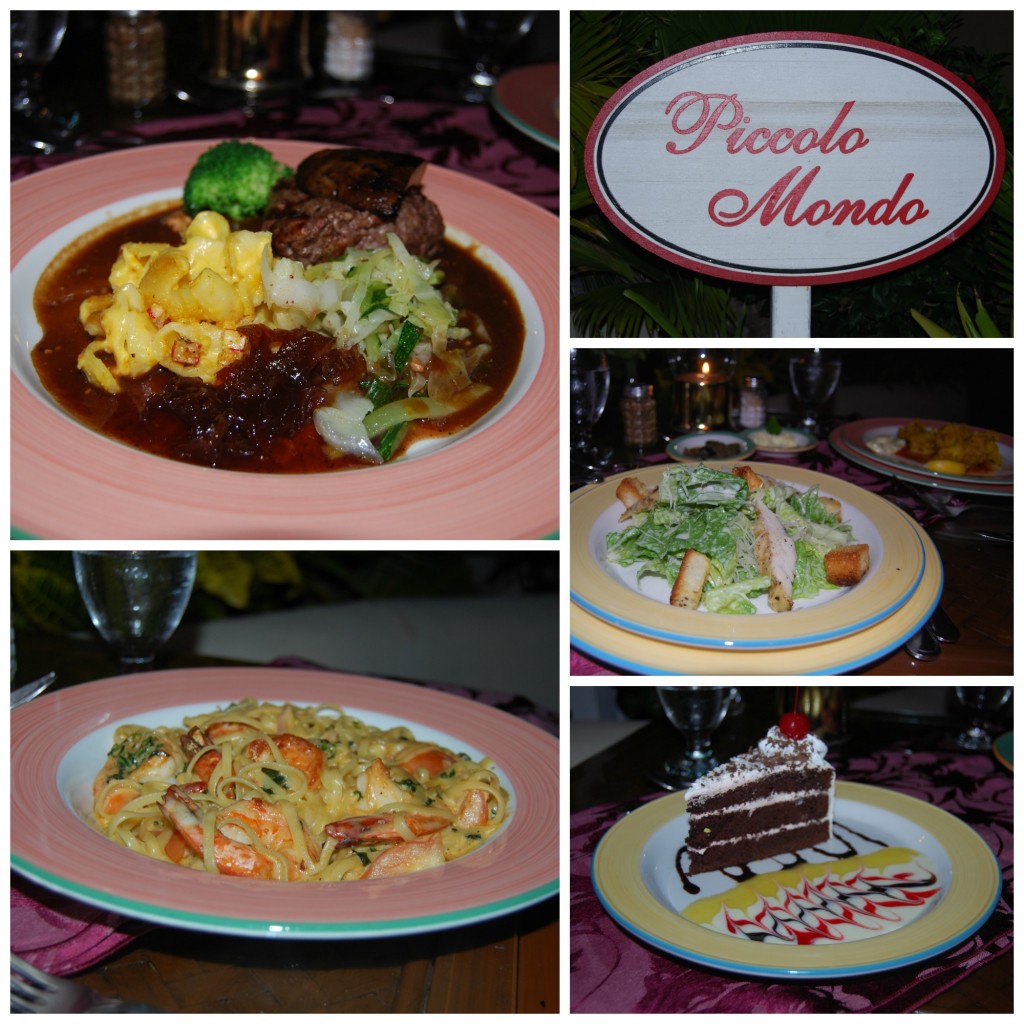 Every day in the lobby area, they posted the menus for that day and the next day for the different restaurants for dinner so you could decide where you wanted to go, which was really nice.  Our very favorite meal was at the Piccolo Mondo restaurant.  For this one restaurant, you did have to pay extra, $35 per person covered everything. And let me tell you, it was completely worth it!!! It was up there with one of my top meals ever.  For appetizers, I chose the chicken caesar salad and Adam chose fried calimari.  The caesar was one of the best I'd had and Adam loved his calimari.
The entrees were absolutely phenomenal.  The filet mignon was perfectly cooked and the sauce was nice and rich, which I loved.  It was paired with a lobster mac and cheese that was super creamy.  My meal was fabulous, but I have to say that Adam's was absolutely stellar.  He got the shrimp linguine, which sounds unassuming but it was so creamy and bursting with flavor and with every bite, we both kept saying 'that is just so good!' Dessert was chocolate cake and Adam got cheesecake. The chocolate cake was good with a beautiful presentation, but a tad dry, but the cheesecake was perfectly creamy. Overall a great meal!!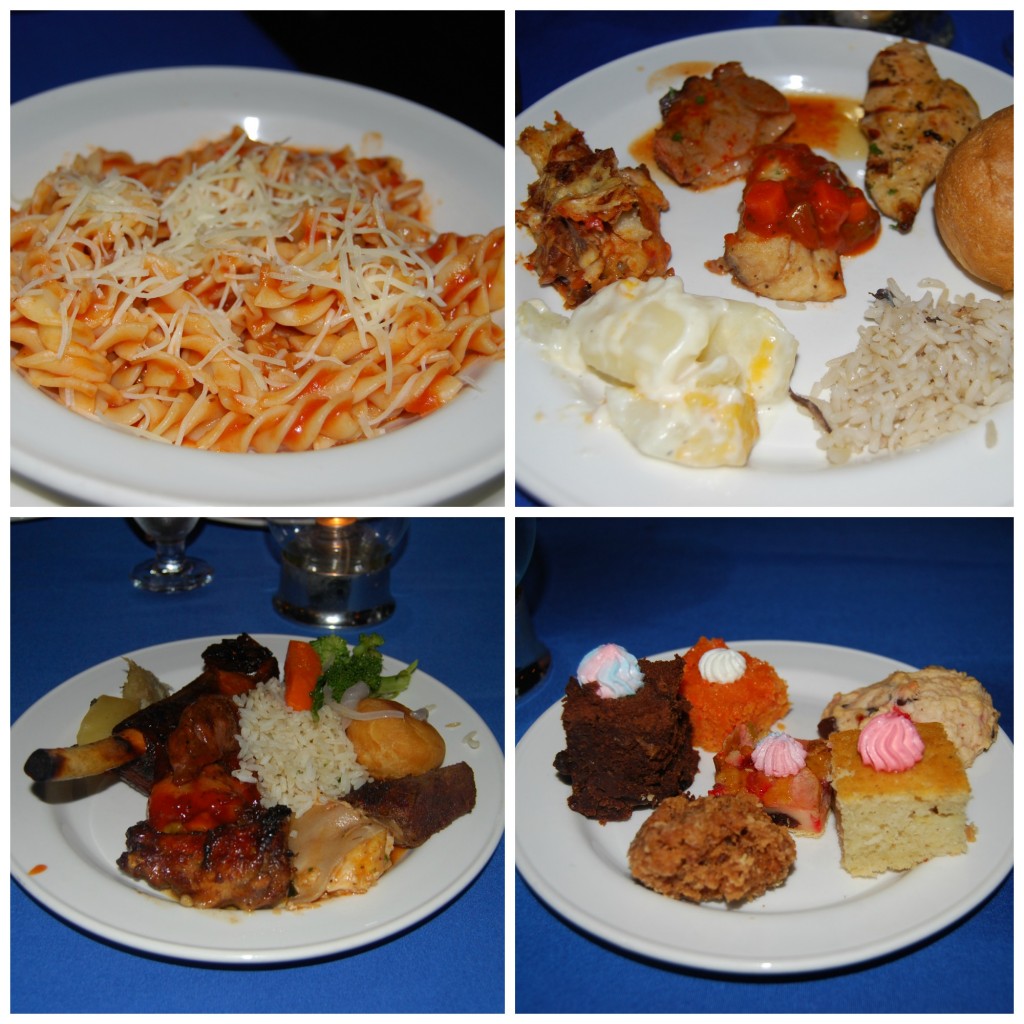 Two different nights we ate at the Docksider restaurant, the first night (top two pictures above) was an Italian Buffet. Our favorite dish that night was the snapper. It was perfectly cooked and melted in your mouth.  Also they had a chef preparing pasta bowls to order with different kinds of noodles & sauces.  My bowl of rotini with tomato basil sauce was fabulous, and yes I pretty much ate the whole thing!
The next meal we had at the Docksider was on our last night there, a Carribean BBQ buffet.  The chef prepared bbq ribs, chicken legs and bbq steak.  All of them were awesome and the sauce was sticky and sweet.  They also served these dumplings that were kind of like sweet little donuts that were amazing.  They served a spread of desserts so we got a plate of one of each and tried a bite of them all.  The best was the dark fruit cake, super moist and like nothing I'd ever tasted before.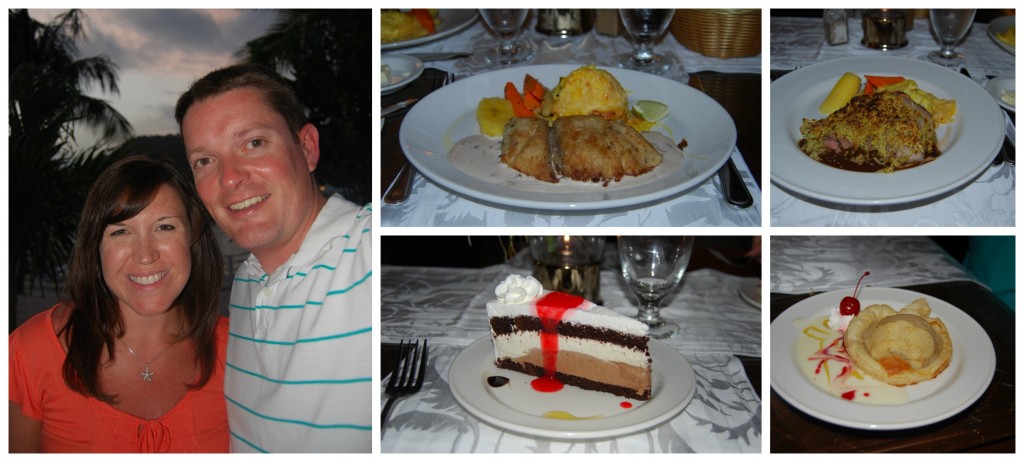 One night we had dinner at the Rainbow Garden and you ordered from the menu. I got the lamb that was encrusted with parmesan and Adam  had the Mahi Mahi, both were very good and flavorful. And then I got chocolate mousse cake for dessert and Adam got the Apple Puff Pastry. The chocolate cake was really refreshing and not too rich! The apple pastry was good, but would've been better hot.
All in all, the food at St. James's Club was very good and we thoroughly indulged and enjoyed ourselves! That's what vacations are for, right?!?! Such a great trip! I'm so thankful that we were blessed to be able to go on such an amazing babymoon!
Disclaimer: In return for my posting, I received a deeply discounted rate to stay at St. James's Club. No other compensation was received and all opinions are my own.