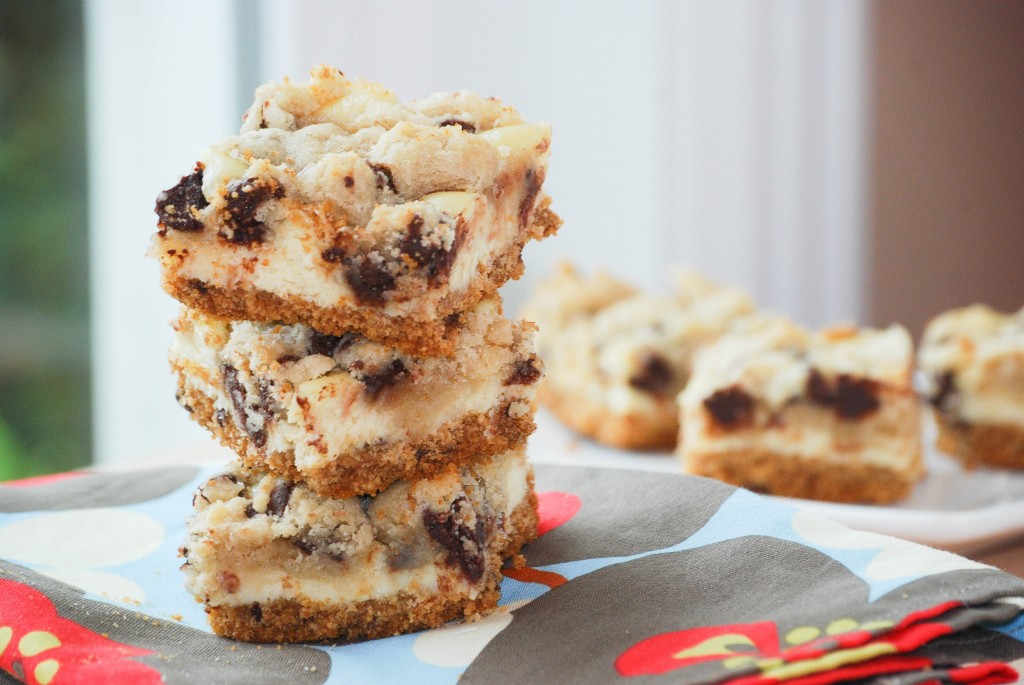 As you may have noticed, I'm a huge fan of dessert bars. They are just so easy to pour everything into  a baking pan. We were going to our friends house for dinner and I wanted to bake up some dessert to take and these bars have been on my radar for a while. I can't believe I am just now making these.  They were absolutely incredible!! Our friends raved over them and Adam had no problem demolishing the leftovers too.  These were a great combination of textures with the creamy cheesecake filling and then the crust adding a bit of  a crunch and the soft, chocolatey cookie dough on top. I mean, how can you go wrong with these?!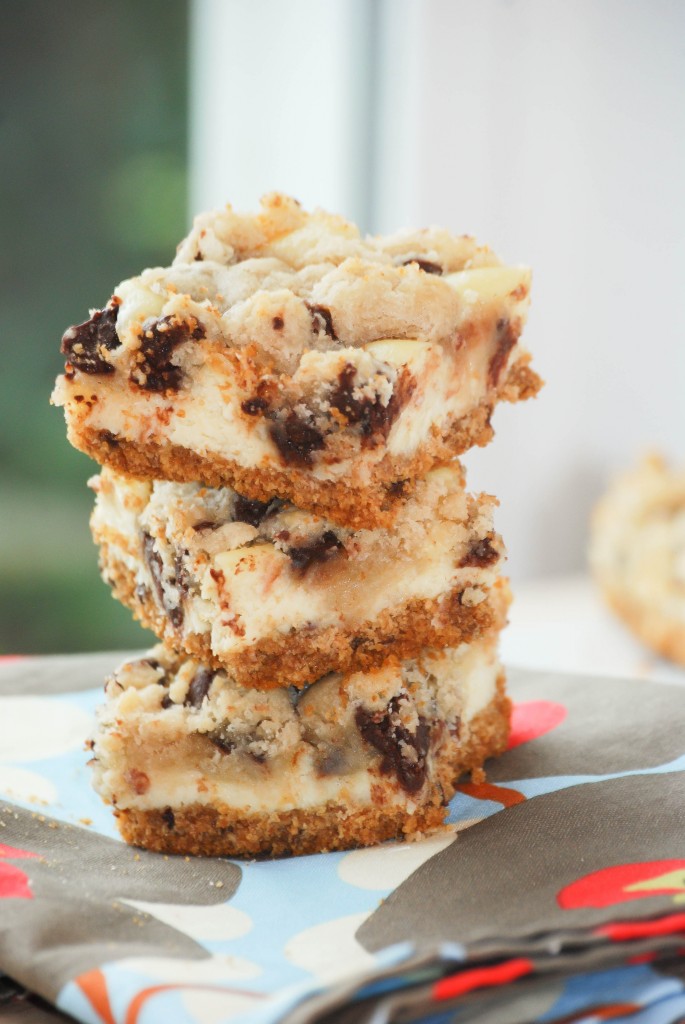 Chocolate Chip Cookie Dough Cheesecake Bars
Source: Bakerette & Beantown Baker, originally Bake at 350
Ingredients:
For the Crust:
8 whole graham crackers, finely crushed
5 tbsp. unsalted butter, melted
2 tbsp. light brown sugar, packed
pinch cinnamon
2/3 cups mini chocolate chips
For the Cookie Dough:
1/3 cup unsalted butter, room temperature
1/3 cup light brown sugar, packed
3 tbsp. sugar
1/4 tsp. salt
1 tsp. vanilla
3/4 cup all purpose flour
2/3 cups semi-sweet chocolate chips
For the Cheesecake Filling:
10 oz. 1/3 less fat cream cheese, softened
1/4 cup sugar
1 egg
1 tsp. vanilla
Directions:
Preheat oven to 325 degrees.  Line a 8 x 8 baking dish with aluminum foil, leaving some overhanging the sides.  Spray liberally with cooking spray, set aside.
For the Graham Cracker Crust:
Place graham crackers into a food processor and blend until they are just fine crumbs.  Place crumbs in a medium sized bowl and add the brown sugar & cinnamon and stir together.  Slowly stir in the melted butter until mixture resembles wet sand and all crumbs are moist.  Stir in mini chocolate chips. Press this mixture evenly into the bottom of the prepared pan. Bake for approximately 5 minutes and place pan on top of a cooling rack to cool.  (Leave the oven on to bake the assembled bars).
For the Cookie Dough:
In the bowl of a stand mixer, add the butter, sugar, salt & vanilla.  Beat on medium high speed until smooth and creamy.  Reduce mixer speed to low and add in the flour, a little at a time until just incorporated.  Remove the bowl from the stand and stir in the chocolate chips until evenly distributed, set aside. Dough will be drier than a normal cookie dough.
For the Cheesecake Filling:
In the bowl of a stand mixer, add the cream cheese and sugar and beat until creamy and smooth.  Add in the egg and vanilla and mix until fully incorporated, scraping down the bowl as needed.
To Assemble:
Pour the cheesecake filling into the prepared graham cracker crust, and spread evenly. Next, crumble small clumps (tsp. sized) of the cookie dough over top of the cheesecake filling, covering it evenly.
Bake for approximately 25 to 30 minutes, until center has set and cookie dough is firm to the touch.*  It may look like it's not done, but it will set up more as it cools.  Place pan on a cooling rack to cool completely.  Place pan in refrigerator for at least 2 hours to chill.  Remove from refrigerator and cut into squares.  Place cut bars into an airtight container and store in the refrigerator.
*Mine took a bit longer to bake, but my oven runs cool.  If not done after 30 minutes, place back in the oven for 5 more minutes and then check it.