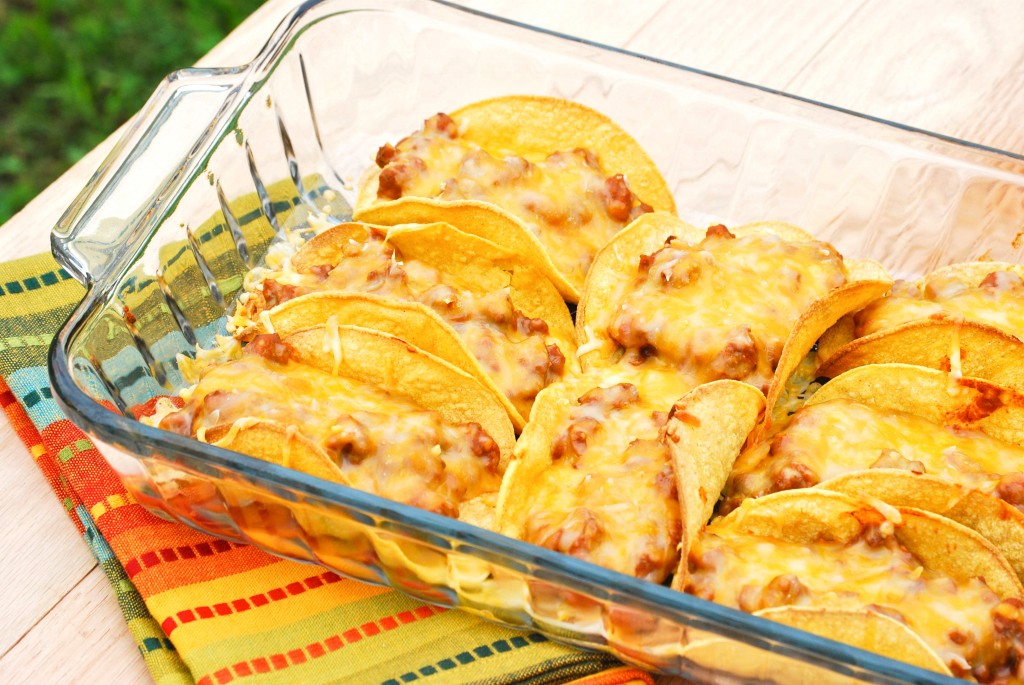 If you've been reading my blog for a little while now, you know how much I love to make Mexican food at home.  I'm always on the lookout for a new twist or a new dish to use those wonderful combination of flavors.  There's just something about that avocado, cilantro and fresh toppings paired with bold flavors and melty cheese.  So when I came across these baked tacos, I knew they would be a hit in our house.  These were everything I had hoped for, cheesy, melty goodness wrapped in a crispy shell.  I mixed some refried beans in with the meat, but this would totally work with just ground beef & regular taco seasoning too.  Also, I made my own tortilla shells from corn tortillas which were crispy but not so much that they cracked apart on you.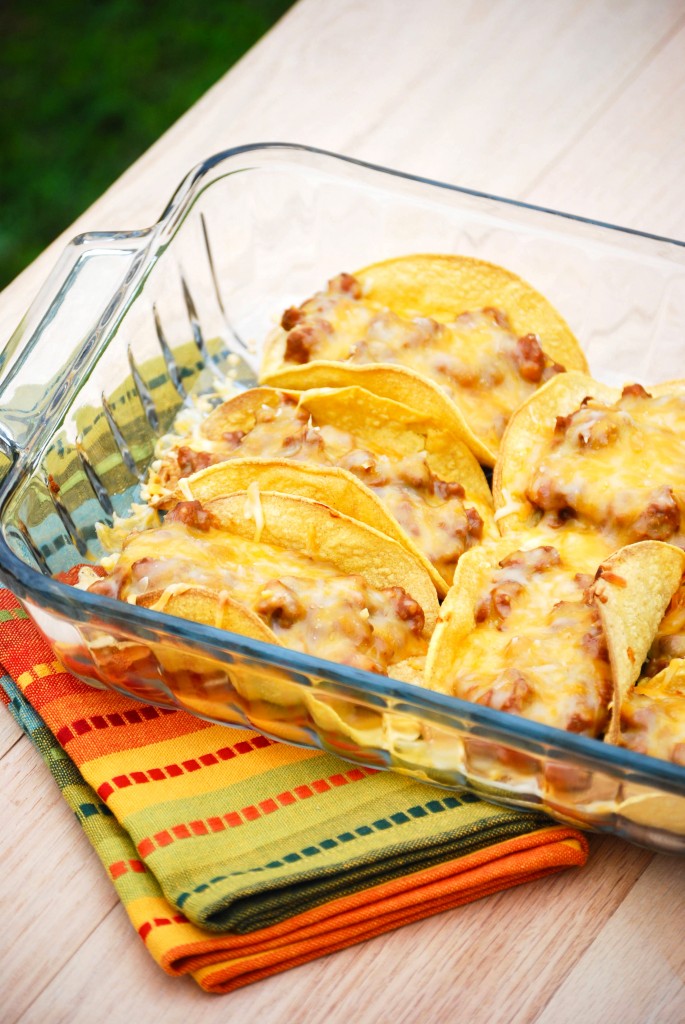 Oven Baked Tacos
Source: One Good Thing by Jillee, originally Lynn's Kitchen Adventures
Makes 8 to 9 Tacos
Ingredients:
8 to 9 Corn Tortillas or Prepackaged Taco Shells
1 lb. lean ground beef
1/2 can refried beans*
8 oz. can tomato sauce
1/2 packet taco seasoning, or 1 1/2 tbsp. homemade taco seasoning
Approximately 1 1/2 cups shredded cheese
Directions:
For the Crispy Taco Shells:
Preheat oven to 375 and remove one of the racks from the oven so you can work with it while it's not hot.
Spread 4 tortillas onto a microwavable plate and cover with a slightly damp paper towel.  Microwave for 20 to 30 seconds, until the tortillas are pliable. Lay out the tortillas onto a cutting board and spray each side with cooking spray. Repeat for remaining tortillas.
Drape each tortilla over two rungs on the oven rack that you removed from the oven.  Place the rack back into the oven and bake tortillas for approximately 7 to 9 minutes, until they are crispy. Use tongs to remove them from the oven, very carefully. Set each taco shell on a plate or cooling rack to cool.
For the Baked Tacos:
Preheat oven to 400 degrees and spray a 9 x 13 glass baking dish with cooking spray, set aside.
In a large skillet, brown ground beef. Drain off any excess grease. Add in the tomato sauce, refried beans and taco seasoning to the browned ground beef.  Stir to combine.  Heat over medium low heat until everything is fully incorporated, approximately 3-5 minutes.  Remove skillet from heat.
Take one of the prepared taco shells and fill with the meat mixture.  Repeat for each shell.  Place each filled shell standing up into the prepared baking dish and top each taco liberally with cheese.
Bake for 10 to 12 minutes, until cheese is melted and bubbly.  Top with your favorite taco toppings and serve.
Notes:
*Don't worry about just using half a can of refried beans, heat the remainder of the beans in a microwavable dish in 30 second increments and serve them on the side with tortilla chips.
**Can just use a mixture of the browned ground beef with the taco seasoning, though you may want to add a tad more seasoning and a little water and let it simmer for a bit.
***To reheat: Bake in a 350 degree oven for approximately 20 minutes or until meat mixture is hot and shells return to crispy.
****If you use premade crispy taco shells, you will want to bake this in a smaller dish (8×8) as those shells are more narrow and take up less room in a dish.