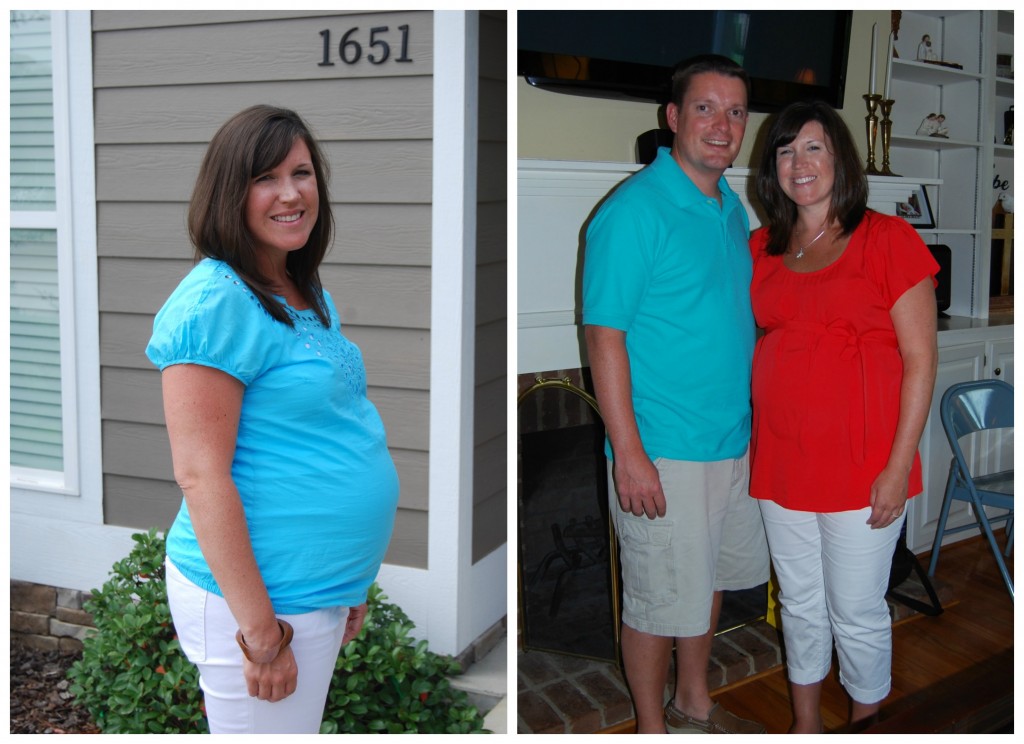 Wow! I only have 8 weeks left!!! It's getting really real, ya'll!! I'm so excited that we don't have long until we get to meet our baby girl! We have the nursery almost completed and I'll share photos as soon as we get it all done.  The picture on the left is me at 30 weeks and the one on the right is 31 weeks.
I haven't taken too many fully body pictures of myself because just to be honest with you, I'm not super in love with my body right now.  Don't get me wrong, I am thrilled about the little girl growing inside me, she is a miracle and truly a gift from God. And I'm completely comfortable with my belly getting bigger because I know that means she's growing like she should. I've mostly just had a hard time because I've seemed to have gained weight everywhere…face, arms, legs etc.  And that's while still working out and trying to eat healthy for the most part.  As someone who grew up quite overweight and then God helped me lose it and keep it off for 7 years, it's definitely been the most challenging part about being pregnant. But of course, I wouldn't trade it for the world and I know it will come back off after she's born, I'm trying not to worry about it too much.
I have been so blessed with such a healthy pregnancy and am so thankful to the Lord for blessing us with this child, so it definitely makes it all worth it!! And after dealing with our infertility, I'm just so thankful for the opportunity to carry a child that it doesn't really matter how much weight I gain in the grand scheme of things, as long as she's healthy!

I have had a few baby showers so far and have one more to go.  We have been so blessed by the love poured out to us by our family and friends!! I had a shower with all of my closest girlfriends from Sunday School and that was so much fun! Everyone had such a great time hanging out and just having girl time and it everything was so lovely.  Then I had a shower in my hometown with family friends and people I grew up with and it was wonderful as well! The food and cake at both showers was amazing!!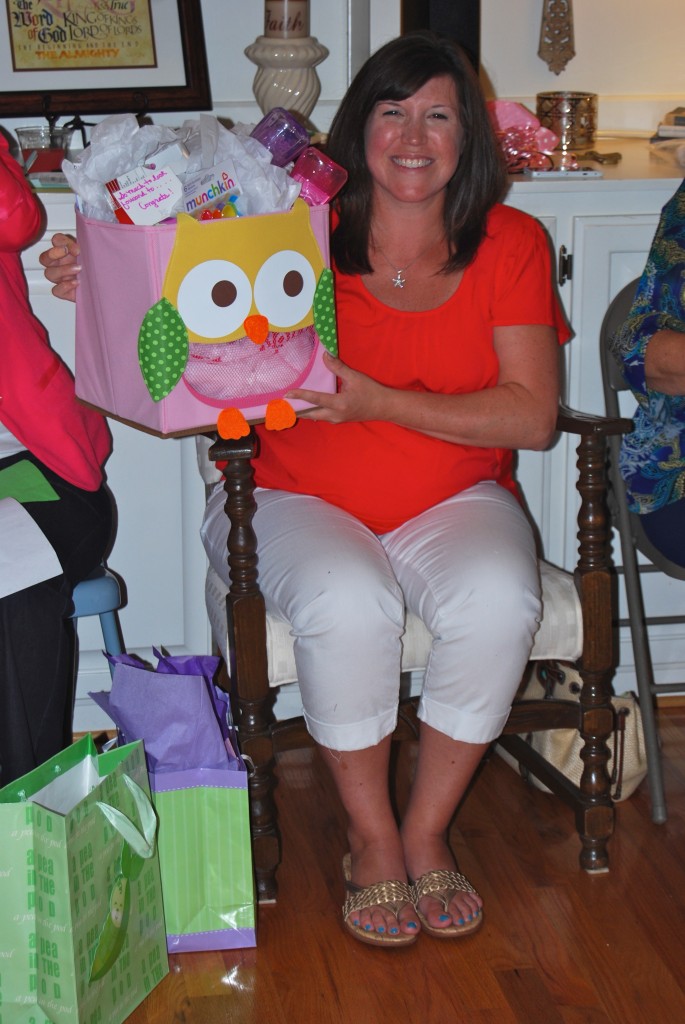 Here's a few updates from my symptoms & cravings the past couple of weeks:
How I'm feeling:  Feeling really good, just get physically tired a lot more easily.  When I walk or do the elliptical I can feel it big time, especially by the end of the workout, but I'm still trying to stay as active as possible. I've had a little bit of swelling in my feet and hands, but mostly when I try to do too much. Adam's gotten on to me for trying to do too much.  Baby girl is super active these days and sometimes she kicks and it still just shocks me. It's so neat to feel her move all around!! I've had some minimal heart burn, but nothing bad at all.  And I've been blessed to be able to sleep well, I just have to get up once or twice to go to the bathroom in the night but I've been able to go back to sleep pretty easily for the most part.
What I'm craving:  I've been trying not to give into my cravings too much because my doctor told me to watch the white carbs and sugar intake, but earlier this week I had a huge craving for red velvet donuts. One other major craving I've had is biscuits & gravy and chicken tenders (not together of course). I have gotten some chicken tenders but I haven't given into the donuts or biscuits & gravy yet, but I just might have to get one of them this weekend!
What I'm Looking forward to most: We have an ultrasound next week!! We haven't seen baby girl since 20 weeks so I'm super anxious to get to see her!