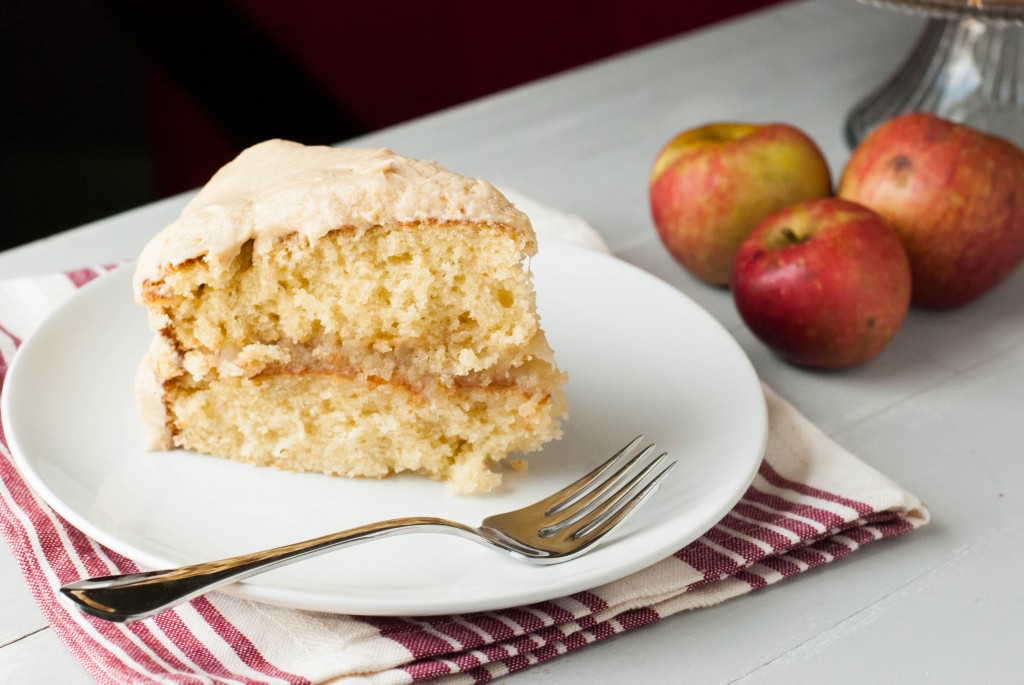 Recently my neighbor had someone give her a ton of apples from a local orchard and she generously shared them with me.  I was going back through recipes that I have saved over the years and came across this cake that I always say I'm going to try and just never have.  I am so sad that I am just now trying this cake.  That's how good it is!! The cake is moist and the tartness of the apples helps to balance out the sweetness of the caramel buttercream.  This cake is a bit of a labor of love just because you have to make the cake, the filling and the frosting, but believe you me, it is completely worth it!! Not only is it decadent and mouth wateringly delicious, but it looks super impressive too! This would be a great addition to any holiday table!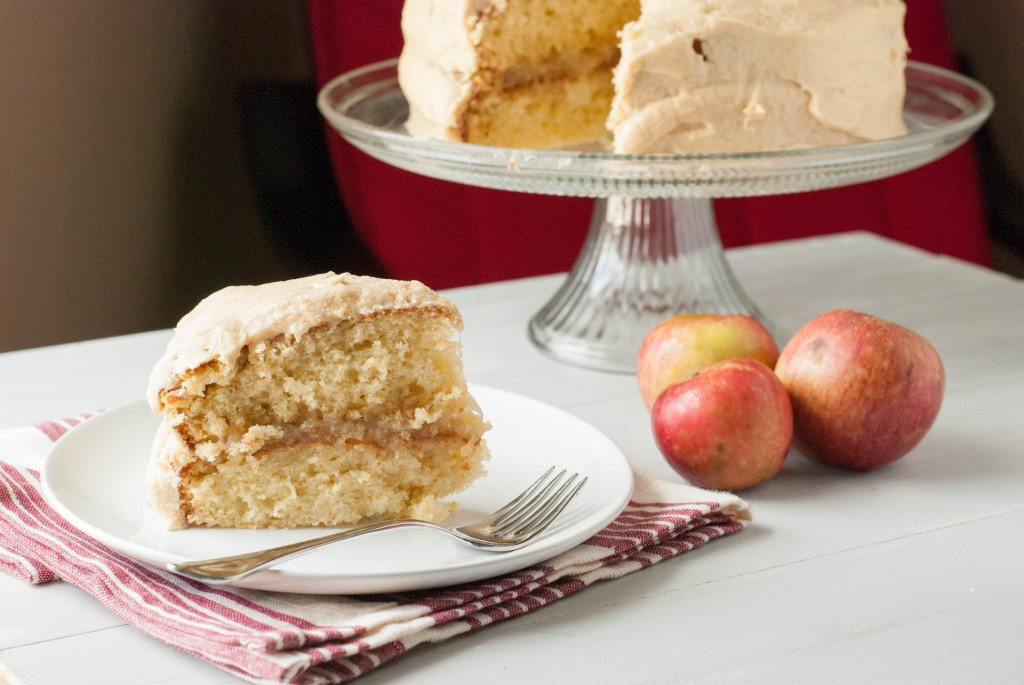 Caramel Apple Layer Cake
Source: Rachael Ray Magazine 
Ingredients:
2 1/4 cups all purpose flour
1 1/2 cups plus 1/2 cup sugar
1 tbsp. baking powder
1 tsp. salt
4 sticks (1 lb). plus 3 tbsp. unsalted butter, softened
3 large eggs plus 2 large egg yolks
1/2 cup heavy cream
1/2 cup unsweetened applesauce
2 tsp. vanilla
3 large apples, peeled & thinly sliced lengthwise
1 1/2 cups confectioner's sugar
1 12 oz. container caramel sauce (or approximately 1 cup homemade caramel sauce)
Directions:
For the Cake:
Preheat oven to 350 degrees.  Spray two 9 inch round cake pans liberally with cooking spray, set aside.
In the bowl of a stand mixer, add the flour, 1 1/2 cups sugar, baking powder & salt.  Add in 2 sticks of the butter.  Beat at low speed until mixture gets crumbly and resembles course sand.
In a medium sized bowl, add the eggs, egg yolks, cream, applesauce & vanilla.  Whisk together until fully incorporated.
Add the egg mixture into the flour mixture.  Beat on medium speed until fully incorporated and smooth, approximately 1 minute.
Divide batter evenly between prepared pans and spread evenly.  Bake for approximately 25 to 30 minutes, until a toothpick inserted comes out clean and top springs back slightly.  Place pans on cooling rack. Let cakes set in pans for approximately 10 minutes. After 10 minutes, run a knife around the edge of the cake and flip each cake out onto the cooling rack to cool completely.
For the Filling:
In a small saucepan, add 3 tbsp. butter and melt over medium-low heat.  Once melted, add the apple slices and remaining 1/2 cup sugar. Stir to combine.  Cook over medium heat for approximately 15 minutes, stirring frequently.  Apples should be softened and juice syrupy.  Remove from heat and let cool completely.
For the Frosting:
In the bowl of a stand mixer, add the remaining 2 sticks butter and confectioner's sugar.  Beat on medium speed until light and fluffy.  Reduce mixer speed to low and add in caramel sauce.  Increase speed and beat until fully incorporated.
To Assemble:
Place one of the cooled cakes onto a cake plate.  Spread the apple filling evenly over top, leaving a half inch around the border. Top with the other cake.  Using an offset spatula, spoon the frosting onto the top of the cake and spread it evenly over the top and around the sides.
Store cake at room temperature in a covered cake plate or airtight container.
Note:
For the filling, the original recipe called to add 3 tbsp. heavy cream after removing from the heat, but I accidentally forgot to do this and it was still fabulous. Feel free to add it if you would like though.