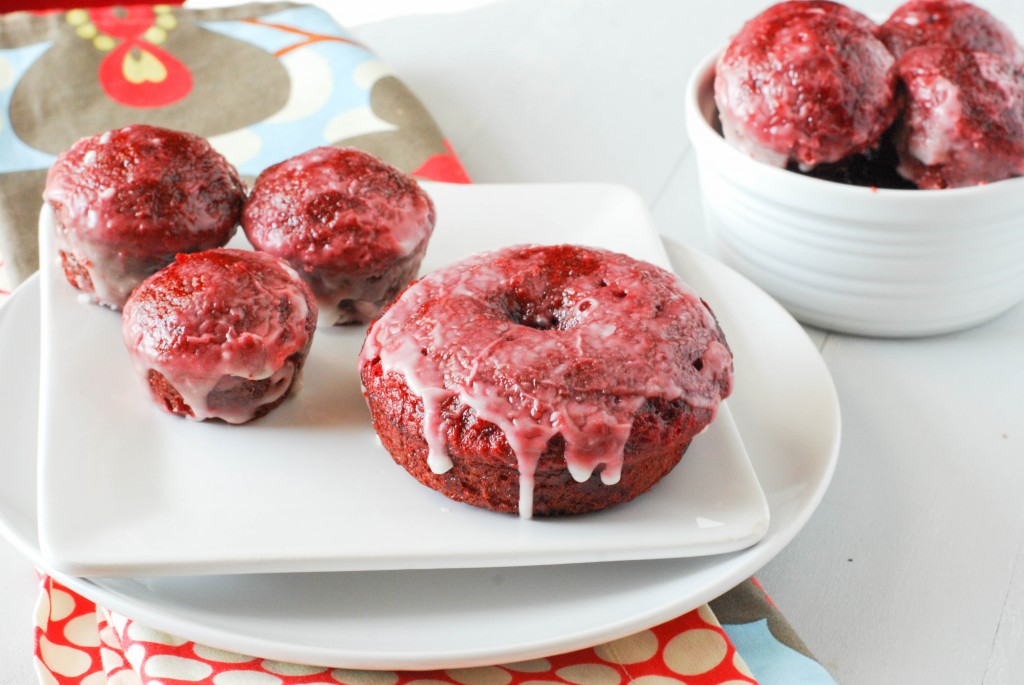 A couple weeks ago, I mentioned that I had been craving red velvet donuts. Thankfully a couple of Sundays our teachers brought donut holes from Daylight Donuts and there were red velvet donut holes in there!! So it definitely satisfied my craving, but I've found I've been craving them quite often, haha.  So, instead of driving over to the donut shop, I decided to make some myself.  These were absolutely incredible!! And not to mention, really easy because they start with a cake mix that you just doctor up a bit and then dip into the glaze.  The cake was super moist and would make great cupcakes too and the glaze added a great sweetness but not too rich.  Also, if you don't have a donut pan, you can make these in muffin tins.  I made half the batch in the donut pan and half in a mini muffin pan for "donut holes."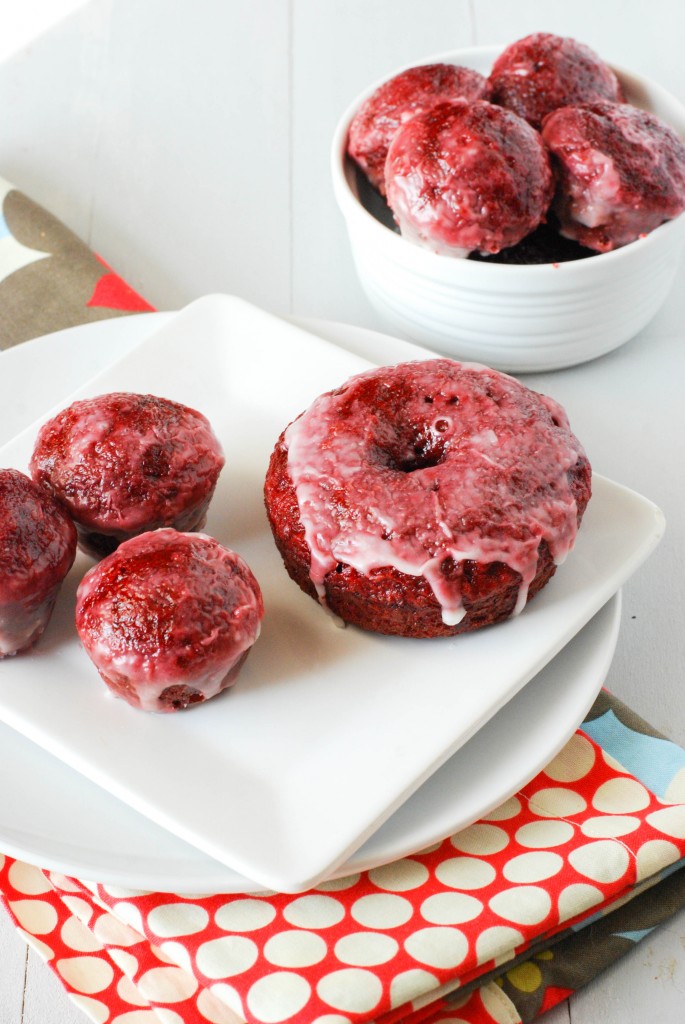 Glazed Baked Red Velvet Donuts
Source: Donut Recipe from Buns in My Oven, inspired by Cookies & Cups
Glaze Recipe from Alton Brown via Food Network
Recipe Makes 12 donuts or 6 donuts & 20 to 24 "donut holes"
Ingredients:
For the Donuts:
2 2/3 cup Red Velvet dry cake mix*
2/3 cup buttermilk**
2 tbsp. canola oil
2 eggs
For the Glaze:
1/4 cup milk
1 tsp. vanilla
2 cups confectioner's sugar
Directions:
For the Donuts:
Preheat oven to 350 degrees.  Spray a donut pan &/or mini muffin pan with cooking spray, set aside.
In a medium bowl, add the dry cake mix, buttermilk, canola oil, & eggs.  Stir together with a spatula until fully incorporated.  Scoop the batter into your prepared pans.  Fill the donut or mini muffin cups approximately 1/2 to 2/3 full.
Bake for approximately 10 minutes, until a toothpick inserted comes out clean and donuts and holes are set in the center. Let cool in the pan for a few minutes, then run a knife around the edges of each donut or donut hole and pop out of the pan.  Place on a cooling rack to cool slightly.
For the Glaze:
While the donuts bake, in a small saucepan add milk & vanilla and stir together.  Heat over low heat until warm. This only takes a minute or so.  Add in the confectioner's sugar and stir until fully incorporated and smooth.  Remove from heat and set pan over a bowl of warm water to keep the glaze dippable.
To Assemble:
Place a sheet pan under your cooling rack to catch drips.
While the donuts are still warm, dunk them into the glaze and set them back on the cooling rack. Allow to cool completely and the glaze to set.  Store in an airtight container at room temperature.
Notes:
*You will have just a little dry mix left in the box, but you can use it in other delicious cake batter treats
**For Buttermilk: You can place 2/3 tbsp. vinegar in a measuring cup and fill it the rest of the way up to 2/3 cup with milk.  Let set for 10 minutes before adding to batter.