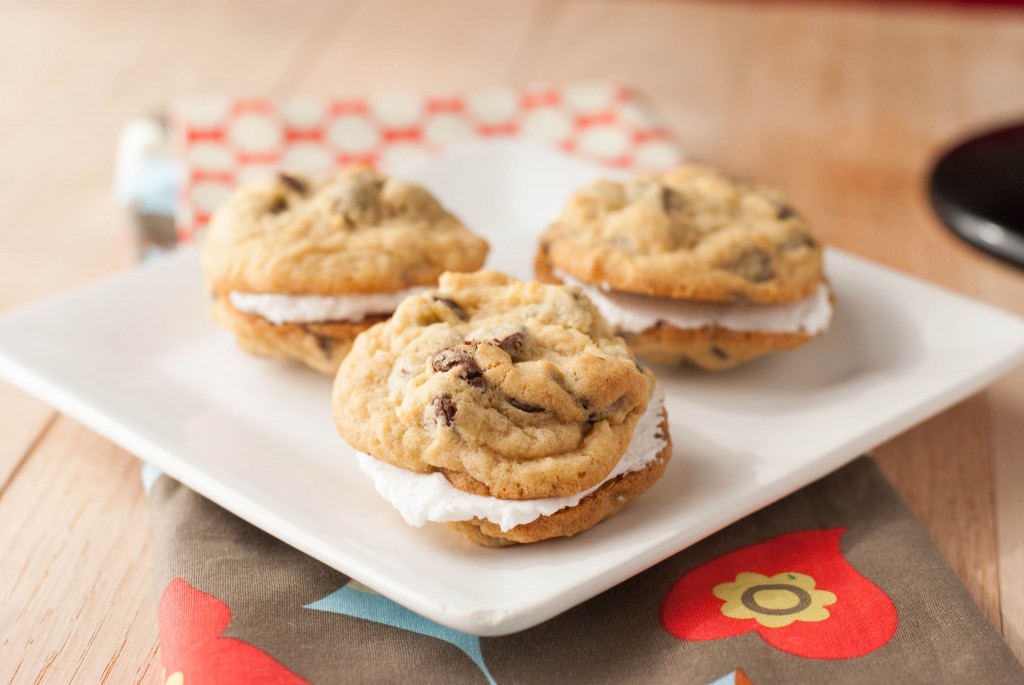 I don't know about you, but walking past the Great American Cookie kiosk at the mall without stopping is the hardest thing ever! I succeed sometimes but there are plenty of times I have to stop and get one of those double doozie cookies.  If you aren't familiar with them, a double doozie is two cookies with buttercream sandwiched between.  When I was thinking of something to bake to take to the hospital for the nurses when we have our baby girl, I thought it would be fun to try and make double doozies at home.
These cookies were incredible!! So soft and the perfect texture and the icing is so smooth. These are super rich, but they are small so you don't feel as guilty about eating one or two of them! The cookies are great on their own too if you don't want to do the icing.  These were really close to the kind you buy at the mall, making them a great at home treat to splurge on! Oh and I stuck these in the freezer to pull out whenever it's "go time" for us to go to the hospital, hope the nurses love them just as much as I do!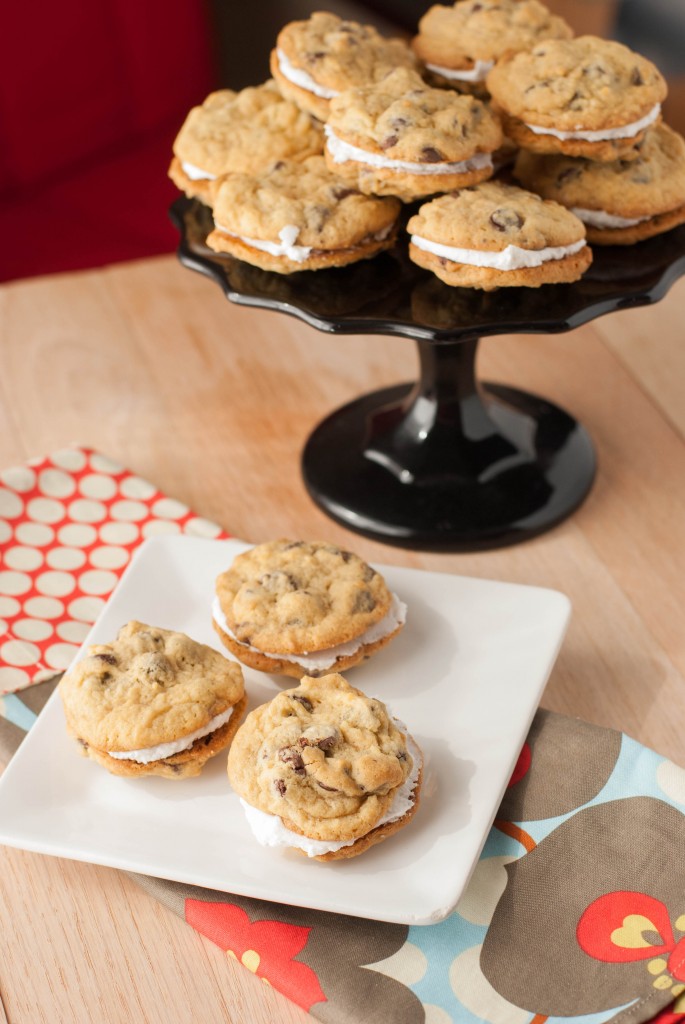 Great American Cookie Double Doozies
Source: Wonderful Zuckers
Makes approximately 26 to 28 double doozies or approximately 54 to 56 individual cookies
Ingredients:
For the Cookies:
1 cup unsalted butter, softened
1 tsp. baking soda
1/4 cup sugar
3/4 cup brown sugar, packed
1 tsp. vanilla
1 small box instant vanilla pudding mix
2 large eggs
2 1/4 cups all purpose flour
12 oz. semi-sweet chocolate chips
For the Icing:
1 lb. confectioner's sugar
1 tbsp. butter, room temperature
1/2 cup shortening
2 tbsp. milk
2 tbsp. hot water
1/4 tsp. salt
1/2 tsp. vanilla
Directions:
For the Cookies:
Preheat oven to 325 degrees. Cover a cookie sheet with parchment paper, set aside.
In the bowl of a stand mixer, add butter, baking soda, sugar, brown sugar, vanilla, and pudding mix. Beat until fully incorporated.  Add in eggs and beat well to combine.  Add in flour a little at a time and beat until just incorporated.  Remove bowl from stand and stir in chocolate chips until evenly distributed.
Scoop cookie dough out onto the baking sheet with a small cookie scoop (heaping tablespoon), placing them 2 inches apart.
Bake cookies for approximately 8 to 12 minutes until edges are golden brown and tops are set.  Let cool on cookie sheets for a couple of minutes, then transfer to cooling rack to cool completely. Repeat for remaining cookie dough.
For the Icing:
In the bowl of a stand mixer, add the confectioner's sugar, butter, shortening, milk, hot water, salt, and vanilla.  Mix together on low until incorporated and then turn mixer to medium high and beat several minutes until light and fluffy.
To Assemble:
Spread approximately 1 tbsp. frosting on the bottom of one cookie evenly. Top with the underside of another cookie.  Repeat for remaining cookies.  You may have leftover icing to use on cupcakes or other treats.
Store cookies in an airtight container at room temperature.