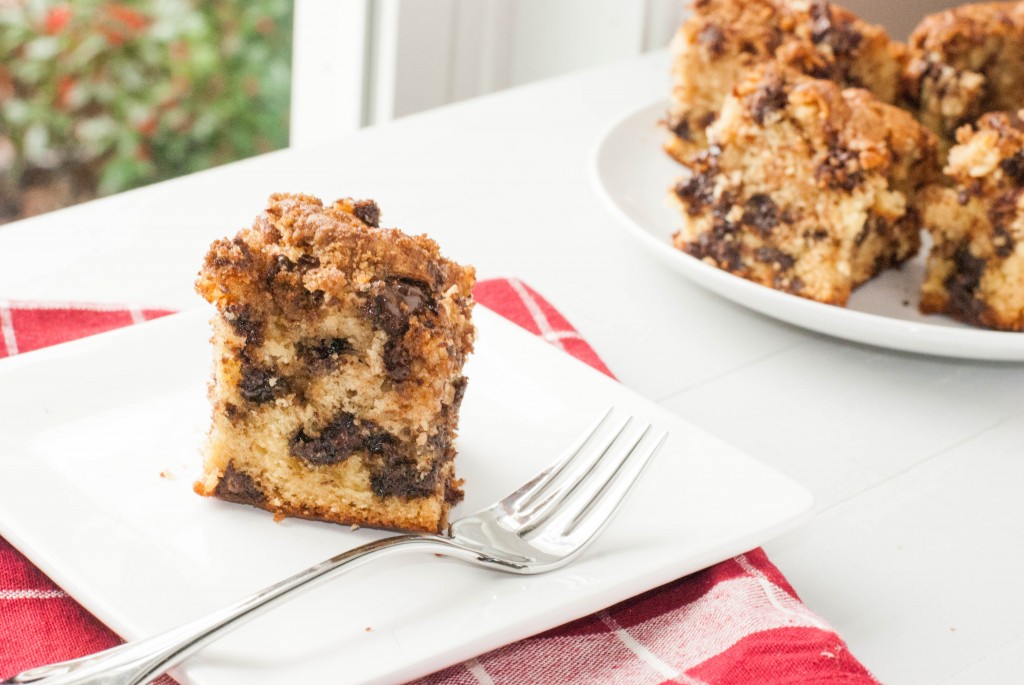 As you may have guessed if you've been reading my blog for a while, I am a huge fan of chocolate for breakfast.  I love to order chocolate chip pancakes or any kind of pastry with chocolatey goodness. I originally set out to make a fruity coffee cake, but I just wasn't feeling it and had to have some chocolate!! This cake is super moist and the top gives it a nice crunch and the chocolate chips are ooey gooey.  I think I will be making this for Christmas morning! It's seriously that good!! This also would work great as a dessert too! Do you like chocolate for breakfast?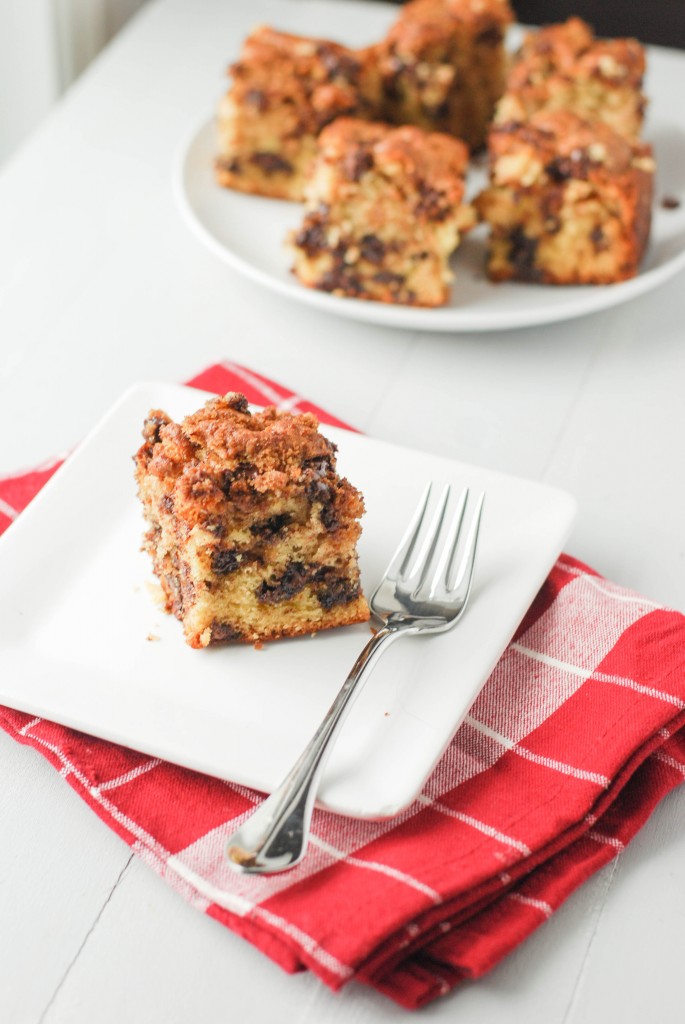 Chocolate Chip Coffee Cake
Source: Food.com
Ingredients:
1/2 cup unsalted butter, softened*
1 cup sugar
3 eggs
2 1/2 cups all purpose flour
2 tsp. baking powder
1 tsp. baking soda
pinch salt
1 cup sour cream
1 tsp. vanilla
1 cup semi-sweet chocolate chips
For the Filling/Topping:
1/2 cup semi-sweet chocolate chips
1/2 cup light brown sugar
1 tsp. cinnamon
Directions:
Preheat oven to 375 degrees.  Grease a 10 inch tube pan (or a 9×9 or 8×8 inch baking pan), set aside.
In the bowl of a stand mixer, add butter & sugar and beat together on medium high speed until light & fluffy. Add eggs, one at a time, beating well between each addition.
In a small bowl, whisk together the flour, baking powder, baking soda & salt. Add the flour mixture to the butter mixture, alternating with the sour cream (start with 1/3 of the flour, then 1/2 of the sour cream, then 1/3 of the flour, rest of sour cream, and rest of flour). Add in vanilla and beat until incorporated.
Remove the bowl from the stand and stir in 1 cup of the chocolate chips.
For the Topping:
In a small bowl, stir together the 1/2 cup chocolate chips, brown sugar & cinnamon.
To Assemble:
Pour half the cake batter into your prepared pan and spread evenly.  Sprinkle with 1/2 of the topping. Spread rest of cake batter evenly over top and sprinkle with remaining topping.  Bake for approximately 35 to 45 minutes, until a toothpick inserted comes out clean. (Mine took a little longer to bake and was still a little soft in the center but set up nicely once cooled).
Cool completely and cut into servings. Sprinkle with confectioner's sugar if desired. Store in an airtight container.
Notes:
*Original recipe calls for 1 cup butter but I accidentally just used 1/2 cup and it turned out fabulously.