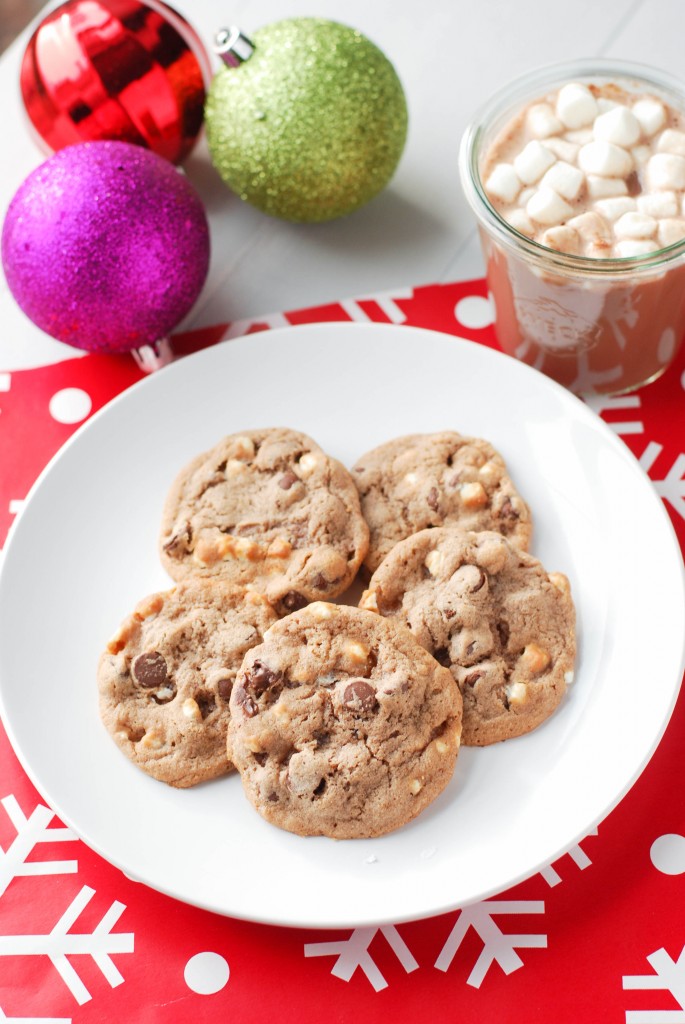 Hot, Hot! Hey we got it! Hot, Hot! Ooh We Got it! Hot Choc-o-laaate!! That's hands down my favorite part of the Polar Express movie, such a classic! These cookies are perfect for this time of year.  Make yourself a big mug of hot chocolate, a big batch of these cookies and cozy up on the couch for a Christmas movie marathon! Sounds like the perfect holiday evening to me!! These cookies are chewy and chocolatey and the marshmallow gives it a kind of creamy bite.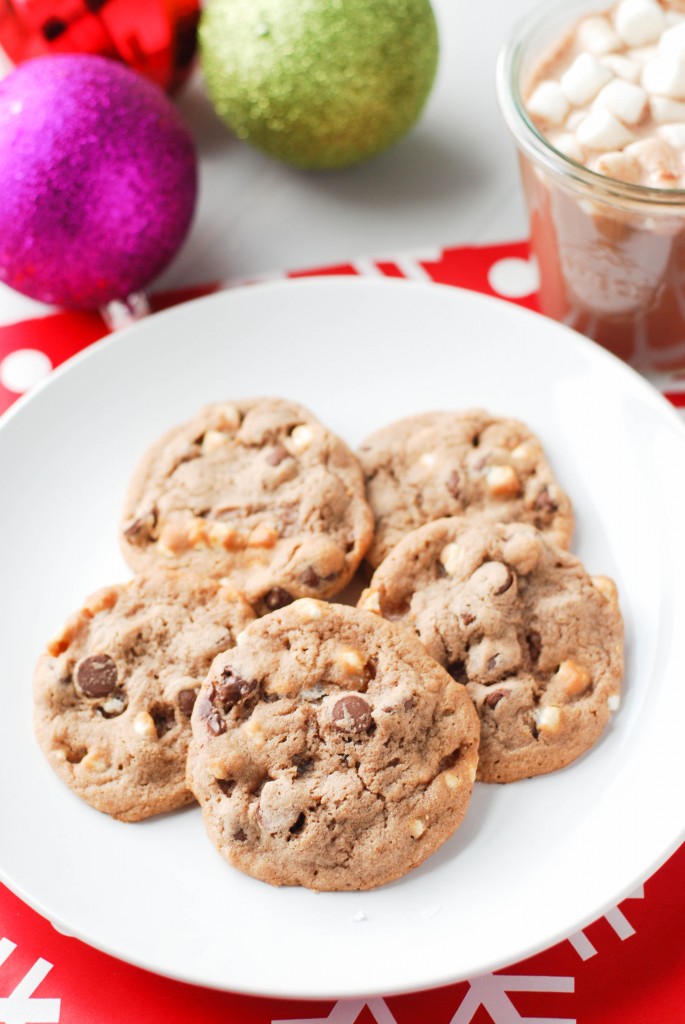 Hot Chocolate Cookies
Source: Dinners, Dishes & Desserts originally Crumbs and Chaos
Ingredients:
1/2 cup unsalted butter, softened
1/2 cup shortening
3/4 cup sugar
3/4 cup light brown sugar
2 eggs
1 tsp. vanilla
2 1/4 cup all purpose flour
1 tsp. salt
1 tsp. baking soda
3 (1 oz.) packets hot chocolate mix
1 pkg. semi-sweet chocolate chips
2/3 cup mini marshmallow bits
Directions:
Preheat oven to 350 degrees. Cover a baking sheet with parchment paper, set aside.
In a medium sized bowl, whisk together the flour, salt, baking soda & hot chocolate mix, set aside.
In the bowl of a stand mixer, add the butter, shortening, sugar & brown sugar.  Beat until fully incorporated.  Reduce mixer speed to low and add in eggs & vanilla, beat until incorporated. Gradually add in the flour mixture until just incorporated.
Remove bowl from stand and stir in chocolate chips & marshmallow bits.
On your prepared baking sheets, drop tablespoon sized balls of dough, approximately 2 inches apart. Bake for 10 minutes.  Remove from the oven and allow to cool on baking sheet for 2 to 3 minutes.  Transfer to cooling rack to cool completely. Once cool, store in an airtight container.