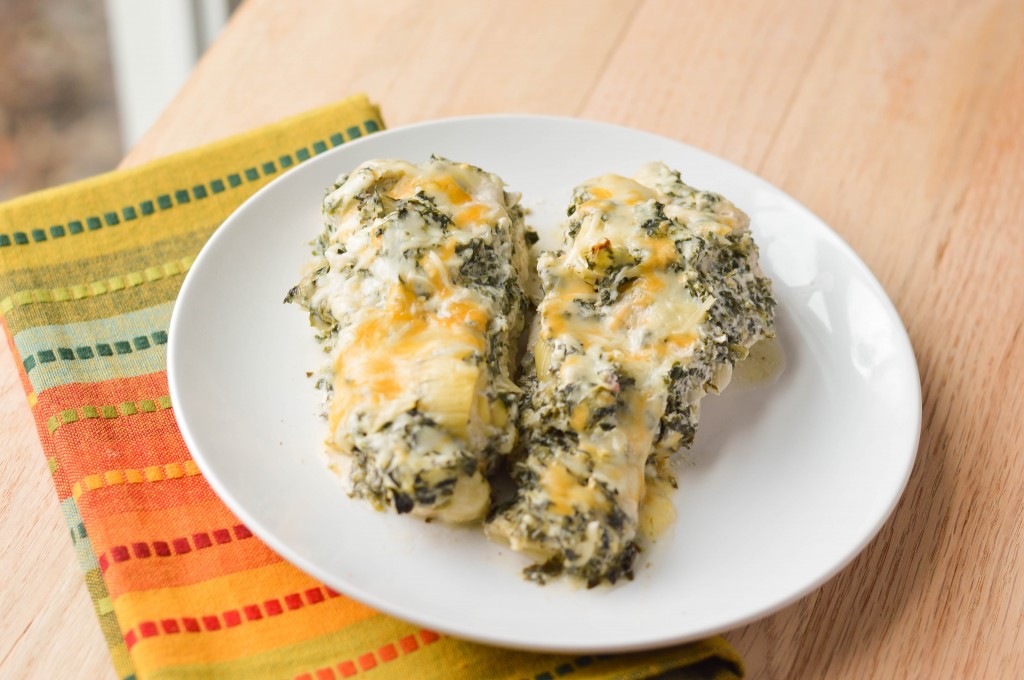 This dish is one you should stop everything you are doing, run to the grocery for the ingredients, & make it tonight! It was that incredible.  This is lightened up by using low fat cream cheese and greek yogurt instead of full fat ingredients, and you will never be able to tell! Plus you get in some veggies too. I just love lighter meals that taste indulgent. This one is definitely going on our regular rotation!  I served this with roasted green beans and a baked sweet potato.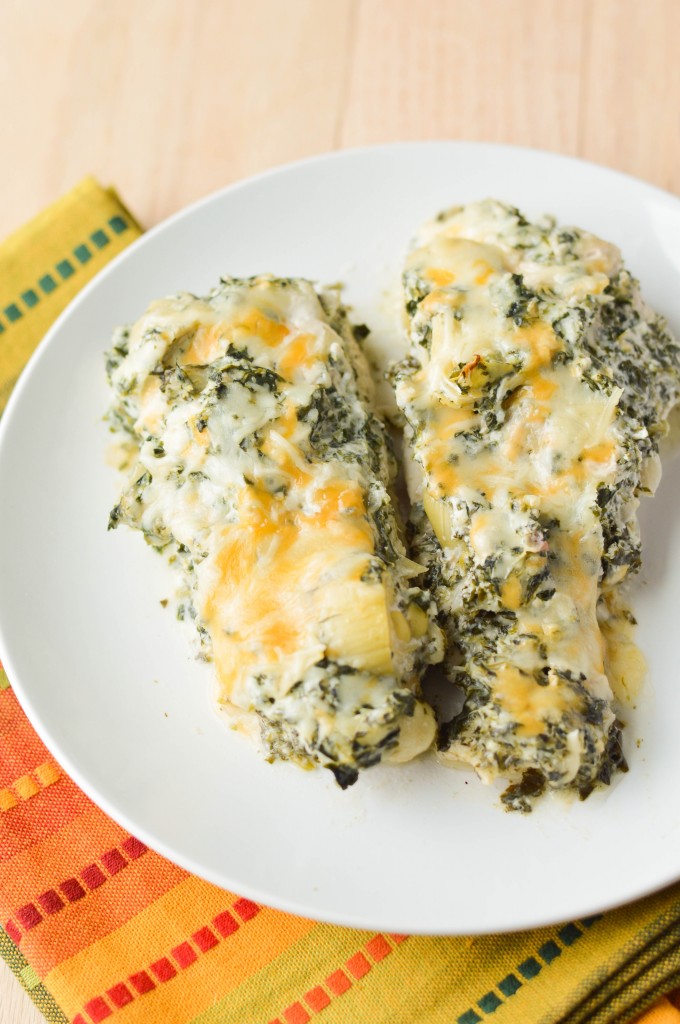 Lighter Spinach & Artichoke Dip Chicken
Source: Iowa Girl Eats
Serves 6 to 8
Ingredients:
3 to 4 large chicken breasts, sliced in half vertically
1 tbsp. unsalted butter
1/4 of a red onion, chopped
2 cloves minced garlic
kosher salt
freshly ground black pepper
6 oz. 1/3 less fat cream cheese, softened
6 oz. lowfat plain Greek Yogurt
1 (10 oz.) package frozen chopped spinach, thawed and drained
1 (14 oz.) can quartered artichoke hearts, drained
1/2 cup shredded parmesan cheese, divided
1/2 cup shredded cheddar or mozzarella cheese, divided
Directions:
Preheat oven to 400 degrees.  Spray a 9 x 13 baking dish with cooking spray. Cut chicken breast in half vertically and place cut chicken breasts in prepared dish.  Sprinkle with salt & pepper.
In a large skillet, add butter and heat over medium heat until melted.  Add red onion and saute 2 to 3 minutes, until slightly translucent.  Add in garlic and cook until fragrant, approximately 30 seconds.  Add a pinch of salt & pepper and stir in cream cheese & greek yogurt until fully melted & incorporated.  Remove from heat and add in spinach, artichoke hearts, 1/2 of the parmesan, & half of the shredded cheddar or mozzarella. Stir together until fully incorporated.
Spread mixture on top of chicken evenly.  Cover with foil and bake for 20 minutes.  Remove from oven and uncover.  Sprinkle evenly with remaining parmesan & cheddar or mozzarella.  Bake uncovered for an additional 10 minutes, until mixture is bubbly and cheese is melted.
Let dish set for 10 minutes, then serve.