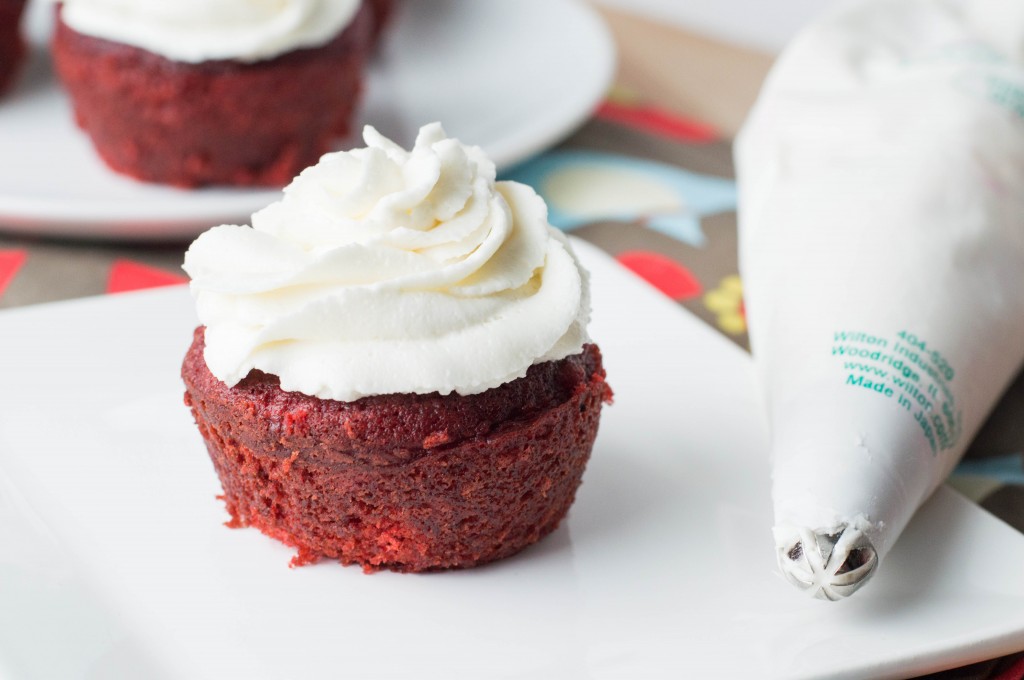 If you've never had Publix Buttercream Frosting, you are missing out! But never fear, you can make your own version at home! This frosting is so smooth & fluffy and not grainy at all.  It's great for topping cakes or cupcakes, sandwiched between two cookies or ya know, just diving in with a great big spoon!! While not exact, this does taste very close to the Publix version. I will have a hard time not making it my new go-to frosting! I did omit a few flavorings from the original recipe that I didn't have on hand and it turned out great. I am excited to try this again with adding them in.  I listed them as options in the recipe below. Stay tuned for Thursday for the recipe for the Red Velvet Cupcakes!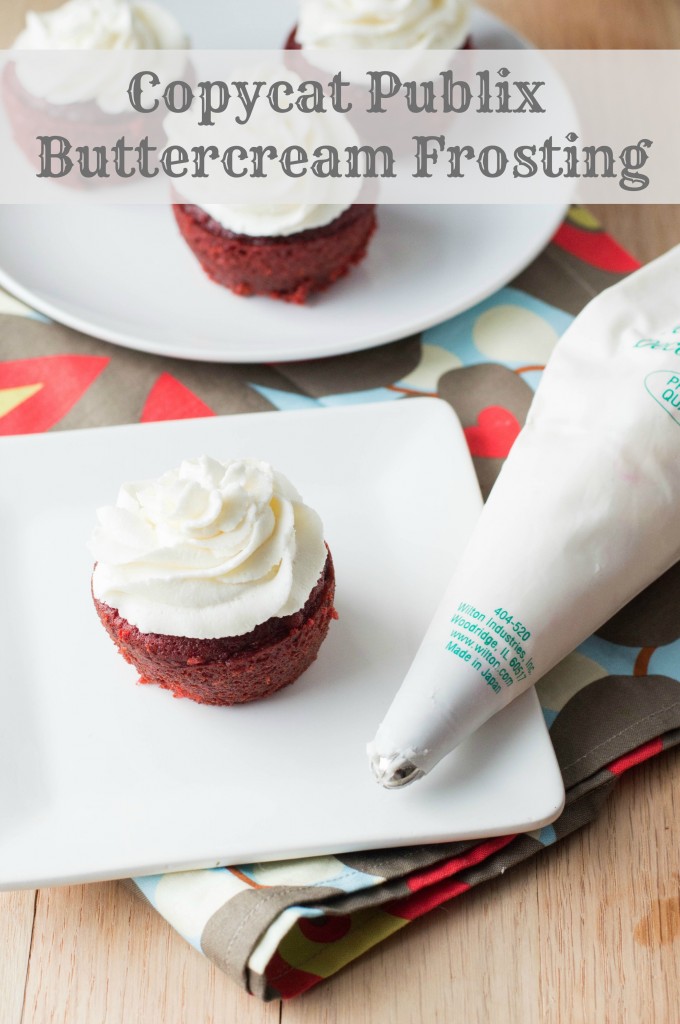 Copycat Publix Buttercream Frosting
Source: slightly adapted from Copykat.com
Ingredients:
2 1/2 sticks (1 1/4 cups) unsalted butter, room temperature
1 1/2 cups vegetable shortening
1/4 tsp. salt
1 1/2 tsp. vanilla
2 lbs. confectioner's sugar
Optional:
1 tsp butter flavoring
1 tbsp. meringue powder
can sub 1/2 tsp. of the vanilla with 1/2 tsp. almond extract
1 tbsp. milk
Directions:
In the bowl of a stand mixer add the butter, shortening & salt.  With mixer on low, beat together for several minutes until fully incorporated and fluffy. Add vanilla, and beat until incorporated.
In a separate medium sized bowl, add the confectioner's sugar and whisk together to sift. Alternatively you can sift it through a sieve.
Add half of the confectioner's sugar to the stand mixer, beat until combined on the lowest speed. Add in the remaining confectioner's sugar 1/2 cup at a time on the lowest speed, until fully incorporated.  Once incorporated, beat frosting on medium speed until light & fluffy and a spreadable consistency.  If too thick, can add the tbsp. of milk.
Store at room temperature in an airtight container.
Notes: 
*The meringue powder, almond extract & butter flavoring were listed in the original recipe but I left them out because I did not have them on hand and it still turned out fabulous! The meringue is supposed to help the frosting hold together but I had no problem with mine holding up.  Feel free to add it in if you wish.  If you do add it, add it with the first addition of the confectioner's sugar.
**The butter flavoring & almond extract can be added with the vanilla if desired.
*** I halved this recipe and had enough to frost 12 cupcakes with plenty leftover, probably could've frosted approximately 16-18 cupcakes with the leftovers.