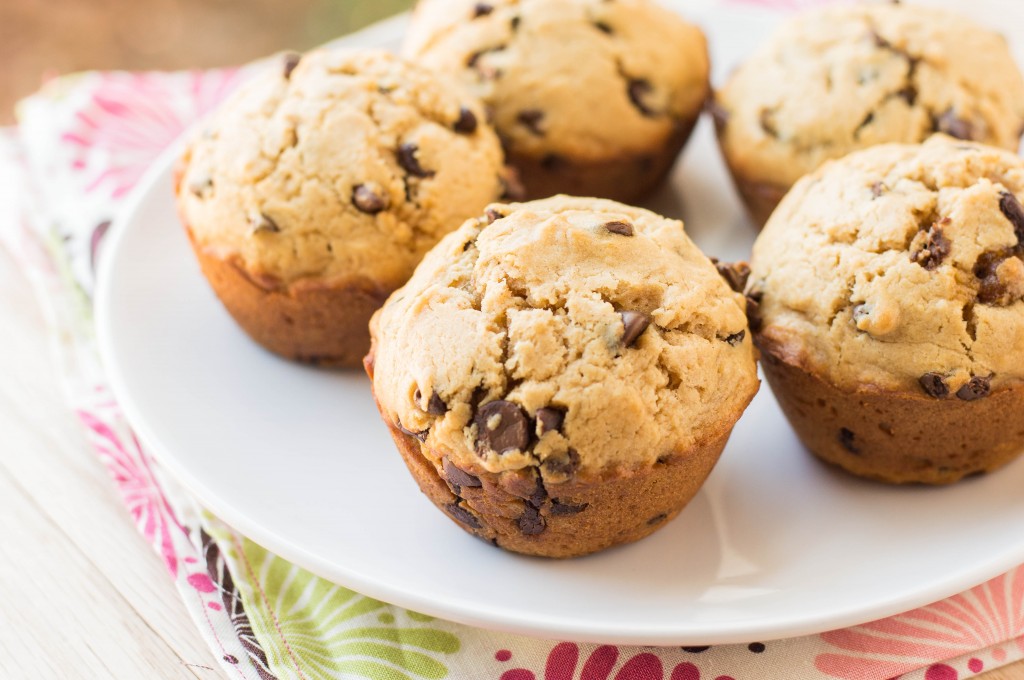 Thank you all so much for your sweet comments about Sophie and for your wishes to feel better! I am feeling much better, thankfully! I have gotten into a bit of a cooking/baking rut after not cooking much the past couple of weeks. I decided to bust out of that and bake some muffins for Adam's co-workers. The first recipe I tried was a big fail and ended up in the trash.  Not the best way to get out of a rut, but I didn't let it get me down.  I went to a different recipe and tried immediately again and they turned out great!
I just tried a small bite since they aren't on my eating plan, but they were super moist & soft inside with a great crunch on the outside.  They would be a great breakfast or snack! Also, I don't know if you've noticed but the past several times I've posted cupcakes or muffins I don't use paper liners.  The reason is, I simply ran out forever ago and I NEVER remember to get any, haha!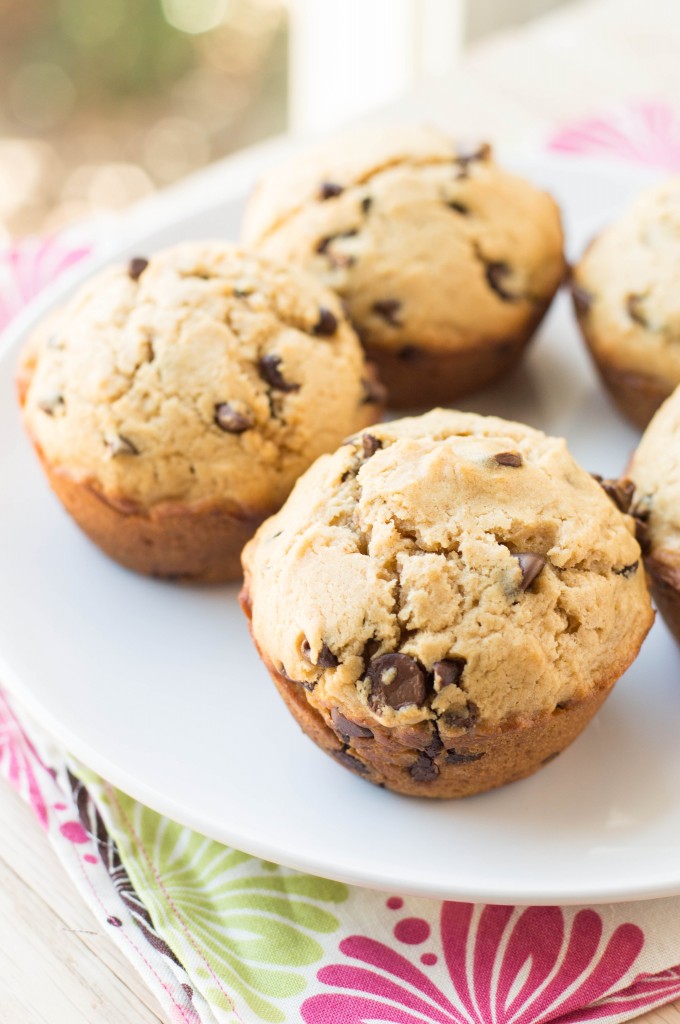 Peanut Butter Chocolate Chip Muffins
Source: Annie's Eats, originally Baking Bites
Ingredients:
2 1/4 cups all purpose flour
2 tsp. baking powder
1/2 tsp. salt
2/3 cup brown sugar
6 tbsp. unsalted butter, melted & cooled
1/2 cup creamy peanut butter
2 large eggs
1 cup milk
3/4 cup semi-sweet chocolate chips
1/4 to 1/2 cup mini chocolate chips
Directions:
Preheat oven to 375 degrees. Liberally spray a muffin tin with cooking spray or line with paper liners, set aside.
In a medium sized bowl, add the flour, baking powder, salt & brown sugar.  Whisk together until fully incorporated, set aside.
In a separate large bowl, add melted butter, peanut butter, eggs & milk.  Whisk together until fully incorporated. Stir the flour mixture into the peanut butter mixture a little at a time until just incorporated. Add in chocolate chips and stir until evenly distributed.
Using a large cookie scoop or ice cream scoop, scoop batter into prepared muffin tins, filling them all the way full.
Bake for approximately 17 to 20 minutes until centers are set & a toothpick inserted comes out clean.
Remove muffins from tin and place on a cooling rack to cool completely.  Store in an airtight container.