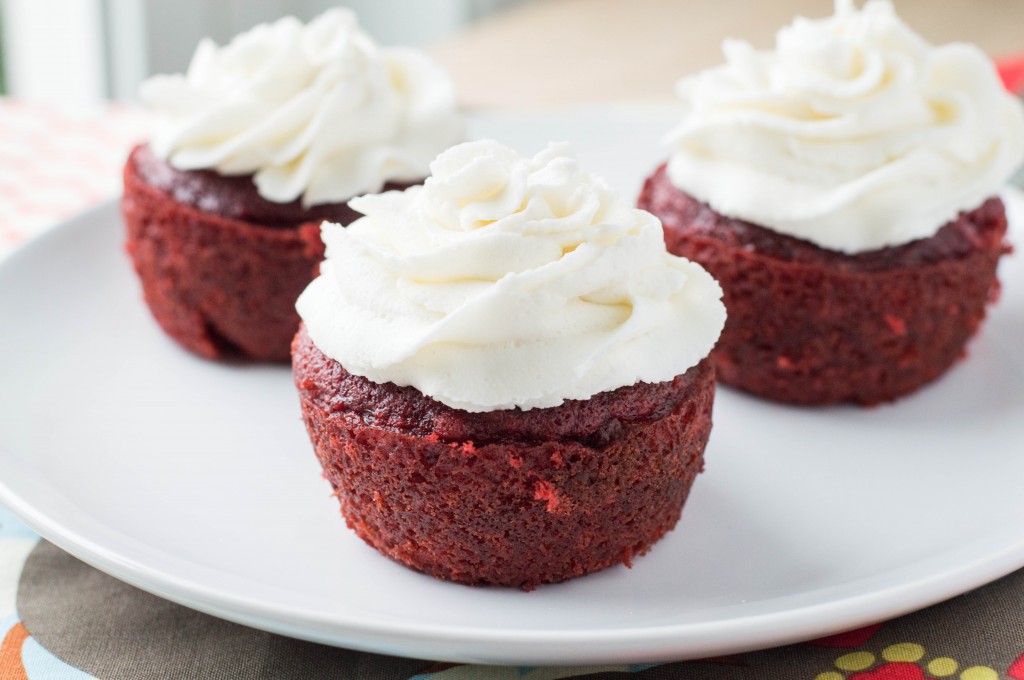 I love love love red velvet! It's almost always my flavor of choice if there's an option: frozen yogurt, donuts, cookies, cakes, you name it! I was brainstorming and researching ideas to share with you for Valentine's Day and it dawned on me that I had never shared a basic recipe for red velvet cake or cupcakes, so I knew I had to! No these are not on my eating plan to lose the baby weight, but I sacrificed and tried one of them just for you, haha!  I quickly sent the rest to work with Adam so I wouldn't be tempted further! Not sure I would've trusted myself around these for very long! These were super moist and especially amazing paired with my new favorite buttercream! Feel free to use cream cheese frosting if you prefer.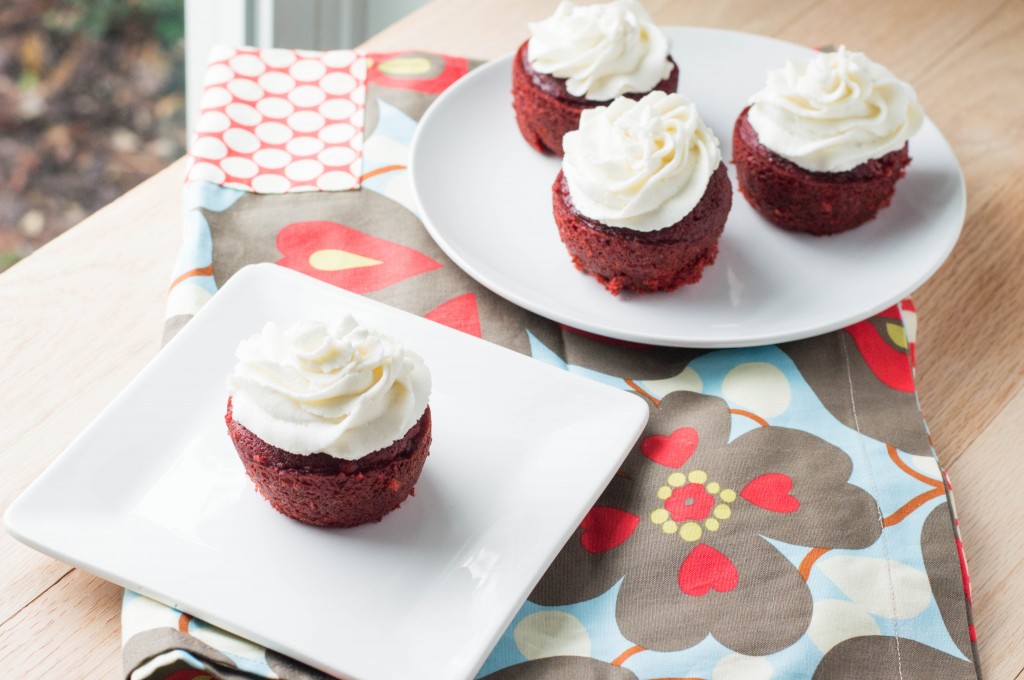 Red Velvet Cupcakes
Source: Adapted from AllRecipes.com 
Makes approximately 24-26 cupcakes
Ingredients:
2 1/4 cups all purpose flour
1/4 cup cocoa
1 tsp. baking soda
1/2 tsp. salt
1 cup butter, room temperature
2 1/4 cups sugar
4 eggs
1 cup sour cream
1/2 cup buttermilk*
1 (1 oz) container red food coloring
2 tsp. vanilla
Buttercream Frosting
Directions:
Preheat oven to 350 degrees.  Line cupcake tins with liners or spray tin liberally with cooking spray, set aside.
In a medium sized bowl, whisk together the flour, cocoa powder, baking soda & salt, set aside.
In the bowl of a stand mixer, cream together the butter & sugar until fluffy consistency.  Add in eggs one at a time and beat until incorporated. Add in sour cream, buttermilk, food coloring & vanilla. Beat until fully incorporated.  Add in flour mixture a little at a time on low speed.  Beat until just incorporated.
Using a large cookie or ice cream scoop, scoop batter into prepared cupcake tins, filling approximately 2/3 full.
Bake for 18 to 20 minutes, until a toothpick inserted comes out clean.  Place pan on cooling rack and let cupcakes cool in the pans for approximately 5 minutes.  Remove cupcakes from tin and place on cooling rack to cool completely.
Once completely cool, frost with buttercream frosting.  Store in an airtight container.
Notes: 
*For Buttermilk Substitute: you can add 1/2 tbsp. vinegar to a liquid measuring cup and fill the rest of the way to the 1/2 cup mark line with milk. Let stand 10 minutes and add to recipe as directed.
**For the food coloring I always use the Wilton gel no-taste red, just a personal preference