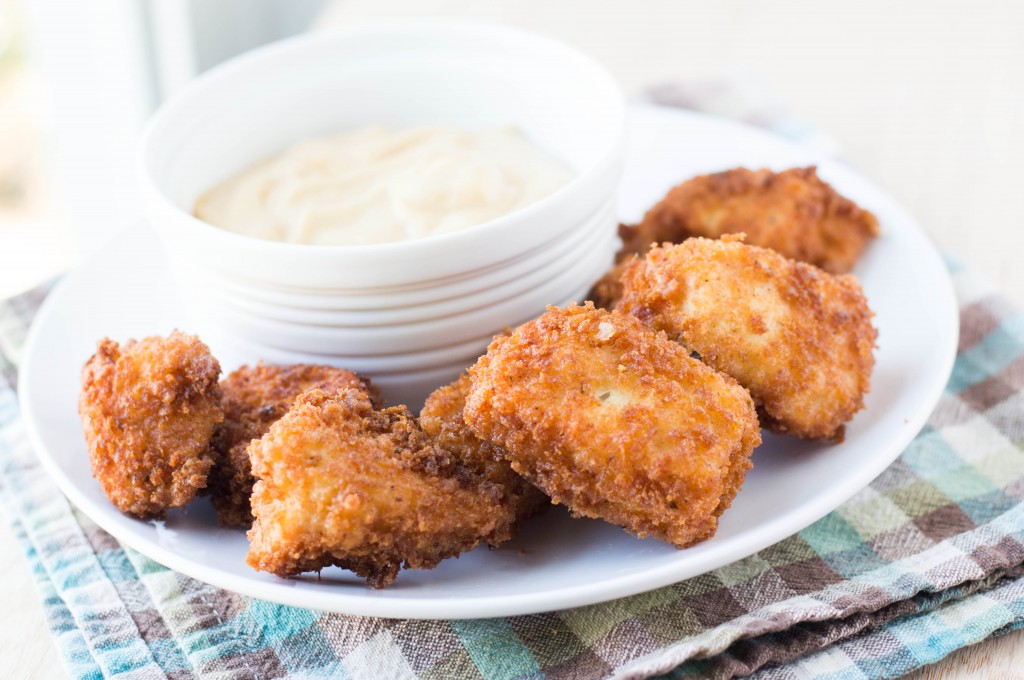 I had never fried chicken before this past weekend. At my girl's night last week my friend Kattie brought these chicken nuggets. I loved them so much I decided to make them right away since I had everything to make them on hand.  And what says southern and Sunday dinner better than fried chicken?! I splurged and made these for Easter along with some new side dishes I'll be sharing with you all soon.
These were so amazing!! Perfectly crispy on the outside and moist and juicy on the inside. It does have ranch dressing mix in the coating but it just gives a great mixture of flavors and doesn't really have a prominent ranch flavor. I will definitely be making these again! And frying was so much easier than I thought it would be.  You do have to have all hands on deck, but these really came together quickly. I actually made them a short bit ahead of time and kept them in a 250 degree oven to keep warm and crispy until ready to eat. This pairs wonderfully with the Homemade Chick-Fil-A Sauce!
Crispy Fried Chicken Nuggets
Source: Toni Spilsbury
Serves 6-8
Ingredients:
6 large boneless skinless chicken breasts, cut into bite sized pieces
2 cups panko breadcrumbs
1 cup flour
1 packet ranch dressing mix
2 eggs, beaten
Vegetable or Canola oil
Directions:
In a large shallow bowl, add panko, flour, & ranch mix and stir to combine.
In a separate shallow bowl add eggs and lightly beat.
Line a large platter with paper towels, set aside.
In a large skillet, add vegetable oil until it reaches approximately 1/4 inch deep.  Heat over medium high heat.  The oil is ready for frying when you drop a pinch of breadcrumbs in and it floats to the top and the oil bubbles around it.
Once your oil is ready, dredge each piece of chicken in the egg and then into the breadcrumb mixture and coat fully.  Carefully place in the pan. Continue to coat chicken and place in pan until pan is full.  Be sure to leave ample space in between each chicken nugget so as to not crowd the pan.  Cook nuggets for approximately 3 to 5 minutes on one side and then flip and cook for 3-5 minutes on the other side. You want them to be a nice golden brown. Remove chicken from oil and place on paper towel to drain. Repeat for all chicken pieces.
Serve with your favorite dipping sauce.
Notes:
*Depending on the size of your skillet you will probably have to cook the chicken in batches.  After the first batch you may want to turn the stove down just a tad so as to not burn the oil.
*Since you have to cook them in batches, to keep them warm & crispy until ready to eat place a cooling rack inside a rimmed baking sheet.  Spray cooling rack with cooking spray and place cooked fried chicken on the rack.  Place chicken in a 250 degree oven to stay warm & crispy.
*Ranch Mix just gives a nice blend of flavors, does not give a prominent ranch flavor.  If you would like that big ranch flavor, I would do 1 1/2 packets of the mix.