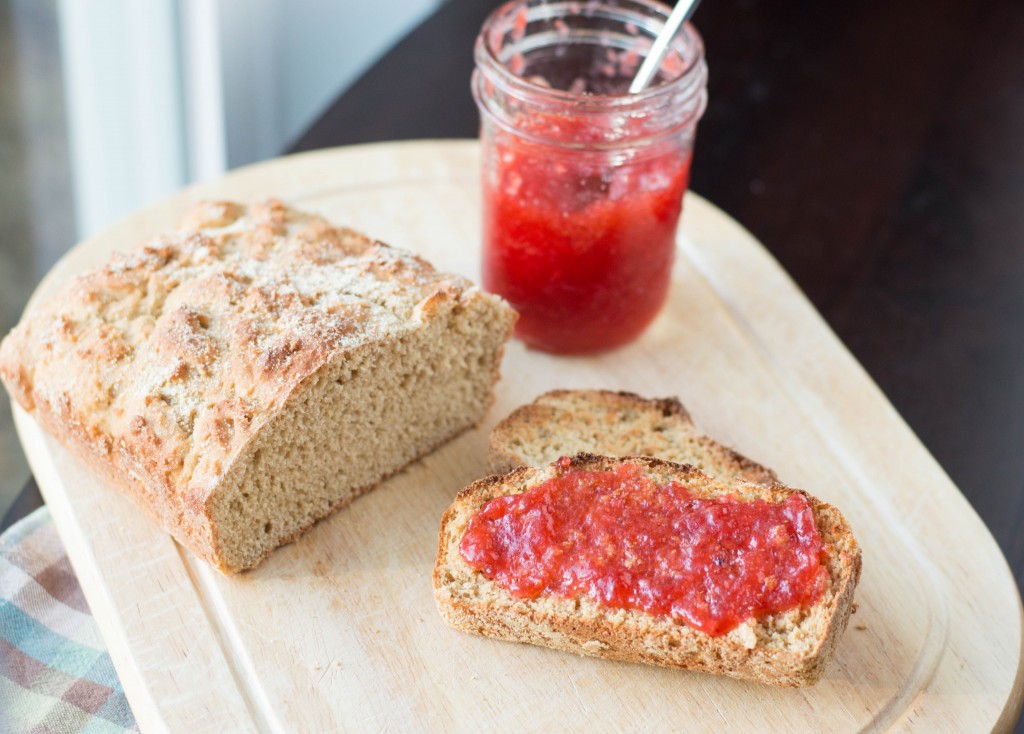 I love english muffins for breakfast, and thought I would try making them at home.  When I looked at the recipes, you have to roll them and put them on the griddle and it just seemed a bit involved for the time I have right now.  Sometime I will definitely make the time to make the individual muffins, but I was elated to find this version to make it as a loaf of bread.  This was seriously easy! If you aren't super comfortable with yeast I think this would be a great recipe to start with as it just has one rise and no kneading.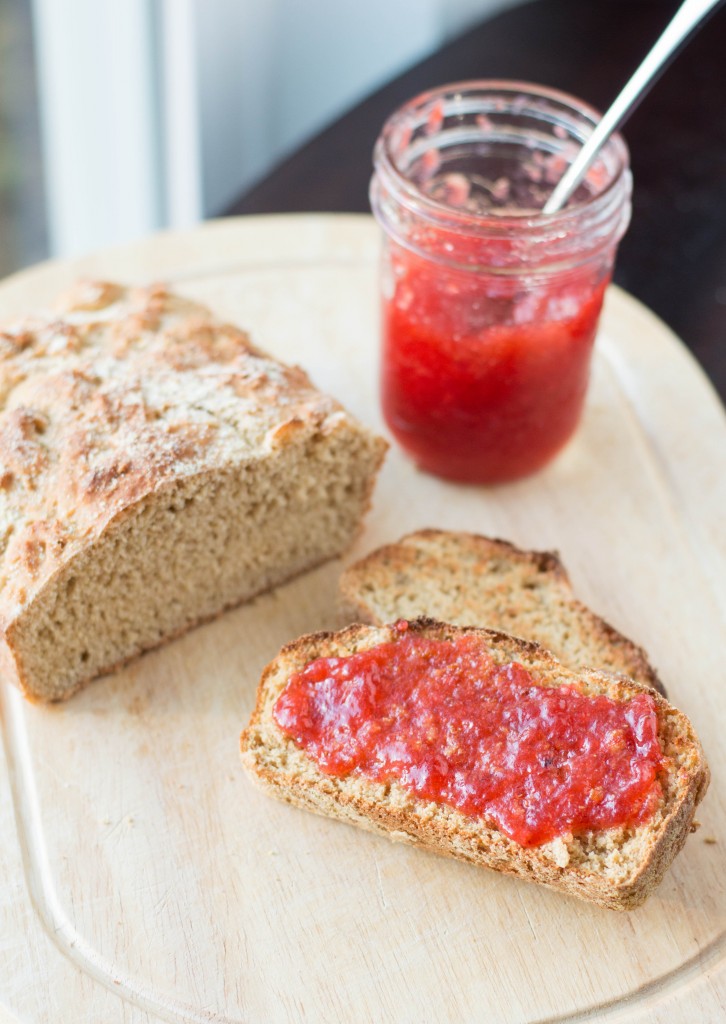 This bread tasted just like an english muffin! It was great topped with jam and it's super versatile.  Perfect for breakfast sandwiches, little pizzas, or smeared with cream cheese; lots of possibilities! We even served it along side of our dinner last night. I used white whole wheat flour in these and it worked beautifully! I love white whole wheat flour because you get the nutrition of the whole wheat but it's a little milder.  Feel free to use regular whole wheat if you would like.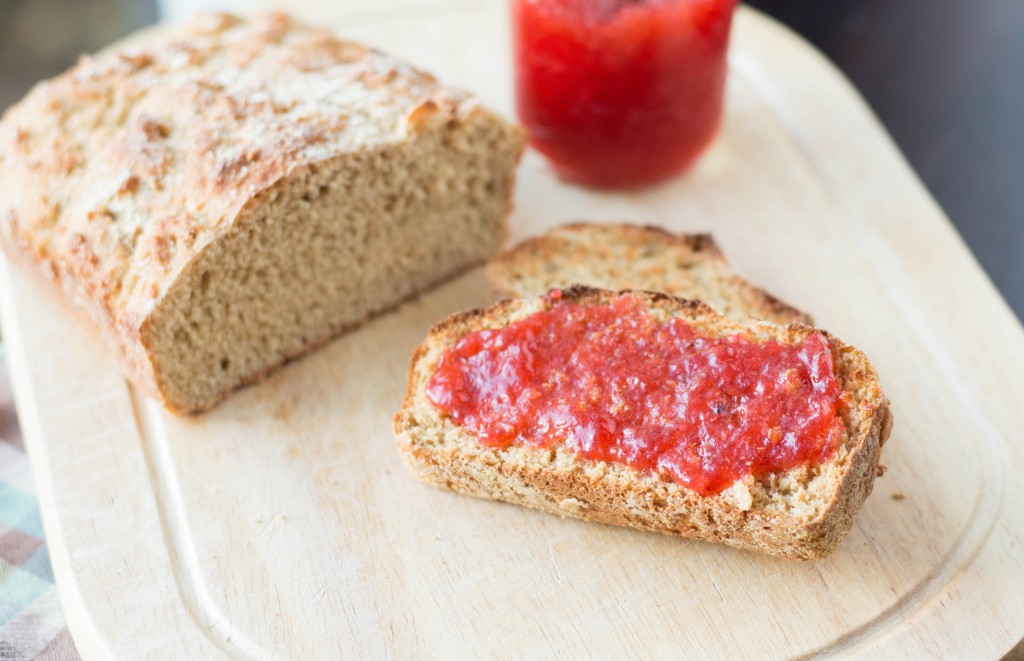 Wheat English Muffin Bread
Source: Taste of Home
Makes 1 Loaf
Ingredients:
2 1/2 cups White Whole Wheat Flour, divided
1 pkg. (1/4 oz.) active dry yeast
1/2 tbsp. sugar
1 tsp. salt
1/8 tsp. baking soda
1 cup warm milk (120-130 degrees)
1/4 cup warm water (120-130 degrees)
Cornmeal
Directions:
Spray an 8 x 4 inch loaf pan with cooking spray.  Dust the pan with cornmeal, shaking out the excess, set aside.
In the bowl of a stand mixer, add 1 cup of the flour, yeast, sugar, salt, & baking soda.  Beat on low until just combined. Pour in the warm milk & water. Mix on low speed for 30 seconds, then turn the mixer to high speed and mix for 3 minutes.  (If you have a splatter guard I recommend using it, if not no worries, you just might have some splatters).  Turn mixer off and add the remaining 1 1/2 cups of flour and stir until just incorporated.  Do not knead the dough.
Pour the dough into the prepared pan and sprinkle the cornmeal over top of the dough.  Cover with a kitchen towel and let set in a warm place for approximately 45 minutes to an hour, until doubled in size.
Meanwhile, preheat oven to 375 degrees.  Once dough has risen, bake in the oven for approximately 30 to 35 minutes, until golden brown.  Immediately turn the bread out of the pan onto a cooling rack.  Let cool or serve warm.  Great toasted & topped with butter & jelly. Store leftovers in an airtight container.
Notes:
*I only had a 9 x 5 loaf pan so that's why my bread is shorter in stature
*I used white whole wheat flour, but feel free to use all purpose or whole wheat