If you follow me on Instagram, you saw my husband grilling up these skewers last week. I have to brag on him, he's becoming quite the grill master. He went grocery shopping all by himself and grilled me steak & chicken this past weekend for Mother's Day! More about our Mother's Day adventures later.
These skewers were absolutely incredible! They had such great flavor and had a nice char on the outside and were juicy inside. Aside from cutting up the chicken, these were really easy to make. I prepped the chicken and the marinade ahead of time and placed them on the skewers a little bit before grilling. When Adam got home from work he fired up the grill. So with just a little prep time, this can be a great healthy week night meal! Coming Thursday is the recipe for the sauce in the photo, it is AWESOME!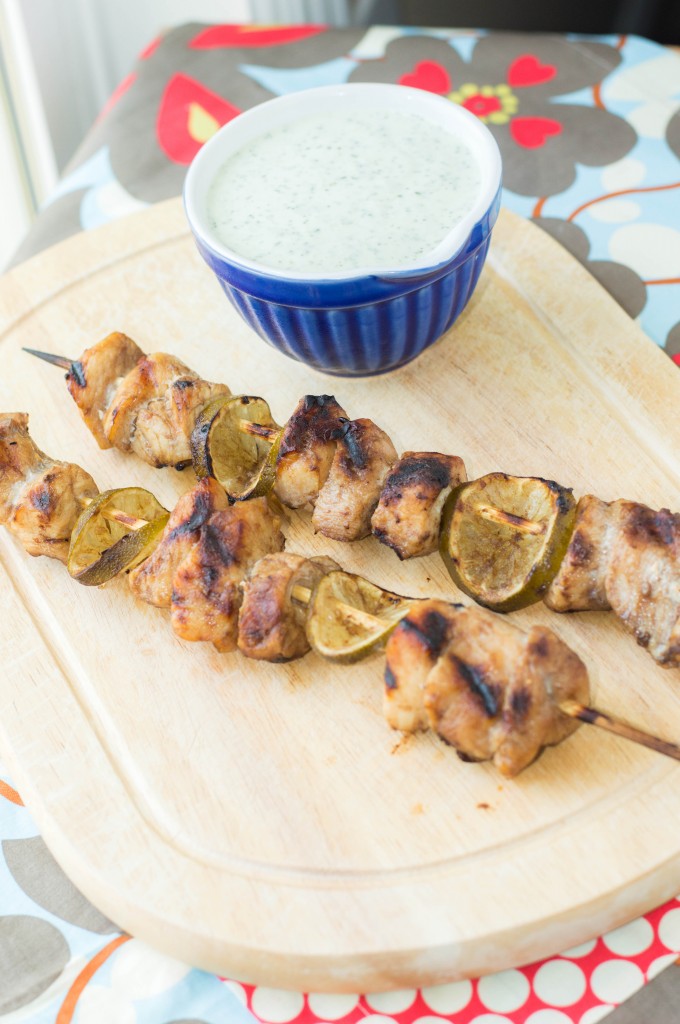 Honey Lime Chicken Skewers
Source: The Recipe Critic
Ingredients:
1/4 cup Low Sodium Soy Sauce
1/4 cup Honey
2 tbsp. vegetable oil
Juice of 2 Limes
2 tsp. minced garlic
4 large boneless skinless chicken breast
Limes for skewers (optional)
Instructions:
In a small bowl whisk together soy sauce, honey, vegetable oil, lime juice, & garlic until incorporated, set aside.
Cut the chicken into bite sized pieces. Place chicken pieces in a gallon zippered bag and pour in the prepared marinade. Zip the bag and turn to coat the chicken.  Place bag on a plate and place in refrigerator. Refrigerate for at least 30 minutes (I chilled mine for 2 hours).
Slice thin circles of lime to add to the skewers as garnish if desired.
Once chilled, put the chicken pieces onto the skewers one at a time.  I did 3 pieces of chicken, then folded a slice of lime in half and skewered it between the chicken, then 3 more chicken pieces, another slice of lime, & 3 more pieces of chicken. Repeat for all skewers, I got approximately 6-7 skewers.
Pour leftover marinade into small bowl.
Preheat grill to 300 degrees.  Place skewers on grill and baste with the marinade. Cook for approximately 7 minutes and flip, basting again with the marinade. Cook for an additional 7 minutes or until cooked through. Remove from grill and serve.