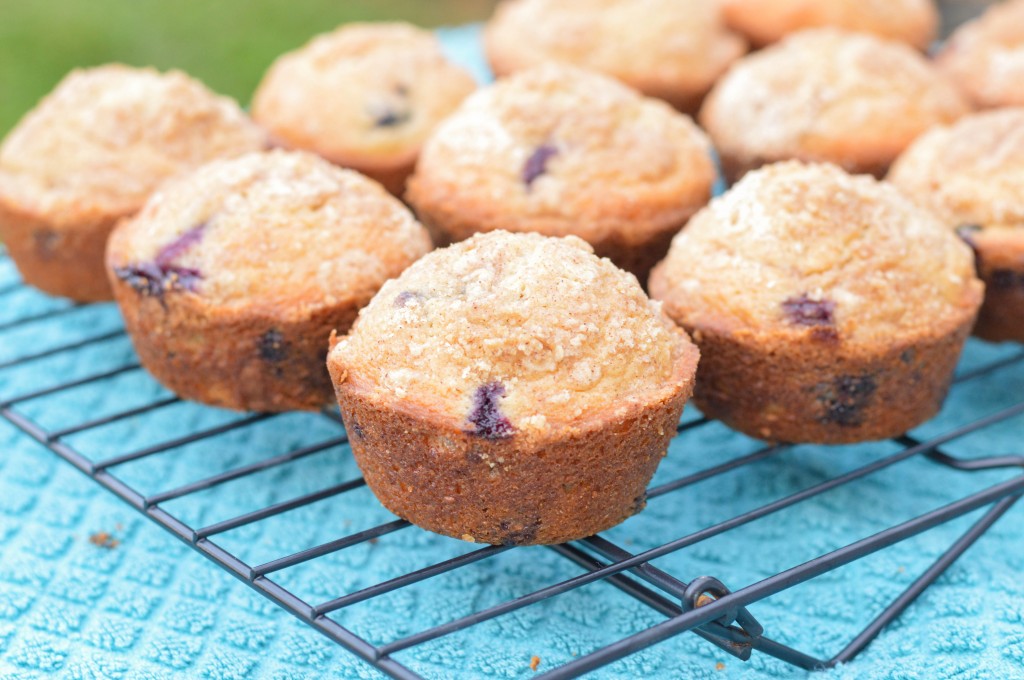 Yesterday I felt the urge to bake and had some blueberries to use up. I realized that I didn't have a blueberry muffin recipe on here, so I figured I better remedy that asap! I love how versatile this recipe is, you can definitely use the base recipe with other fruits or even try it without the streusel topping and use chocolate chips instead. This muffin is moist & cakey, but not overly sweet which is great for breakfast. The streusel topping adds a nice sweetness on top, but you can definitely make it without and just sprinkle a little sugar on top instead.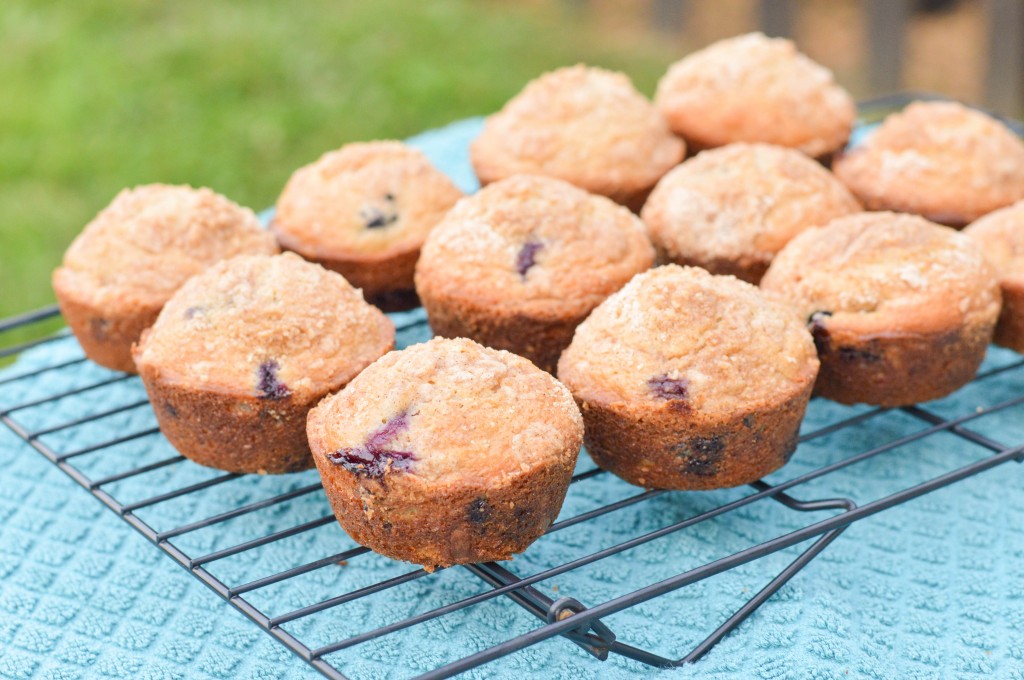 Bakery Style Blueberry Muffins
Source: All Recipes.com 
Makes Approximately 16-18 muffins
Ingredients:
2 cups all purpose flour
1/2 tsp. salt
1/2 tsp. baking soda
1/4 tsp. baking powder
pinch nutmeg
3/4 tsp. cinnamon
2 eggs
1/2 cup plus 1/8 cup sugar
1/2 cup plus 1/8 cup light brown sugar, packed
1/2 cup canola oil
1/2 tsp. vanilla
1 cup light sour cream
1 cup blueberries
For Topping:
1/8 cup brown sugar
1/4 cup flour
1 1/2 tbsp. unsalted butter, cold & cut into cubes
1/2 tsp. cinnamon
Directions:
Preheat oven to 400 degrees. Spray muffin tins with cooking spray or line with paper liners, set aside.
In a medium sized bowl, add flour, salt, baking soda, baking powder, nutmeg, & cinnamon. Whisk together until incorporated, set aside.
In a small bowl, add a pinch of flour to the blueberries and stir, set aside.
In a large bowl, add eggs. Begin to whisk together and as you are whisking, gradually add the sugars. Continue to whisk and gradually pour in the oil. Add vanilla and stir to combine.
Add the flour and sour cream to the egg mixture, alternating between each, starting & ending with the flour. (Add 1/3 of the flour, 1/2 of the sour cream, 1/3 of the flour, rest of sour cream, rest of the flour). Stir until just incorporated. Gently stir in blueberries.
Using a large cookie scoop, scoop batter into prepared muffin tins, filling approximately 2/3 full.
For the Topping:
In a small bowl, add the brown sugar, flour, cinnamon & butter. Cut the butter into the dry ingredients. Sprinkle a generous handful of the mixture on top of each of the muffin cups.
Bake for 18-20 minutes until golden brown.
Notes:
*Can make without streusel topping and instead just sprinkle with a little sugar on top.
*Original recipe used only white sugar, so you can use 1 1/4 cups of sugar instead of splitting between brown & white
*Can customize by using different berries or omitting the streusel topping and using chocolate chips.
*Also, with this recipe it was super helpful to have my ingredients all set out before hand and next time I will go ahead and have everything measured out so I can just pour it in while I'm whisking.