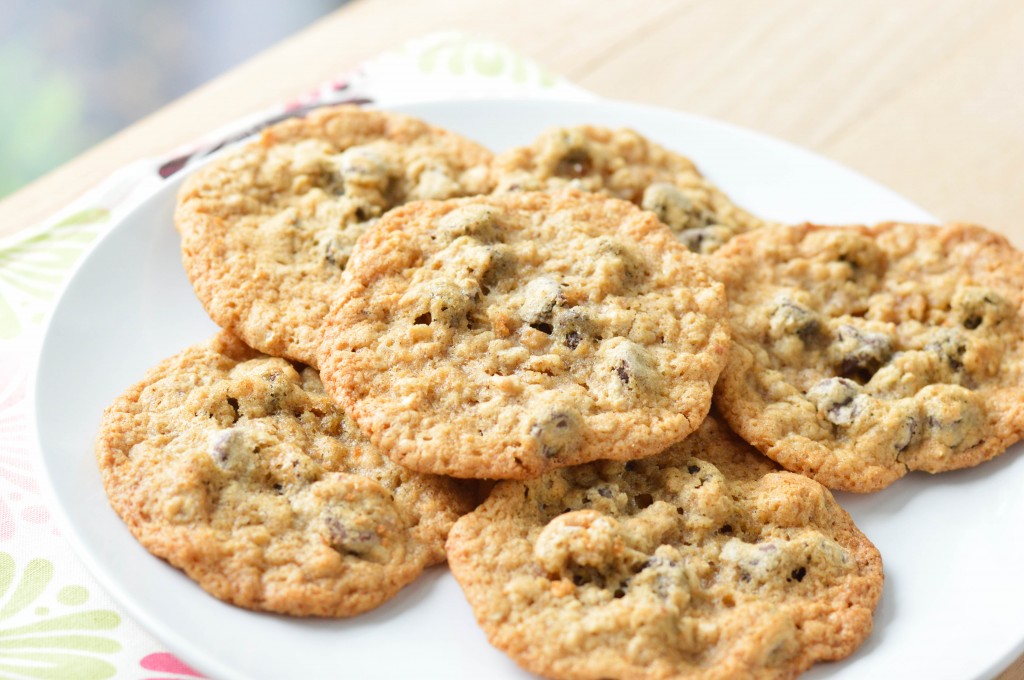 I mentioned last week that my parents had a dessert party for some missionary friends of ours and several people were bringing brownies, cake, & pie so my mom asked me to bring cookies. These cookies have been on my radar for a while so I decided to try them. I was on my no sugar stint (which is over now, hallelujah!) so I couldn't try them, but everyone said they were really good! Adam said they were thin and chewy and sweet. I love that you can customize these cookies with add-ins depending on your taste. You can use just chocolate chips, or a mixture of white & butterscotch, add nuts &/or coconut. This recipe makes a ton, almost 4 dozen cookies, so feel free to half it or freeze some of the dough to use later.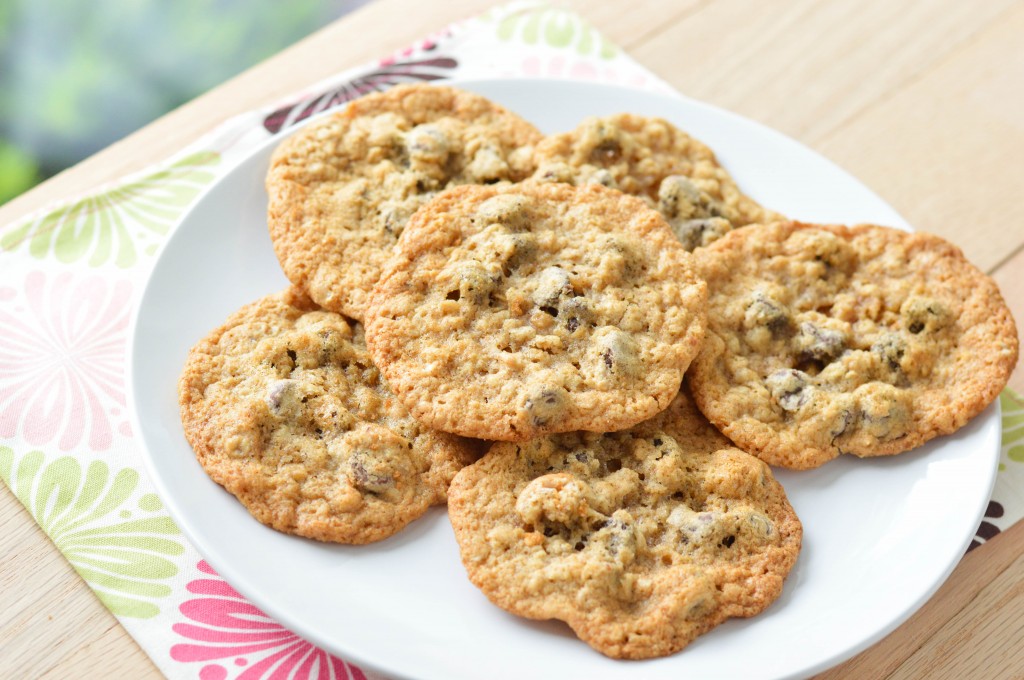 Cowboy Cookies
Source: Lemons and Lima Beans, originally Family Circle Magazine
Makes approximately 4 dozen cookies
Ingredients:
1 1/2 cups all purpose flour
1/2 tbsp. baking powder
1/2 tbsp. baking soda
1/2 tbsp. cinnamon
1/2 tsp. salt
3/4 cup (1 1/2 sticks) unsalted butter, room temperature
3/4 cup sugar
3/4 cup light brown sugar
2 eggs
1/2 tbsp. vanilla
1 1/2 cups semi-sweet chocolate chips
1 1/2 cups oats*
1 cup sweetened coconut (optional)
1 cup chopped pecans (optional)
Directions:
Preheat oven to 350 degrees. Cover baking sheets with parchment paper, set aside.
In a medium bowl, add the flour, baking powder, baking soda, cinnamon, & salt and whisk together.
In the bowl of a stand mixer, add the butter and beat on medium speed until creamy. Add sugar & brown sugar and beat until fully incorporated (approximately 2 minutes). Add in eggs, one at a time, mixing in between each addition. Add in vanilla and mix until fully incorporated.
Reduce mixer speed to low and gradually add in flour mixture until just incorporated. Remove the bowl from stand and add in chocolate chips, oats, coconut & pecans (if using). Stir until combined and evenly distributed. Chill dough for at least 30 minutes.
Using a small cookie scoop (tablespoon sized), scoop out dough and place balls of dough on cookie sheet approximately 3 inches apart as these cookies spread a bit. Bake for approximately 10 -12 minutes until lightly golden and edges are set. They will look like they aren't quite done, but will set up as they cool. Allow cookies to cool on the pan for a couple minutes and then transfer to cooling rack to cool completely. Store in an airtight container.
Notes:
*You can use a mixture of semi-sweet, white chocolate & butterscotch chips instead of just chocolate
*If you double this recipe, only use 3 eggs. I halved a large recipe that used 3 eggs and there's not a good way to half an egg 😉
*I used quick cooking oats because that's what I had on hand and they worked well, but I think rolled oats would work even better