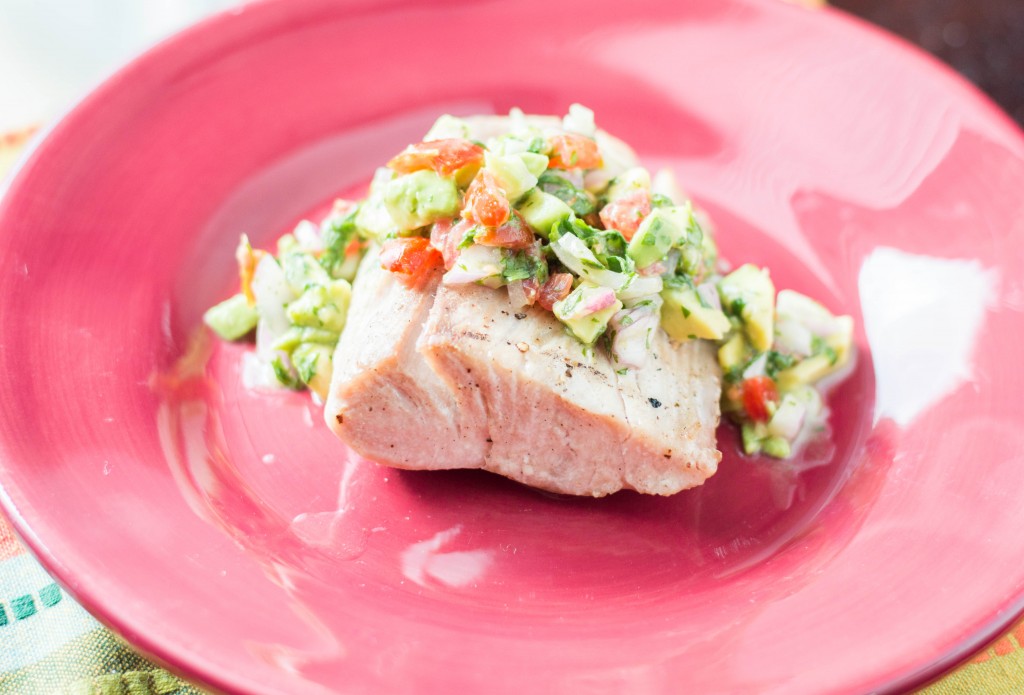 Our neighbors graciously gifted us some beautiful Mahi Mahi filets recently, so I immediately went in search of a recipe to figure out how to cook it. This recipe was fantastic! We were going to grill it but turns out our grill was out of gas so I cooked these under the broiler and they were perfectly flaky and juicy. This salsa was the perfect pairing with the fish and gave it such a fresh flavor. If you aren't a fish lover, never fear because this salsa is great with chips and would be great on chicken or tacos as well! Also, if you don't have/can't find mahi mahi try this with another kind of white fish like halibut.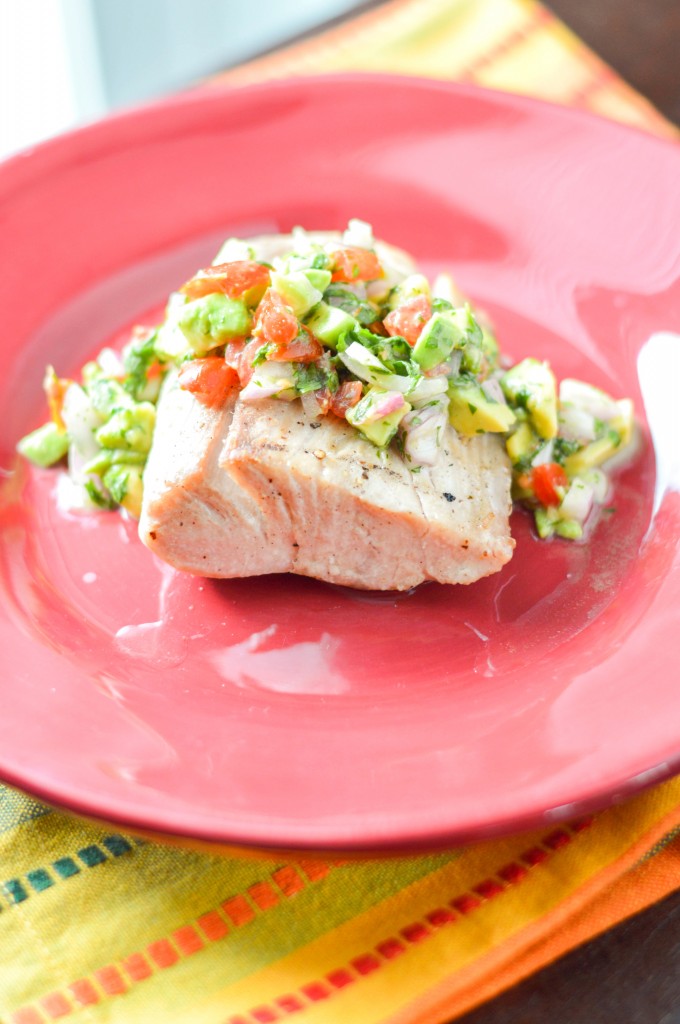 Mahi Mahi with Avocado Salsa
Source: My Recipes.com
Ingredients:
For the Salsa:
1 avocado, cut into 1/4 inch pieces
2 vine ripened tomatoes, seeded and cut into 1/4 inch pieces
1 cup finely chopped red onion
1/2 cup chopped fresh cilantro
Juice of 1 Lime
1/2 tsp. kosher salt
For the Mahi Mahi:
4 Mahi Mahi Filets (Approx. 1 1/2 lbs)
1 tbsp. extra virgin olive oil
Juice of 1 Lime
1/2 tsp. kosher salt
1/4 tsp. freshly ground black pepper
Directions:
For the Salsa:
In a large glass bowl, add avocado, tomatoes, red onion, cilantro, lime juice, & salt. Stir to combine. Cover and refrigerate for at least 30 minutes before serving.
For the Mahi Mahi:
In small bowl, stir together the olive oil, lime juice, salt & Pepper. Add mixture to a shallow glass baking dish. Place each piece of the fish into the baking dish and flip each piece to coat in the marinade. Let marinate for approximately 20 minutes.
While the fish marinates preheat oven to Broil. Cover baking sheet with parchment paper.
Once fish has marinated and oven heats up to the broil setting, place the fish onto the prepared baking sheet and cook under the broiler for 6-8 minutes. Remove from oven and flip each piece of fish and cook for 6-8 minutes more, until fish is flaky and no longer translucent. Serve with avocado salsa on top.
Notes:
*Alternatively you can cook these on the grill for 6-8 minutes per side
*You can use this avocado salsa as a topping for chicken or tacos or serve with chips.
*Use leftovers to make fish tacos