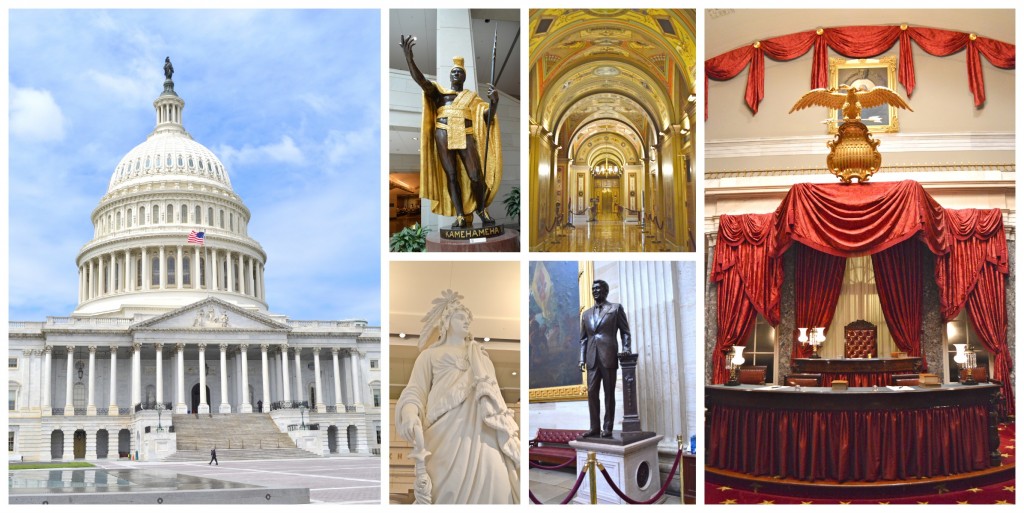 As I mentioned last week, we had an incredible trip to D.C. There are so many things to do, and tons of them are free which is awesome! The first attraction we visited was the Capitol. We booked a tour through our Senator's office. Senator Bob Corker.  If you have a smaller group I definitely recommend going this route, it helps avoid the big line at the visitor's center. You can also book through your Congressman's office as well. We met at the Senate Office Building and took underground tunnels over to the Visitor's Center, which was really neat.
Our favorite highlights of the tour were the original hall where the Senator's would meet and also Ronald Reagan's statue.  It had pieces of the Berlin Wall as part of the base. Also pictured is the statue of the Hawaiian president which we got excited about because it's shown like a million times in our fave show Hawaii 5-0, haha! There is also a replica of the freedom statue that is on top of the captiol. She faces east, they say, because "the sun never sets on freedom." We also got the opportunity to go into the House of Representatives Lobby where they currently vote for the bills and is also where the President gives the State of the Union.  (No pictures were allowed in there).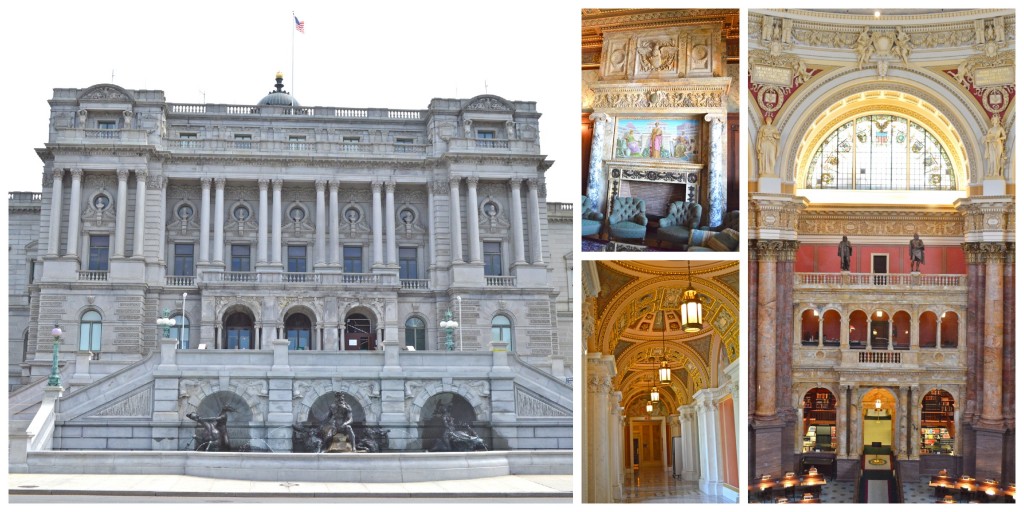 Our next stop was to the Library of Congress. The architecture was so beautiful! The ceilings were painted and the floors were gorgeous tile and lots of stone. There is so much history there. The most interesting things was our tour guide actually works at the Library of Congress as a liaison to Congress. He said the have an expert on every subject there, his being military personnel. Their job is to know everything there is to know about their subject so that they can answer questions for members of Congress pertaining to bills and things they can or can't do. Also, the Library receives approximately 22,000 items per day. They keep roughly half of them and send the others to other Libraries. We were able to visit the Member's room where they host special meetings and also a special room that is open only to Senator's & Congressman for them to come and decompress or research items in private.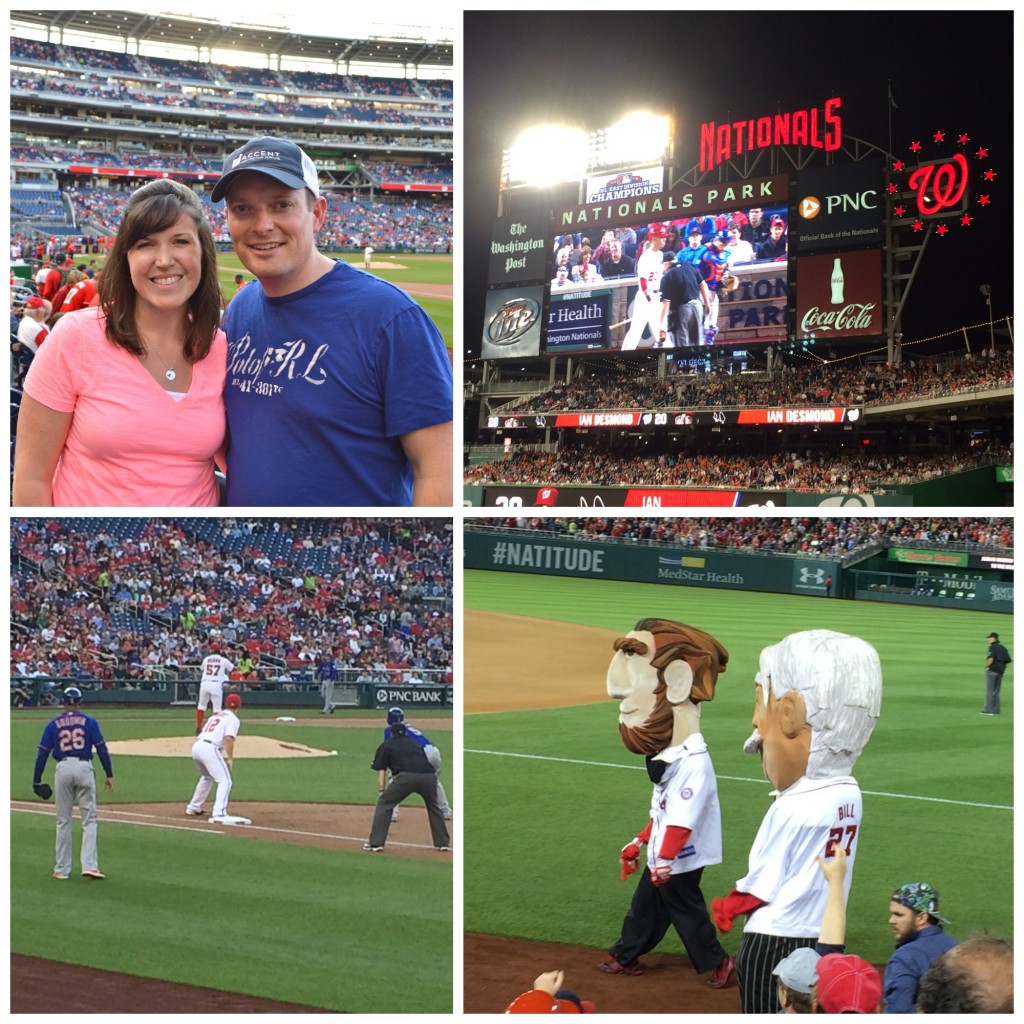 Friday night we went to a Nationals game.  We got our tickets a couple nights before and they ended up being amazing seats, just past 1st base! We had a blast! The weather was awesome and the ballpark was really nice. There was lots of offense and excitement and there were 3 "pickles" (where a player gets caught between bases and they chase them down). Plus the Nationals won so everyone was excited in the crowd. The best part was the Presidents run in the 7th inning stretch (if I remember correctly).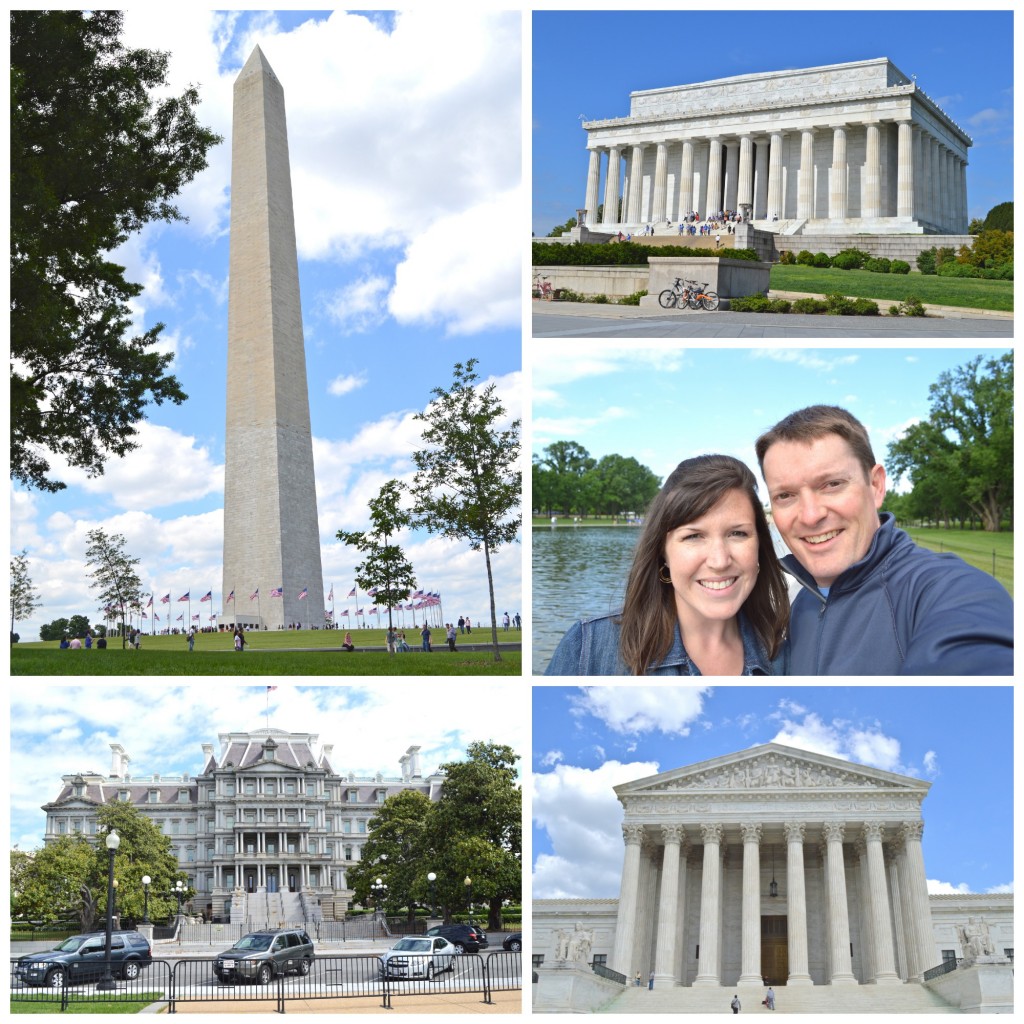 Saturday morning we started out with a walking tour of the major monuments. We started at the Washington Monument and walked to the Lincoln Memorial. Then we proceeded from there to breakfast and then to the White House. On the way to the White House was the Jefferson Building (pictured bottom left). It was such an interesting building architecturally and was so massive! Also, bottom right is the Supreme Court. It was so neat to see all these buildings you see in movies and on TV in person finally!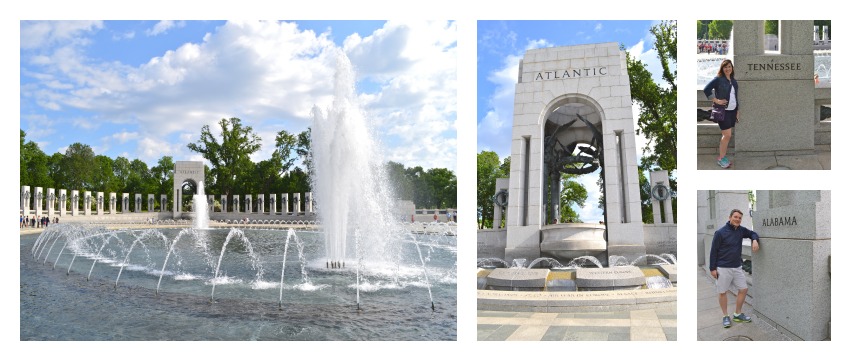 Our favorite monument/memorial was the World War II memorial. It was absolutely gorgeous and paid such a beautiful tribute to all those that fought in the war. Both of Adam's grandfathers actually fought in WWII so it was especially neat for him. They had monuments for all the states and we each took pictures by the states we are from.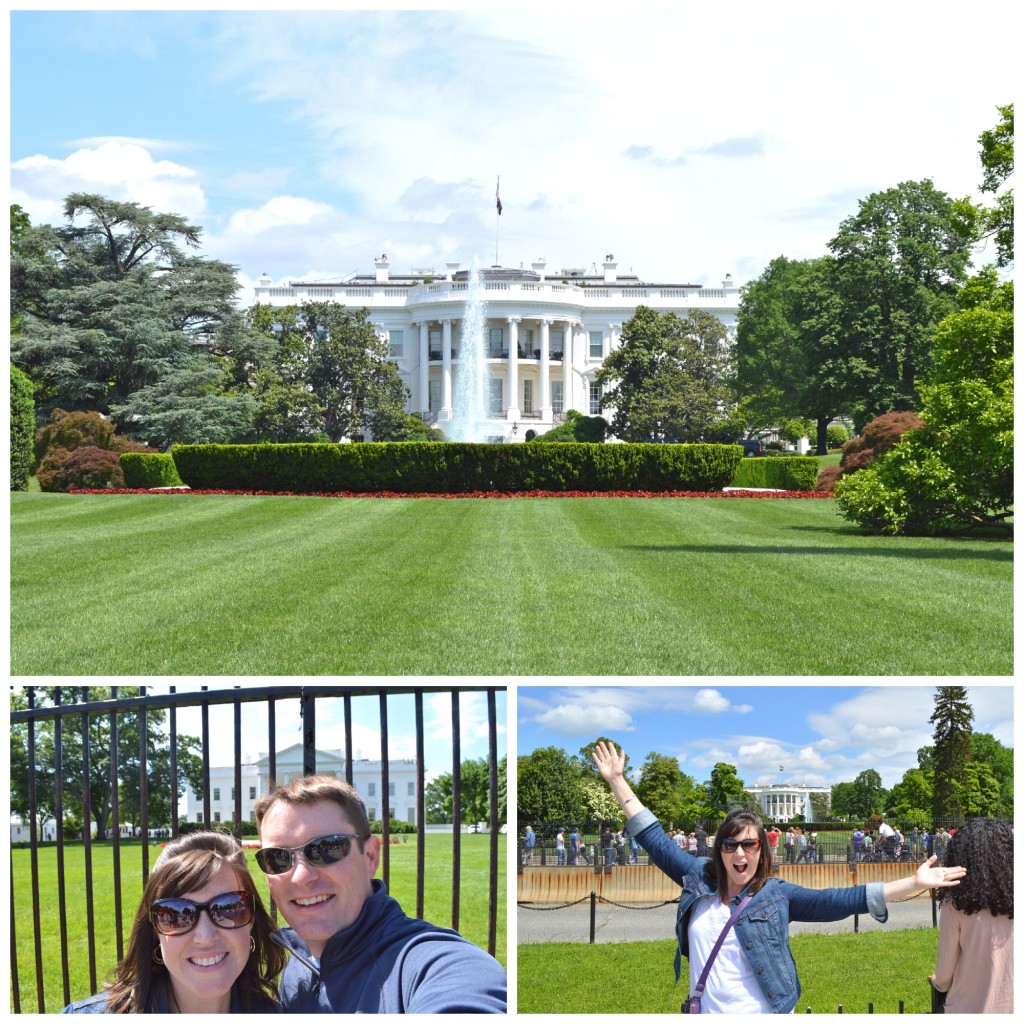 The White House was so surreal. I could've stared at it forever.  It was so beautiful, and that picture above was taken through the fence. We tried to get a tour of the inside, but I didn't plan our trip in advance enough. They say to book it 6 months to 1 year in advance.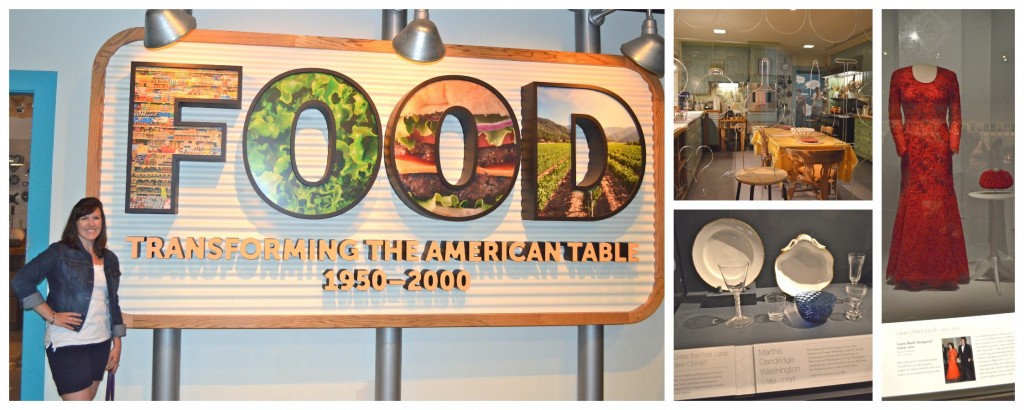 That afternoon we ventured to the Museum of American History. There were so many wonderful exhibits, but my favorite was the Food exhibit! The had Julia Child's kitchen and everything in it except for the plastic fruit were actually her belongings, even the appliances. They also had a signed chef's coat from Emeril which was neat for me, because his was the first cooking show I ever watched and really got me interested in cooking. My other favorite exhibit was the First Lady exhibit with several of the inauguration dresses and also White House china, all the way back to Martha Washington!
 We also visited the National Archives, but no pictures were allowed in there. Definitely a must-see attraction! You get to see the original Declaration, Constitution & Bill of Rights. Not to mention lots of other documents. On the Declaration there is a palm print and the security guard told us it was most likely left by a courier or messenger as the signers were wealthier and would've had clean hands. They also had draft cards from Babe Ruth, Houdini, & Robert Frost which was neat.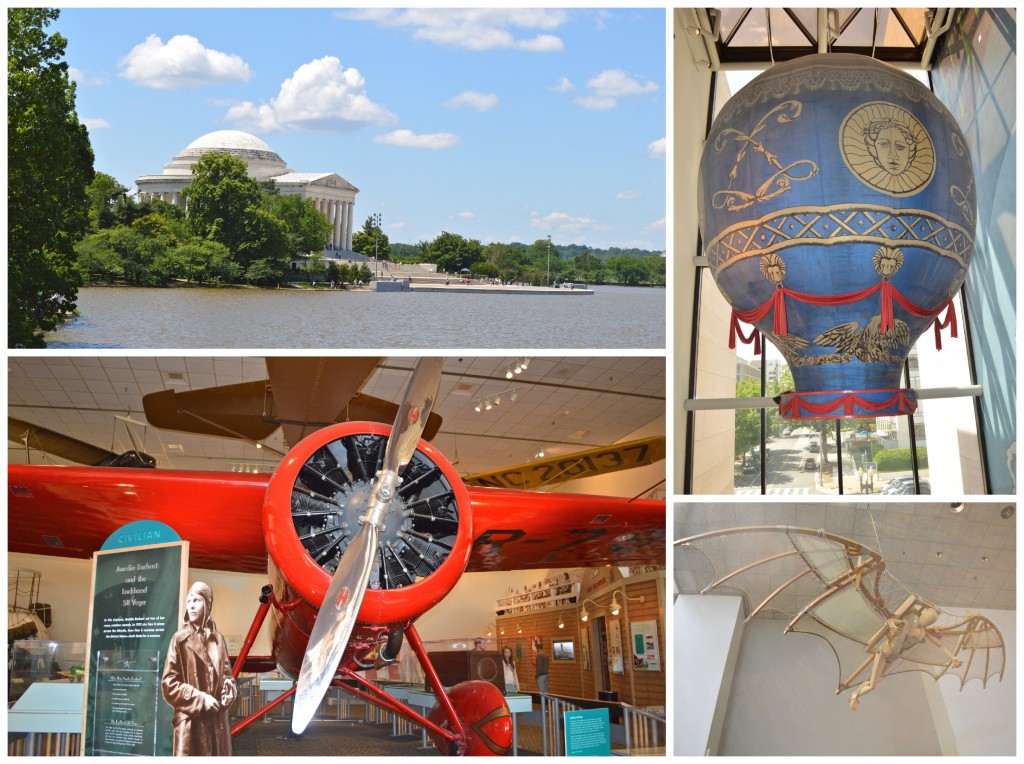 Sunday Morning, we went to the Museum of Air & Space. Loved seeing Amelia Earhart's plane and also the first manned flying craft (hot air balloon). And the contraption bottom right was designed by Leonardo DaVinci. He most likely never created it but this was made from one of his sketches. After we trekked (and it was quite a trek) to the Jefferson Memorial. It was beautiful but a bit hard to get to it.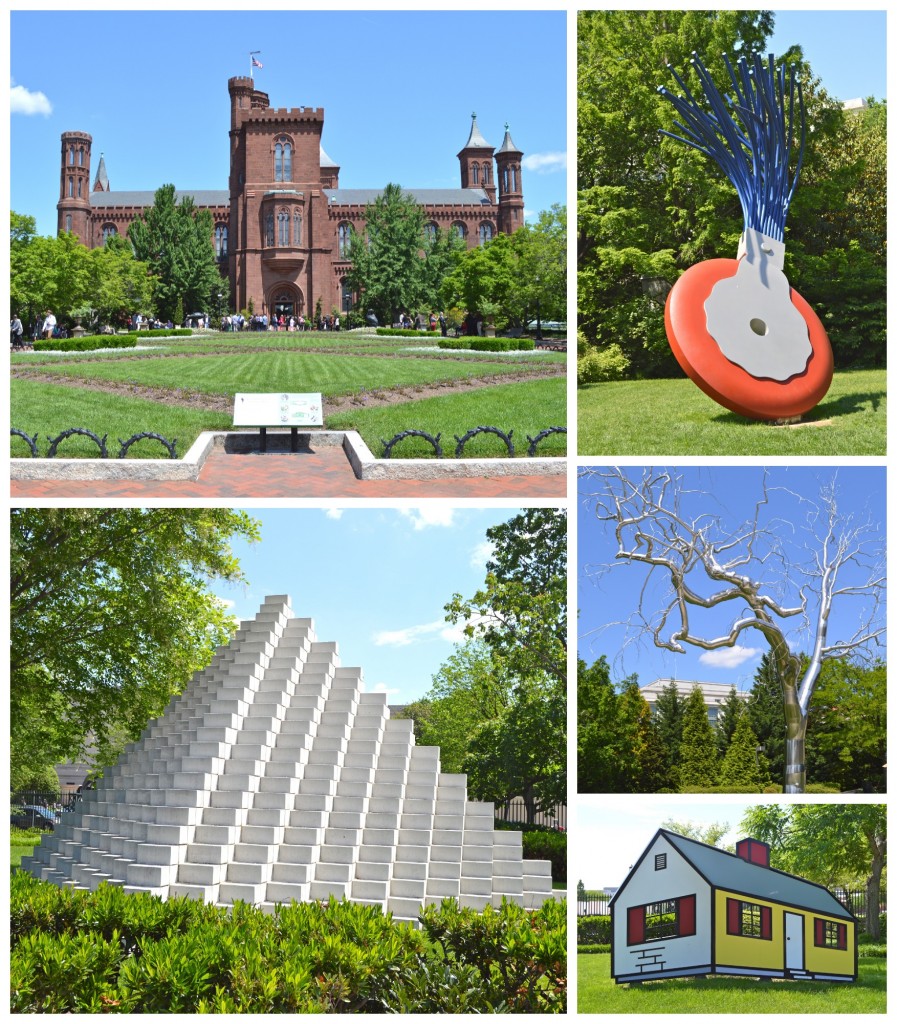 Sunday afternoon we visited the Smithsonian Castle and walked to the Sculpture Garden. Such beautiful art & architecture! My favorite was the little house (pictured above bottom left). You can't tell in the picture but the way it was constructed you could see it go in and then come out at you. It messed with the mind a bit!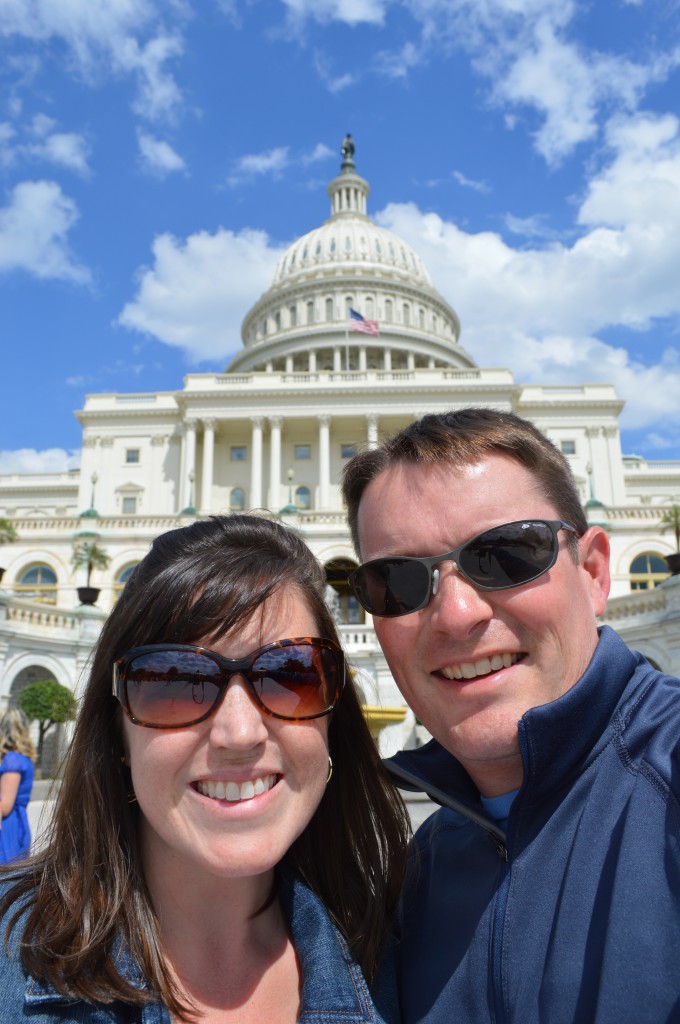 Sorry this was so long but we packed a lot into 3 days and we didn't even scratch the surface! There is so much more to see and do, guess we will have to go back!