Today I thought I would share with you some of my favorite baby items that we've been using for the 6 to 9 Months age range. I shared my favorite 0-3 Months items here. I skipped the 3-6 months but honestly all the items from both these lists overlapped between the two. (This post contains affiliate links)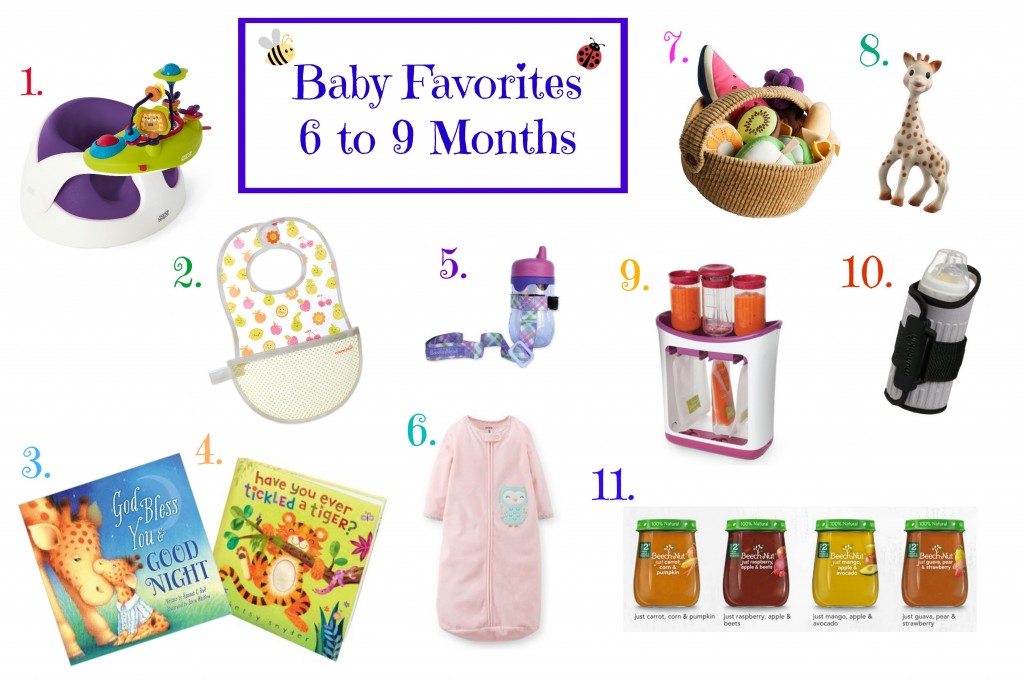 1. Baby Snug Seat & Activity Tray by Mamas & Papas: This little seat has been FABULOUS!! I love how sturdy it is but that it has a cushioned seat as well (which comes out once she gets bigger).  The tray holds her in great and the toy attachment is removable. I did find that you have to wet the suction cups on the toy to get it to stay, but once I figured it out it works great. Sophie absolutely loves the toys and we actually have been (and still are) using this seat to feed her in. We sit in the floor with her and take the toy attachment off and feed her there. Then we attach the toy and she sits there for a little bit and plays so her food settles. We love how portable it is too. We use this multiple times a day and I can't rave enough about how much I love it!!
2. To Go Bib by Munchkin: This bib folds up and becomes a pouch that has a velcro closure, so you can put a spoon &/or pouch in there as well. We keep this in our diaper bag and it makes it really easy for feeding when we are out and about.
3. God Bless You and Good Night Book by Hannah C. Hall: This is my absolute favorite book to read to Sophie. It's so cute and has great illustration and goes through bedtime routines.
4. Have You Ever Tickled a Tiger book by Betsy E. Snyder: This is Sophie's favorite book. It has different textures on each page with different animals and she is very tactile and loves to touch the different textures.
5. Stroller Toy/Sippy Cup Strap : This has been a big help since Sophie started mostly sitting in the big part of her stroller instead of the car seat within the stroller. We actually attached one part to one side of the stroller and stretched it across to the other side and attached it to the stroller there, so she has a little "bar" that we can hook toys onto using rings. It works great so she doesn't throw her toys overboard.
6. Sleep Sack: We have 3 of these that were passed down to us from my friend Jennifer and we love them! I just wish they came in bigger sizes because she has almost outgrown them. They are fleece but not super heavy and seem to help her feel cozy and she sleeps much better when she's wearing these.
7. Stuffed Fruit at Ikea: This is Sophie's absolute favorite toy. She loves holding and chewing on the soft fabric and playing with the basket. We bought this on a whim when we were at Ikea last summer and turns out she loves it!
8. 
Sophie the Giraffe Teether
: This has been a life saver!! I was skeptical but honestly Sophie (our Sophie, haha) doesn't care for any other kind of teether more than about 15 seconds, even the cold ones. But she will sit and chew on this for quite a while and it seems to sooth her. Thank you to my mom for getting her this! (She also has the larger stuffed giraffe that you can get in a pack with it and she loves that too).
9. Infantino Squeeze Station: I started out making pretty much all of Sophie's baby food at 6 months old. Sweet Potatoes, Peas, Pears, Apples, Avocado,  & Bananas. This station was so great and so easy to use, you just put the puree in the top and squeeze it into the disposable pouches. I've slowed down on making her food now, because time wise it's been easier for me to purchase some of it, especially the combination foods. But I can't say enough of how easy this makes the process. If you are wanting to make your own baby food, this is a must purchase!! They also have reusable pouches you can buy too.
10. Travel Bottle Warmer : We use this frequently when we are traveling or just out and about. It does take a little bit of time to get the bottles warm (about 20-25 minutes) but it just plugs in the outlet/charger plug in your vehicle and is easy to use.
11. Beech Nut Baby Food: They have a new line of baby food that's completely all natural and I love the texture of it. Sophie really preferred my homemade baby food to store bought until I tried this line of food. All the other brands I've tried just were way too pureed and runny, when it came to the fruits at least. The texture of their food is more like you would get if you made it yourself. Plus they have super fun combinations! Sophie's favorites are the Apple & Strawberry, Guava & Pears & Strawberry, & Carrots with Corn & Pumpkin. Their slogan is "This is not baby food- it's real food for babies," which I love!
Disclaimer: This post contains affiliate links, but all opinions are my own and are items that I love! All of these were given to me by friends and family or purchased myself.