Today I have a guest post from Elizabeth with ReadySetEat! They have lots of wonderful easy recipes from savory to sweet! I love that they show the prep time, total time, & how many ingredients within the recipe and also when you search it lists that as well. Their site is super user friendly too, definitely check it out! Thanks so much to Elizabeth for guest posting for me today! This carne asada looks incredible! Be sure to put this on your holiday menu!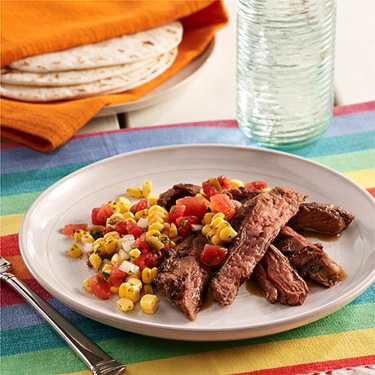 The Fourth of July is almost here! Can you believe it? When I was growing up, my family and I would always go to my next door neighbor's house for a Fourth of July party that their family would host every year. Our friends and neighbors from our street would all attend, and the house would be filled to bursting with people. We would gather around the kitchen counters, sit out on the backyard deck, lounge on chairs in the yard—you get the idea. Of course, I haven't even mentioned the food yet! Chips and dip, ribs, hot dogs, hamburgers, cookies, brownies, crostini, potato salad, vegetables, and everything else you could imagine. By the time it was dark and time for fireworks, everyone was as full as they could possibly be. Good food and friends—that's all you really need for a great party! The fireworks didn't hurt, either!
If you're looking for another dish to serve at your own Fourth of July party, then this Carne Asada with Grilled Corn Salsa will be a real crowd pleaser! It only takes thirty minutes to make, too, so you'll have plenty of time to enjoy the party. If you're looking for more ideas for what to serve at your get-together, check out these pasta salad recipes and dinner ideas.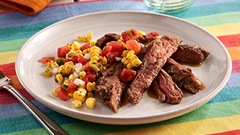 Carne Asada with Grilled Corn Salsa
Ingredients
PAM® Grilling Spray
1-1/4 pounds beef skirt steak
1/2 teaspoon ground cumin
1/4 teaspoon salt
1/4 teaspoon ground black pepper
1 can (10 oz. each) Ro*Tel® Original Diced Tomatoes & Green Chilies, drained, liquid reserved
1/4 cup lime juice
1 large ear fresh sweet corn, husks removed
1/4 cup finely chopped sweet onion
2 tablespoons chopped fresh cilantro
 Directions
Spray cold grate of gas grill with grilling spray. Preheat grill for medium-high heat. Place steak in 13×9-inch baking dish; sprinkle with cumin, salt and pepper. Pour reserved tomato liquid and lime juice over steak. Let stand 15 minutes.
Meanwhile, grill corn 12 to 15 minutes or until tender and browned lightly, turning occasionally. Combine drained tomatoes, onion and cilantro in medium bowl. Remove corn from grill. Carefully cut kernels off cob; add to tomato mixture. Stir to combine; set aside.
Remove steak from baking dish; place on grill. Grill 2 to 4 minutes on each side or until medium done (160°F). Discard remaining liquid. Cut steak into thin slices; serve with corn mixture.
Cook's Tips
Carne Asada may be served with tortillas, if desired.
Author Bio: This is a guest post by Elizabeth L. on behalf of ReadySetEat. Visit www.readyseteat.com to find easy recipes for dinner and more.