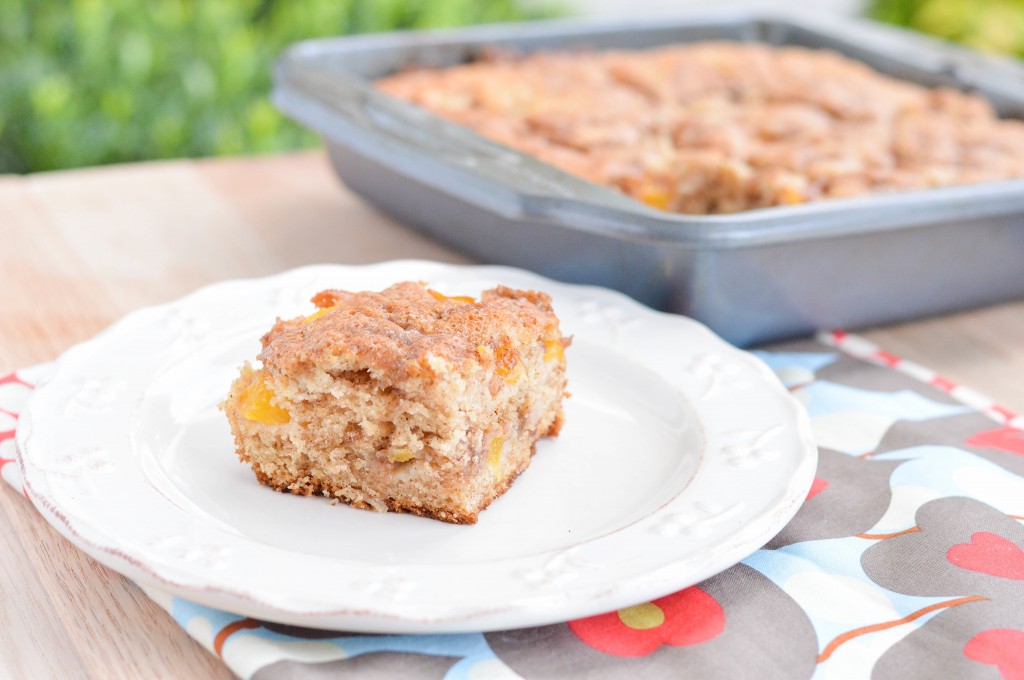 To continue our peach week, I could think of nothing better than offering cake for breakfast! This coffee cake was wonderful! Super moist and the topping made a kind of crunchy/caramely flavor & texture that was out of this world. I will definitely be making this again very soon! You could definitely add in other fruits like blueberries or blackberries if you would like to. This will be sure to dazzle your friends, family or coworkers at your next brunch or breakfast meeting!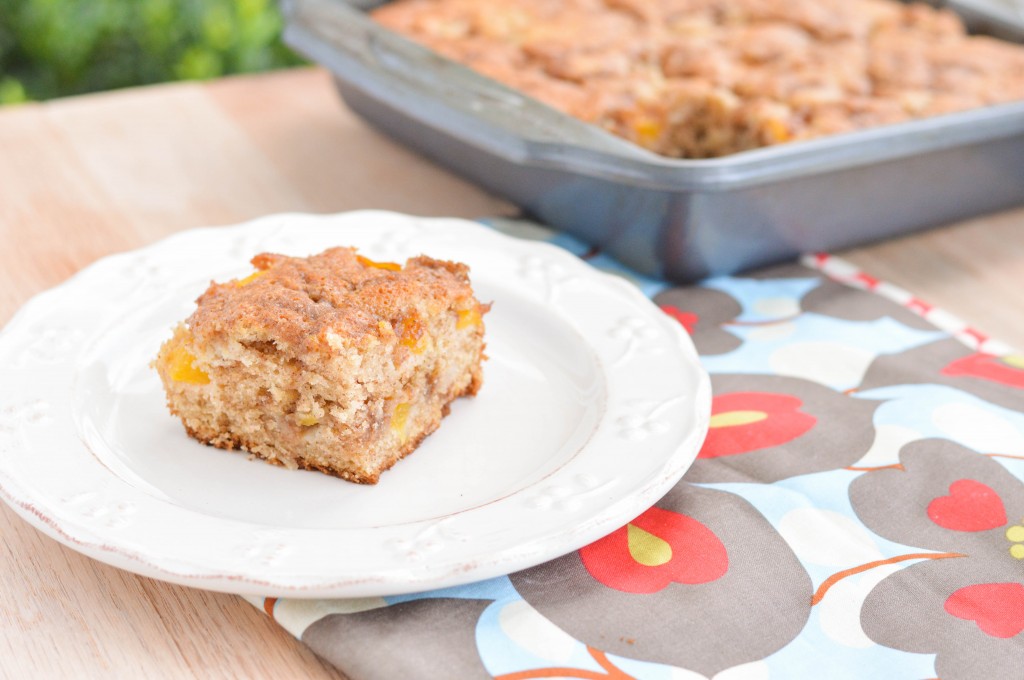 Peach Coffee Cake
Source: Adapted from Ina Garten & Flour Me With Love
Ingredients:
For the Cake Batter:
1 stick unsalted butter, room temperature
1 cup sugar
2 large eggs
1 cup sour cream
1 tsp. vanilla
2 cups all purpose flour
1 tsp. baking soda
1 tsp. baking powder
1/2 tsp. kosher salt
1 tsp. ground cinnamon
For the Filling/Topping:
3 large peaches, peeled & diced
2 tbsp. unsalted butter
1/2 cup light brown sugar
3 tbsp. all purpose flour, plus a couple pinches
1 tsp. cinnamon
pinch nutmeg
Directions:
Preheat oven to 350 degrees. Spray a 9×9 inch baking pan with cooking spray, set aside.
For the Cake Batter:
In the bowl of a stand mixer, add butter and sugar and beat until light & fluffy for approximately 3 minutes. Reduce speed to low and add in eggs, one at a time, beating between each addition. Add in sour cream and vanilla and mix until incorporated.
In a separate medium sized bowl, whisk together flour, baking soda, baking powder, salt & cinnamon.
With the mixer on low speed, gradually add the flour mixture to the cake batter and mix until just incorporated.
For the Filling/Topping:
In a medium sized bowl, add the butter, brown sugar, 3 tbsp. flour, cinnamon & nutmeg. Cut the butter into the dry ingredients with a pastry cutter or fork until the mixture resembles coarse sand.
In a separate small bowl, add the diced peaches and couple pinches of flour and stir to combine (this helps the peaches not to sink in the batter).
For Assembly:
In the prepared baking pan, layer 1/2 of the cake batter. Sprinkle the top with 1/2 of the diced peaches, distributing evenly. Top with 1/2 of the prepared  brown sugar topping mixture, distributing evenly.
Layer the rest of the cake batter on top, then sprinkle the rest of the peaches, then the rest of the brown sugar topping, distributing evenly. Bake for approximately 45 minutes, until golden brown and a toothpick inserted comes out clean.
Place pan on cooling rack to cool completely. Store at room temperature in an air tight container.