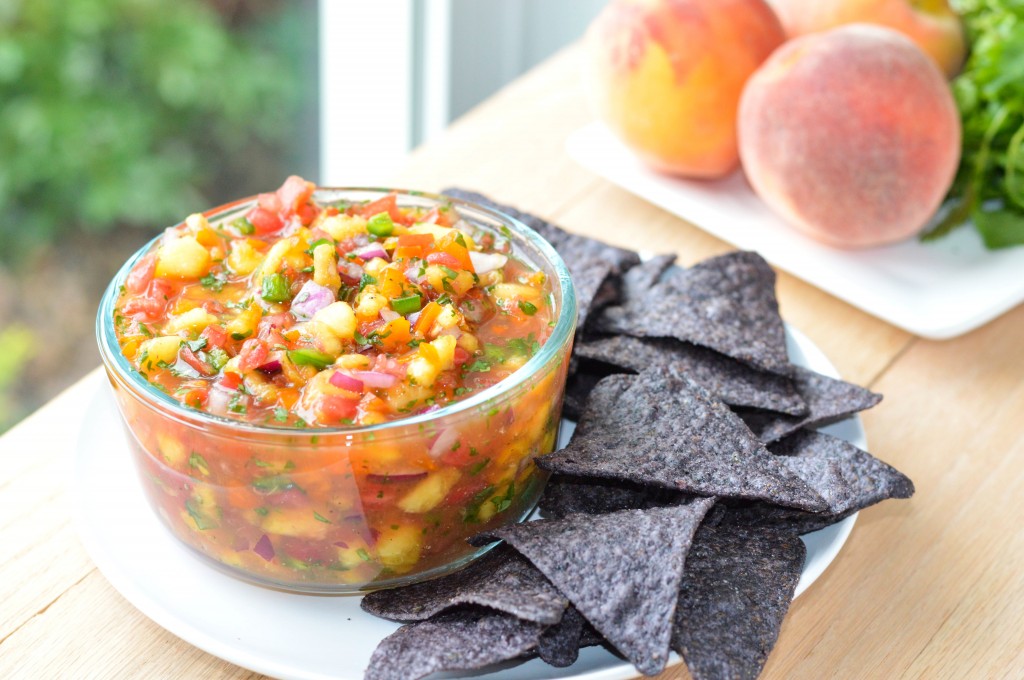 First, I just want to say you all have blown me away with your sweet comments on my last post. Thank you so much for all your support and kind words! It truly means the world to me!! And I am loving reading all your favorite Christmas songs, some I had forgotten about! You still have a couple days to enter the giveaway.
Now onto the Peach Salsa. We have this Farmer's Market in Chattanooga every Sunday in the Spring/Summer and it is amazing! There are tons of vendors with fruits & veggies and crafts and different cuisines. It is a food blogger's paradise! Recently they were featuring peaches, so I couldn't resist buying a bunch. As a result, I'm declaring it peach week on the blog this week!
There is this amazing salsa booth we always love to try and they had a peach salsa that was incredible!! With the abundance of peaches that I had, I thought I would try and make some of my own at home. This turned out amazing! Sweet & spicy at the same time with just the right amount of heat. Plus, it's a great way to use up peaches if they are about to go bad. I served this along side some of the chicken enchilada lasagna roll-ups I had put in the freezer and it was a perfect pairing!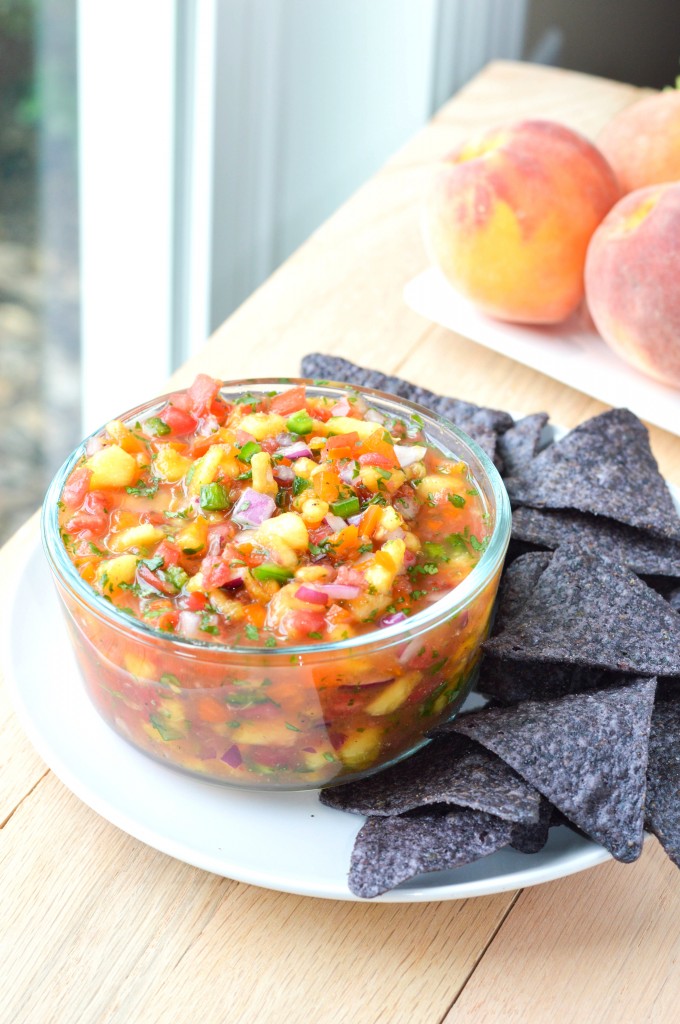 Peach Salsa
Source: Slightly Adapted from She Wears Many Hats
Ingredients:
2 medium sized ripe peaches, peeled and chopped
1/4 cup finely chopped red onion
2 medium sized tomatoes, seeded and finely chopped
1/2 cup chopped orange bell pepper
1 jalapeno, seeded & finely chopped
1/4 cup chopped fresh cilantro
Juice of 1 Lime
1/2 tsp. kosher salt
1/8 tsp. freshly ground black pepper
pinch ground cayenne
1/8-1/4 tsp. cumin
Directions:
In a medium sized bowl, add the peaches, onion, tomatoes, bell pepper, jalapeno, cilantro, lime juice, salt, pepper, cayenne & 1/8 tsp. cumin. Stir together until fully incorporated and taste. Add more cumin, salt & pepper if necessary & stir. Cover and refrigerate for at least 20-30 minutes to allow flavors to marry.
Notes:
*This does have a bit of a kick so if you like things with not a lot of heat, cut back or omit the jalapeno. If you like it even spicier, add more jalapeno or ground cayenne.