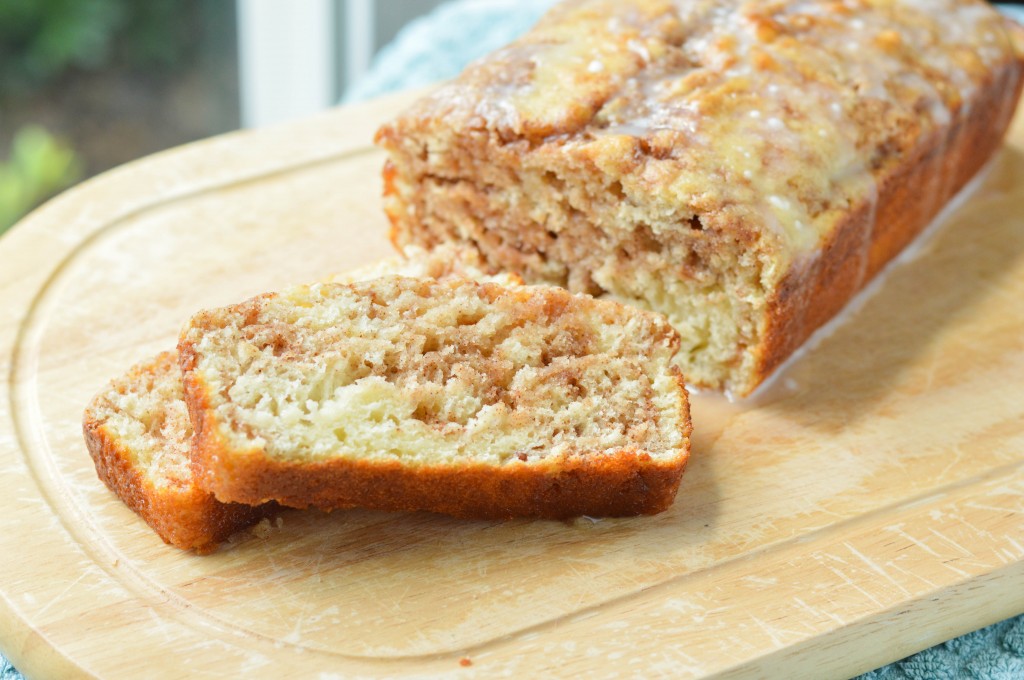 If you need an easy treat to take to a breakfast meeting or a make for a family brunch, this should definitely be on your list! This cinnamon roll bread was so moist and sweet, just like a cinnamon roll but didn't require any yeast or waiting for it to rise!  Best part is that it came together super quickly. You could definitely whip it up and then put it in the oven while you go get ready for the day and then when you get done breakfast will be ready!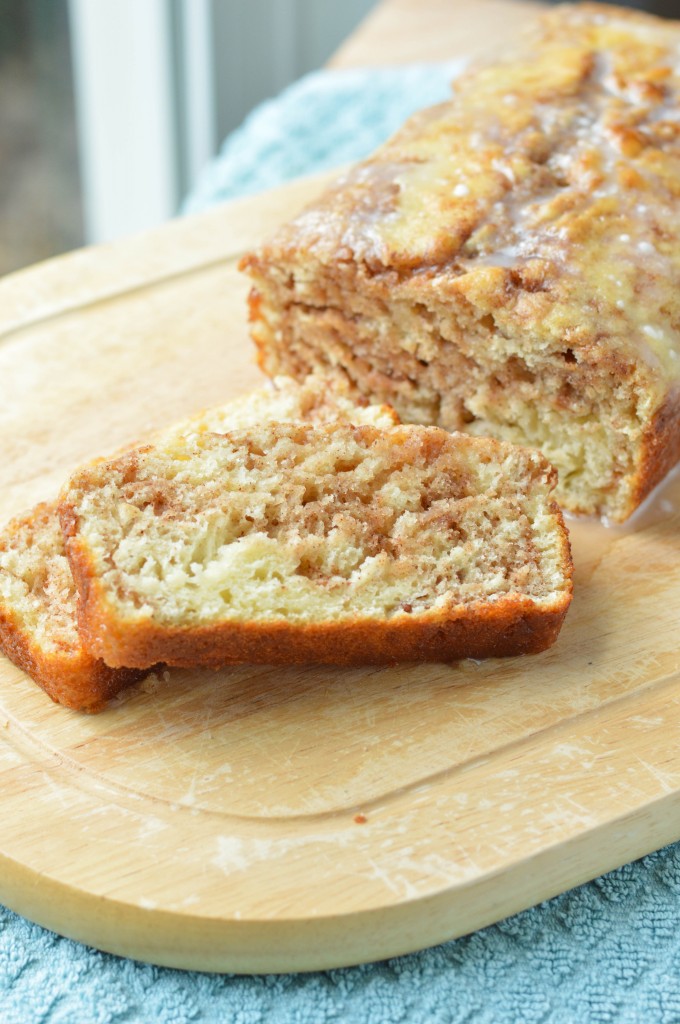 Cinnamon Roll Bread
Source: Table for Seven, originally from Burnt Apple
Ingredients:
For Bread:
2 cups all purpose flour
1 tbsp. baking powder
1/2 tsp. salt
1/2 cup sugar
1 egg
1 cup milk
1/3 cup sour cream
For the Cinnamon Swirl:
1/3 cup sugar
2 tsp. ground cinnamon
2 tbsp. water
For the Icing:
1/2 cup confectioner's sugar
2 tbsp. milk
Directions:
Preheat oven to 350 degrees. Spray a loaf pan with cooking spray, set aside.
For the Bread:
In a medium sized bowl, add flour, baking powder, and salt. Whisk to incorporate, set aside.
In a separate medium sized bowl, add sugar, egg, milk, and sour cream. Stir well until fully incorporated. Gradually add in the flour mixture and stir until incorporated. Pour batter into prepared pan.
For the Cinnamon Swirl:
In a small bowl, stir together 1/3 cup sugar, cinnamon, & water (mixture will be very thin). Spoon over batter and using a knife, swirl the mixture in throughout the batter.
Bake for 40 to 45 minutes, until a toothpick inserted comes out clean. Leave bread in pan and place pan on cooling rack and let cool for 15 minutes.
For the Icing:
Meanwhile, in a small bowl combine confectioner's sugar & milk until an icing forms (will be thin). After the bread cools slightly, drizzle the icing over the bread in the pan. Let cool completely.
Once cool, run a knife around the outside of the bread and pop out of the pan. Place in an airtight container to cool.