I was taking some food to some friends of our that had just had a baby and I had a craving to make some chocolate chip cookies. I thought that was the perfect excuse to make some cookies and take them some! These cookies were so soft and I wanted to eat like a dozen of them! I will definitely be making these again! I used a trick I had seen on pinterest and subbed the baking powder with cornstarch and it made them super soft! You could try swapping that out in your favorite cookie recipe and see what you think.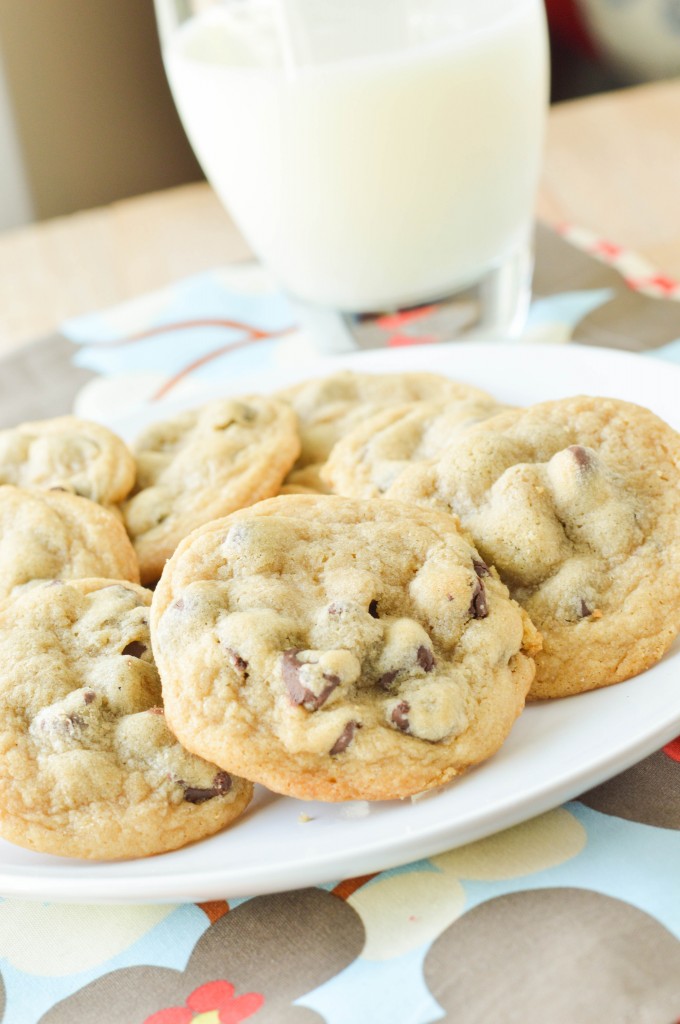 Soft Batch Chocolate Chip Cookies
Source: Dinners, Dishes, & Desserts originally Apple A Day
Ingredients:
3/4 cup unsalted buter, softened
3/4 cup light brown sugar, packed
1/4 cup sugar
1 egg
2 tsp. vanilla
2 cups all purpose flour
1 tsp. baking soda
2 tsp. cornstarch
1/2 tsp. salt
1 1/2 cups semi-sweet chocolate chips
Directions:
Preheat oven to 350 degrees. Cover a baking sheet with parchment paper, set aside.
In the bowl of a stand mixer add butter, sugar & brown sugar. Beat together until light & fluffy. Add in egg & vanilla. Beat together.
In a separate bowl whisk together the flour, baking soda, cornstarch & salt. With the mixer on low speed, gradually add the flour mixture to the butter mixture and beat until just combined.
Remove bowl from stand and stir in chocolate chips. Chill dough in the refrigerator for approximately 30 minutes.
Roll dough into golf ball sized dough balls and place at least 2 inches apart on prepared baking sheet.
Bake for approximately 9 minutes until the edges just begin to turn golden. The centers will still look soft and underdone, they will set up as they cool. Let cool on the baking sheet for five minutes and then transfer to a cooling rack to cool completely. Store in an airtight container.