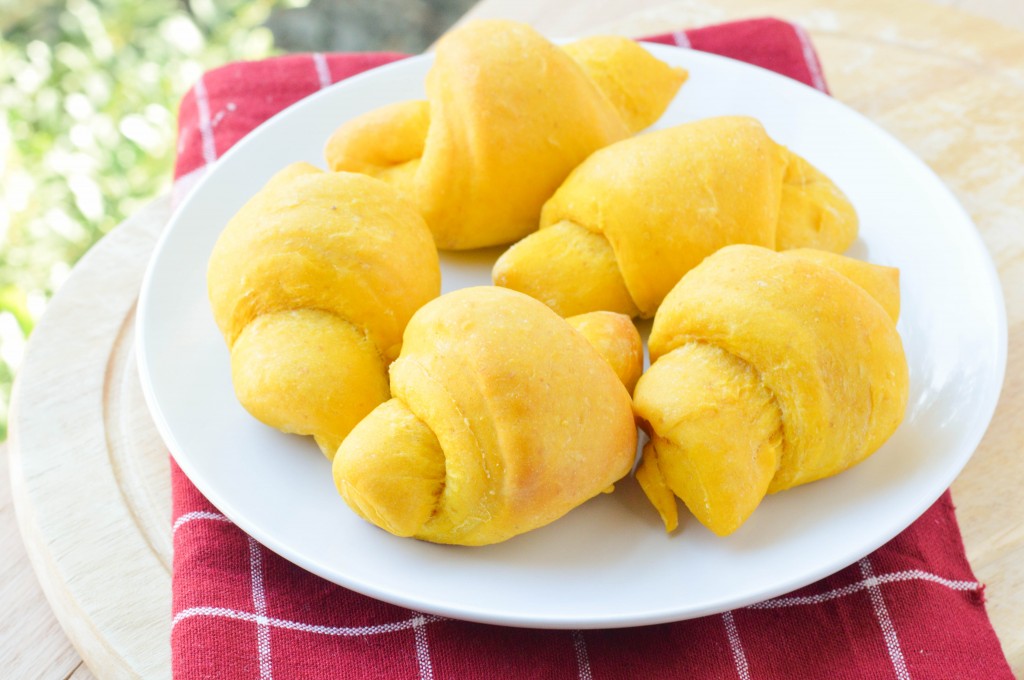 These pumpkin crescent rolls are going to be your new go-to holiday roll! They are so soft and flavorful! You can top them with butter or honey or even apple butter would be great I think! These do take a bit of time just because of the rises,  but they really are not that difficult and very forgiving for a yeast recipe! Definitely going to be making these for years to come!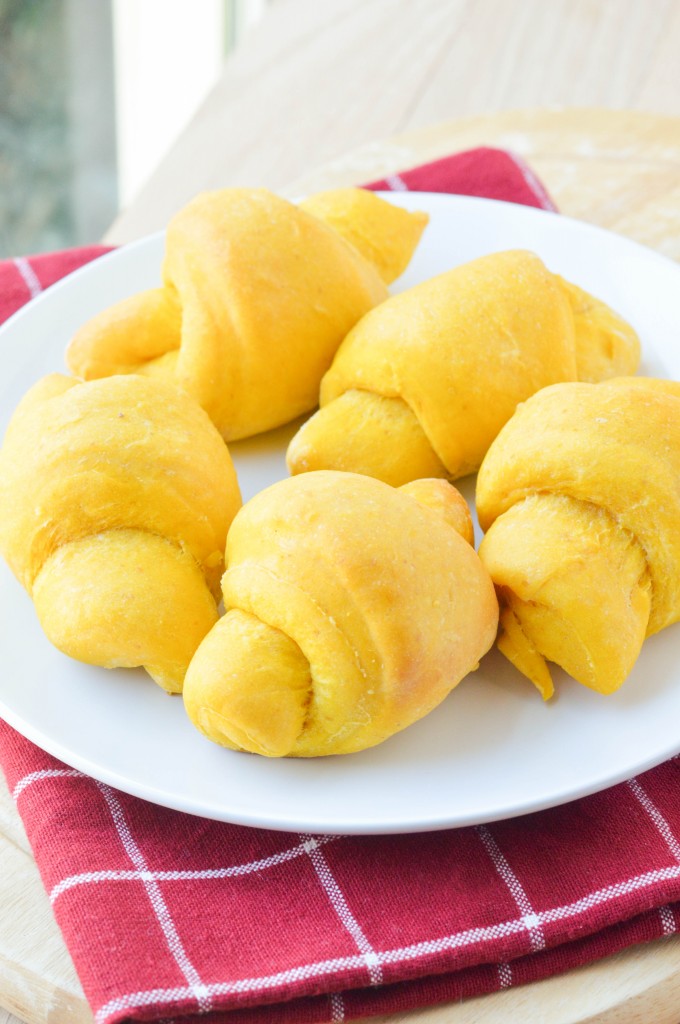 Pumpkin Crescent Rolls
Source: Money Saving Mom
Makes 20 to 24 Rolls
Ingredients:
1 1/2 cups pure pumpkin puree
1/2 cup warm water
4 tbsp. sugar
3 tbsp. unsalted butter, softened & cut into pieces
2 eggs
1 tsp. salt
5 1/2 cups all purpose flour
1 package instant rapid rise yeast
3-4 additional tbsp. melted butter for topping
Directions:
In a small saucepan, add the pumpkin puree, water, sugar, & 3 tbsp. butter over low heat. Heat just until all the butter has melted. You want the mixture to just be warm, not super hot.
In the bowl of a stand mixer, add the salt, yeast, and 2 cups of the flour. Mix together with the beater attachment until incorporated. Add the pumpkin mixture to the flour mixture and beat until incorporated for approximately 30 seconds. Add in the eggs and beat until incorporated. Gradually add in the rest of the flour and mix until incorporated.
Carefully change from the beater attachment to the bread hook attachment. Knead on medium high speed for approximately 5 minutes, until the dough sticks to the bottom of the bowl but clears the sides. Alternatively, you can knead it by hand. If dough is too sticky, add a tiny bit more flour.
Spray a large bowl lightly with cooking spray and transfer the dough to that bowl. Cover with a towel and let rise in a warm place approximately 45 minutes to an hour, until it has doubled in size.
Cover two baking sheets with parchment paper, set aside.
Lightly flour a large clean surface. Divide the dough in half. Roll each half into a 12 inch circle. Brush with the additional melted butter. Divide the circle into 10 to 12 wedges. Roll each triangle up, starting with the larger end and going to the small end, pinch the ends to seal. Place rolls on prepared baking sheets, approximately 2 inches apart. Repeat for 2nd half of dough. Let rise in a warm place for approximately 30 minutes.
While the rolls rise, preheat oven to 375 degrees. Once rolls have risen, bake for 12-14 minutes until lightly golden brown. Remove from the oven and brush with some more of the melted butter. Serve warm or at room temperature. Store leftovers in an airtight container.