So, I wasn't going to post this because everyone is familiar with Chex mix, but it was just so good and so addictive that I just had to share it with you all! This has such a nice zesty flavor and the perfect combination of trail mix ingredients! My friend Jennifer made some chex mix with her mom and it was the best I'd ever had. I set out to make some myself, but forgot to ask her for the recipe. I started by making the original chex seasoning recipe, which was alright but not near as good as Jennifer & her mom's. Then her mom told me she adds extra of the seasoning so I decided to try doubling the seasoning and it was fabulous!! Definitely going to be making this for years to come!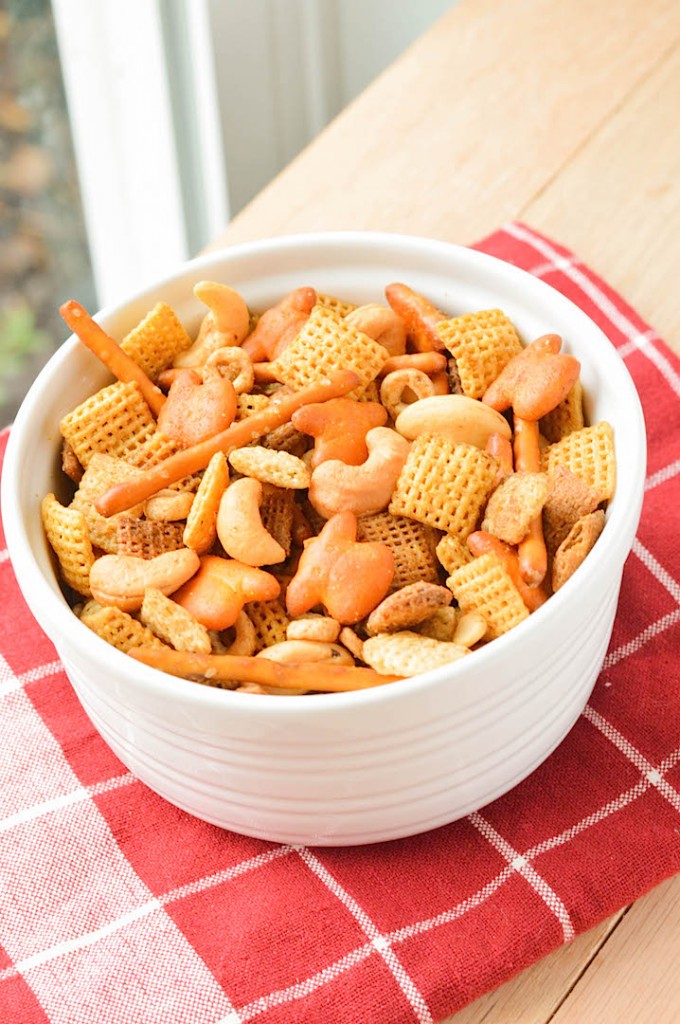 Best Chex Party Chex Mix 
Source: Adapted from my Friend Jennifer's mom & Chex
Ingredients:
3 cups Rice Chex
3 cups Corn Chex
2 cups Wheat Chex
2 cups pretzel sticks
2 cups Cheese Snack Crackers*
2 cups cheerios
1 cup peanuts
1 cup cashews
12 tbsp. butter, melted
5 tbsp. Worcestershire Sauce
1 tbsp. Seasoned Salt
1 tsp. onion powder
1/2 tsp. ground cayenne pepper
1 1/2 tsp. garlic powder
Directions:
Preheat oven to 250 degrees.
In a very large bowl, add the rice, corn, & wheat chex, the pretzels, cheese crackers, cheerios, peanuts, & cashews. Stir to evenly distribute.
In a small bowl, whisk together the melted butter, worcestershire, seasoned salt, onion powder, cayenne, & garlic powder.
Pour butter mixture over the chex mixture and stir to coat.
Divide mixture evenly between 2 rimmed baking sheets and spread in an even layer.
Bake for 25 to 30 minutes, stirring mixture every 5 minutes & rotating baking sheets. Remove from oven and let cool completely.
Notes:
*For the cheese crackers, you can use Xtra Cheese Goldfish, Annie's Bunnies, or Horizon Cheese Cow Crackers (this is what I've used in the picture), it might even work with cheese-its.
*I like to make this a 1/2 batch at a time so that it's easier to stir and I only have to worry about tending to one baking sheet at a time.