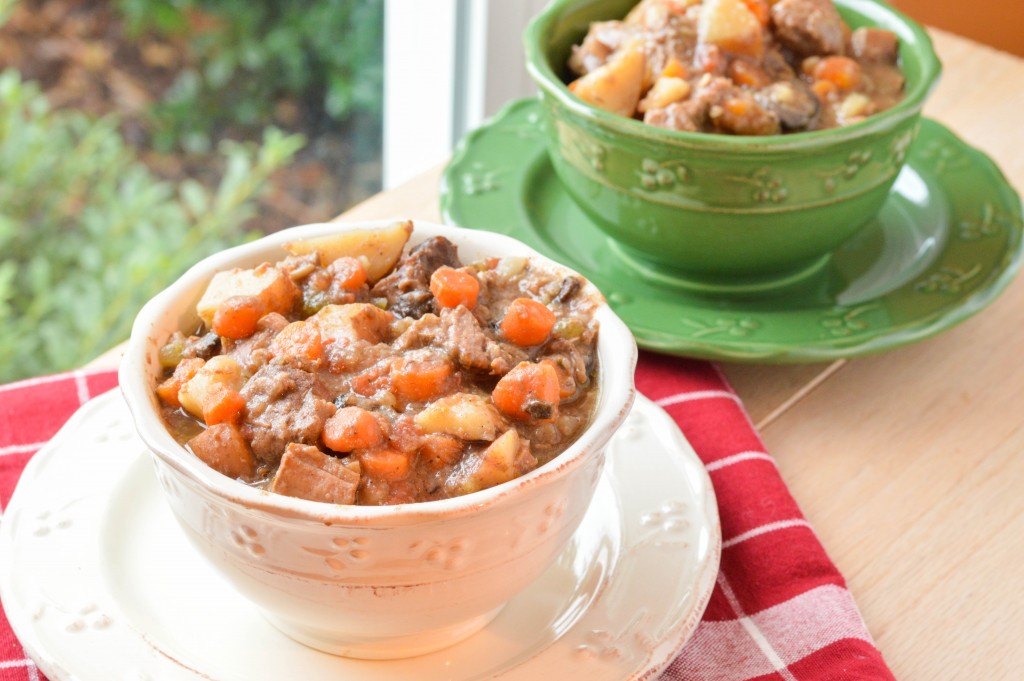 This Slow Cooker Beef Stew is so comforting and warms you from the inside out! It's labeled the best because it calls for some non-traditional ingredients like diced tomatoes & mushrooms that add such a great depth of flavor! I'm sure Adam is anxious for me to put this on the menu again very soon! It's even Sophie approved and she's been super picky as of late.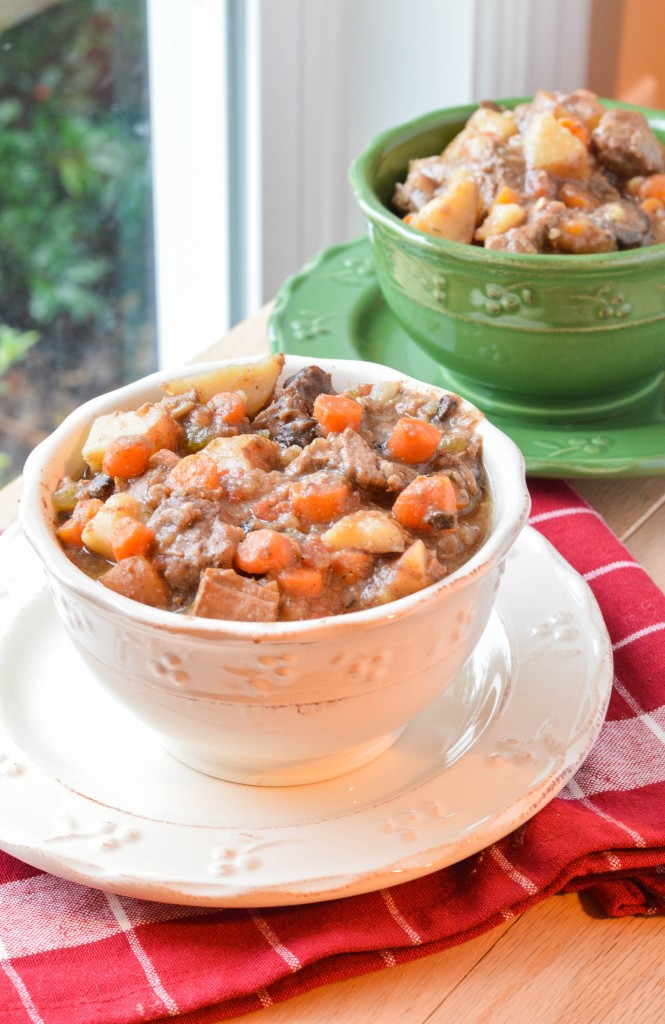 Best Slow Cooker Beef Stew
Source: Butter with a Side of Bread
Ingredients:
2 lbs. beef chuck roast, cut into 1 1/2 inch cubes
1/4 tsp. salt
1/8 tsp. freshly ground black pepper
1/4 cup flour
5-6 medium sized red potatoes, diced
2 cups sliced carrots
2 stalks celery, chopped
1 can petite diced tomatoes, drained
4 tbsp. extra virgin olive oil
2 tsp. minced garlic
1 medium onion, chopped
2 cups beef stock
1/2 tsp. dried thyme
1 tsp. dried parsley
1/2 tsp. allspice
8 oz. sliced mushrooms
1 bay leaf
2-4 tsp. cornstarch
Directions:
Cut beef into 1 inch cubes, Add to gallon sized ziplock bag. Add salt & pepper to bag and kind of smoosh the bag around with your fingers to distribute the seasoning. Add flour to the bag and smoosh it around again to coat the beef. 
Have your beef stock measured out and ready to go for after searing the beef. Go ahead and add the potatoes, carrots, celery, & diced tomatoes to the slow cooker.
In a large skillet, heat olive oil over medium high heat. Add garlic and cook approximately 30 seconds. Add in beef cubes and cook until seared on all sides, approximately 4-5 minutes total, stirring when necessary. Transfer the beef to the slow cooker.
Add remaining 2 tbsp. of olive oil into the skillet. Heat on medium high heat, then add onions. Cook onions a few minutes. Once onions are translucent, pour in beef broth and stir to combine. Add in thyme, parsley, & all spice and stir to incorporate. Once mixture starts boiling, remove from heat and add to slow cooker.
Add mushrooms & bay leaf to the slow cooker and stir to incorporate. Cook on low heat for 9-10 hours or on high for 6-7 hours.
30 minutes prior to serving, remove 1/2 cup of the liquid from the beef stew. Add 2 tsp. cornstarch to the stew liquid and then pour it back into the beef stew. Stir to incorporate. Wait 15 minutes and if not thickened to desired consistency repeat this process with 2 more tsp. cornstarch into 1/2 cup of stew liquid. Wait 15 more minutes, remove bay leaf, serve & enjoy!
Notes:
*If you want, you can skip the searing part and just add everything to the slow cooker, but it won't have as strong of flavors.