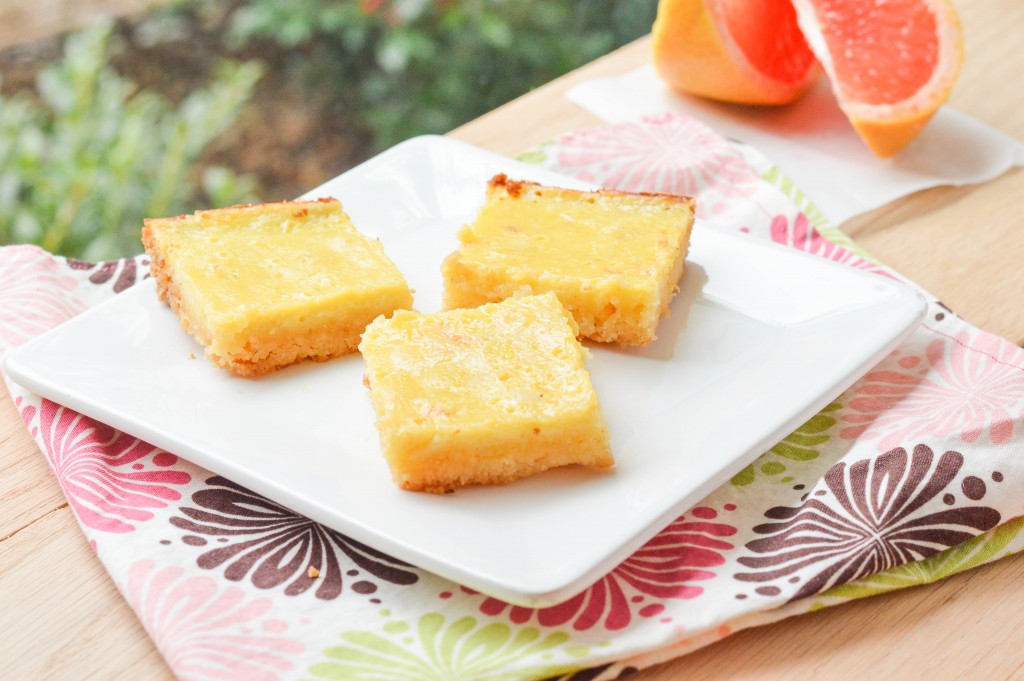 It's the citrus season and ever since I made these Pink Grapefruit Sandwich Cookies a few years ago, I've been in love with grapefruit baked goods. See, by themselves I don't like grapefruit really at all. Too tart for me, but when you combine them with buttery shortbread and sugar the results are sweet & refreshing! These bars definitely did not disappoint and are even Sophie approved! She kept asking for "bite, bite." If grapefruit isn't your thing, then you could use lemons or oranges or even blood oranges.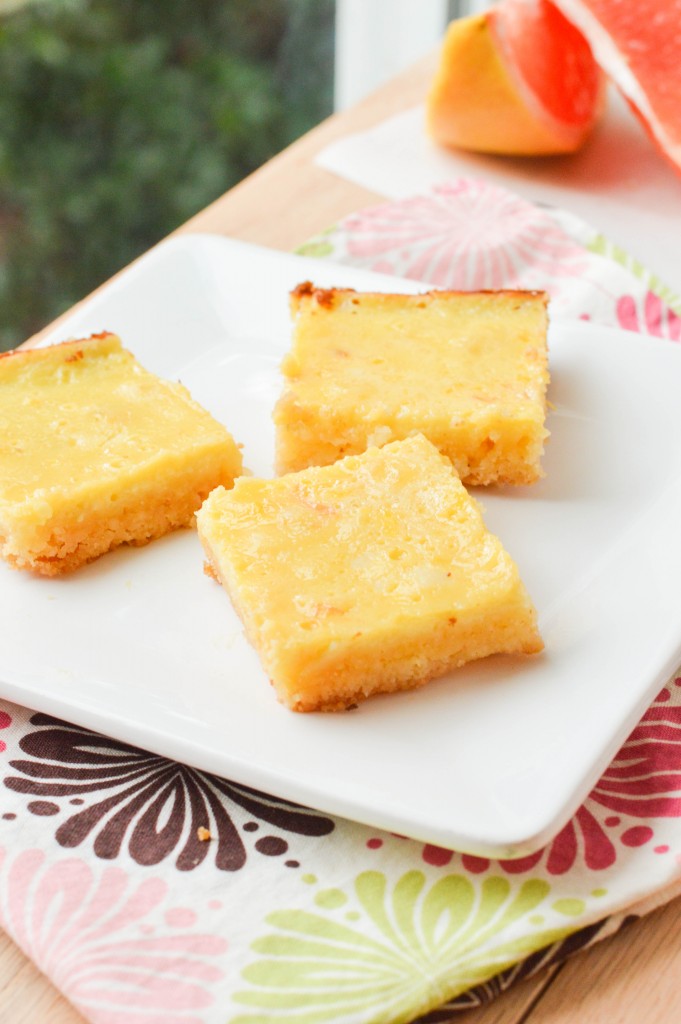 Grapefruit Bars
Source: Confections of a Foodie Bride
Ingredients:
For the Crust:
1 cup flour
1/2 tsp. salt
1/4 cup sugar
zest from 1/2 a grapefruit (optional)
1 stick (1/2 cup) unsalted butter, cold & cubed
For the Filling:
2 tbsp. flour
1/2 cup sugar
pinch salt
zest from 1/2 a grapefruit
1/2 cup freshly squeezed grapefruit juice
3 eggs
3 tbsp. Greek yogurt
Directions:
Preheat oven to 350 degrees. Spray an 8 x 8 baking dish with cooking spray, set aside.
For the Crust:
In a large bowl, whisk together the flour, salt, sugar & zest (if using). Add in the butter pieces and using a pastry cutter, cut the butter into the flour mixture until all powder is "wet" & the mixture resembles wet sand and sort of comes together as a crumbly dough. Alternatively you can add them all to a food processor. Press mixture evenly into your prepared pan.
Bake for approximately 20 minutes, until crust is lightly golden brown. Remove from oven and allow to cool for 20 minutes.
For the Filling:
Add the flour, sugar, & salt into a medium sized bowl. Whisk together until fully incorporated.
Add in the grapefruit zest, juice, eggs, & Greek yogurt. Whisk together until fully incorporated and no lumps remain.
Pour mixture over the cooled crust and spread evenly. Bake for approximately 20 minutes, until the outside edges are just set.
Let cool in the pan for approximately 30 minutes. After cooling, run a knife around the edges to release it from the pan. Leave in pan to cool completely, then cut into squares.
Notes:
*I forgot to add the grapefruit zest to the crust, but it was great without it so that's why I put that it was optional. I'm sure it would add even more great flavor though.