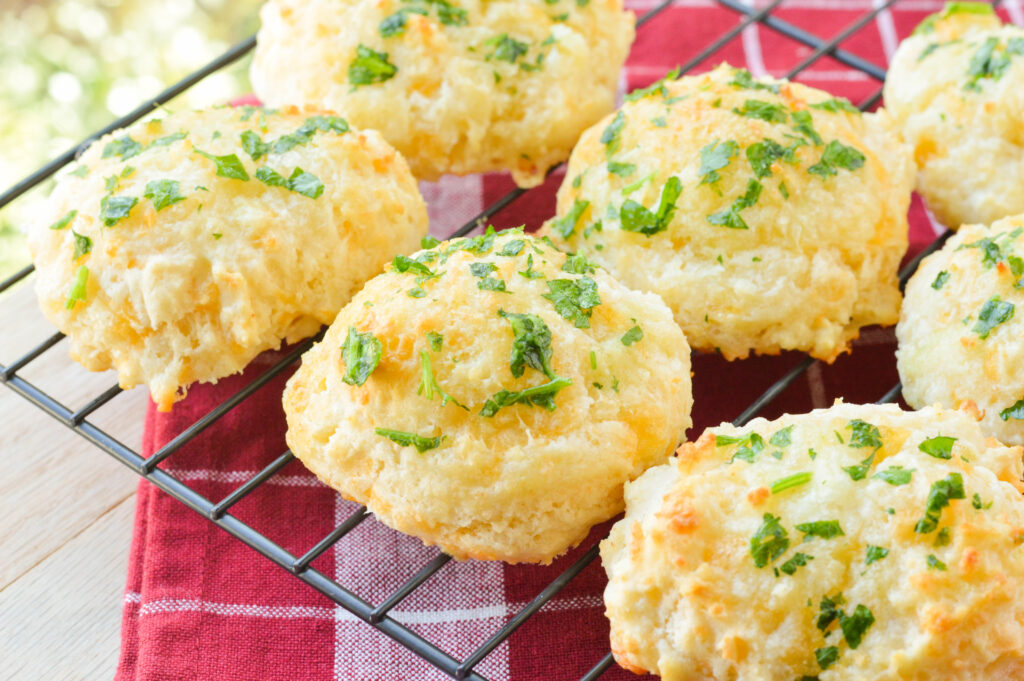 I've only been to Red Lobster a handful of times but every time I definitely remember the biscuits and how addictively delicious they are! So pillowy soft and packed full of goodness! My friend Jennifer has made them for us a couple of times and they are always so incredible! I googled and found a recipe and put them on our Valentine's Day menu. Well, I pulled them out of the oven expecting the pillowy goodness and all I saw were flat pancakes. Not the recipe's fault at all, turns out my baking powder was expired! (Let this be a lesson to keep an eye on those expiration dates, haha). Not to be deterred, the next day I got some new baking powder and tried again…they were amazing!!! We couldn't stop eating them!
Also, in full disclosure, I also got steaks for us to cook on Valentine's and apparently picked out a bad cut of meat and they were super tough. So we went and got pizza takeout, waited until Sophie went to bed and ate pizza on our china by candlelight. It actually turned out to be one of the best Valentine's we've ever had! Wish we'd just done that in the first place, I think we've started a new tradition! And the steaks didn't go to waste, we used them in quesadillas and they were delicious that way.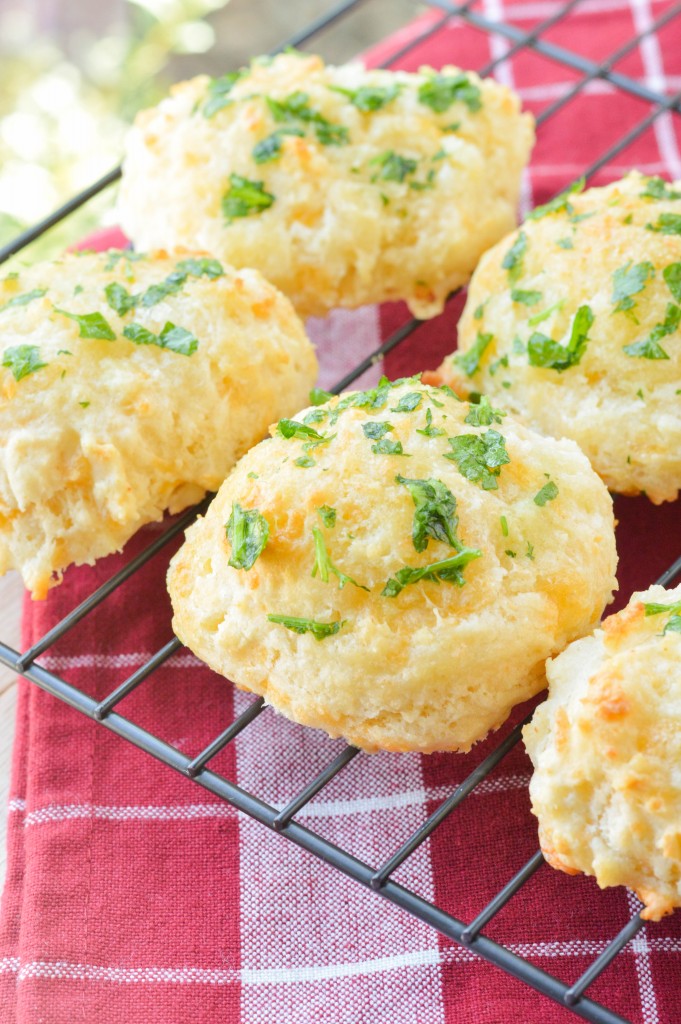 Copycat Red Lobster Cheddar Biscuits
Source: slightly adapted from Neighbor Food 
Makes 12-14 biscuits, depending on size
Ingredients:
2 cups all purpose flour
1 tbsp. baking powder
2 tsp.  garlic powder
1/2 tsp. salt
1/8 tsp. ground cayenne pepper
1 stick (1/2 cup) unsalted butter, cold & cubed
1 cup buttermilk*
1 1/2 cups shredded sharp cheddar cheese (or cheese of your choice)
For the Topping:
4 tbsp. unsalted butter, melted
1/2 tsp. garlic powder
1 tbsp. parsley
Directions:
Preheat oven to 400 degrees. Cover a baking sheet with parchment paper, set aside.
In a medium sized bowl, add flour, baking powder, garlic powder, salt, & cayenne. Whisk together until incorporated. Add the cold cubed butter to the flour mixture and cut the butter into the flour mixture using a pastry blender or two forks, until it resembles coarse sand and the butter is the size of peas.
Add the buttermilk to the mixture and stir until incorporated. Add cheese and gently stir to evenly distribute.
Using a large cookie or ice cream scoop (approx. 1/4 cup size), scoop balls of the dough and place on the prepared baking sheet approximately 2 inches apart.
Bake for approximately 10 to 12 minutes, until lightly golden and set.
For the Topping:
While the biscuits bake, melt the butter for the topping and stir in the garlic powder & parsley. Once biscuits are baked, remove from oven and spoon some of the butter mixture over top of each warm biscuit.
Store leftovers in an airtight container. Reheat in a 350 degree oven for approximately 5-10 minutes, until heated through.
Notes:
*Instead of buttermilk, you can place 1 tbsp. vinegar in a 1 cup measuring cup and fill the rest of the way full with milk. Let stand for 10 minutes and use as directed.