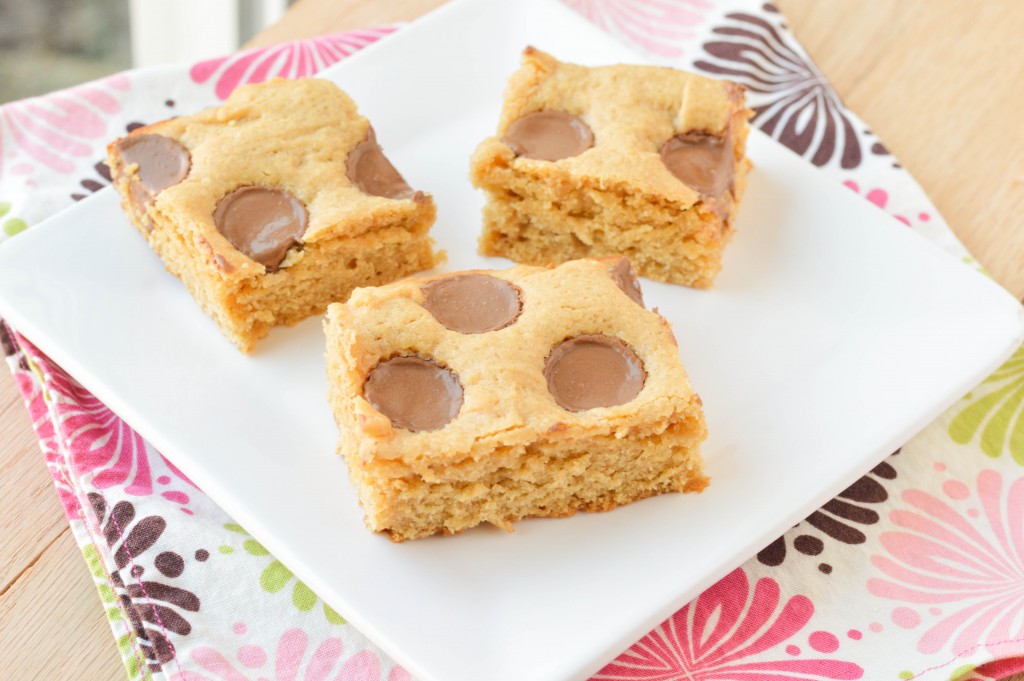 My friend Christen made these Reese Cup Blondies for our last girls night and they were incredible! Rich and melt in your mouth delicious! I knew I had to make them and share the recipe with you all. I over baked mine just a tad, so make sure you watch it closely at the end so they are moist. They were still good though, especially warmed up and paired with a glass of milk! Definitely make these and your friends and family will rejoice!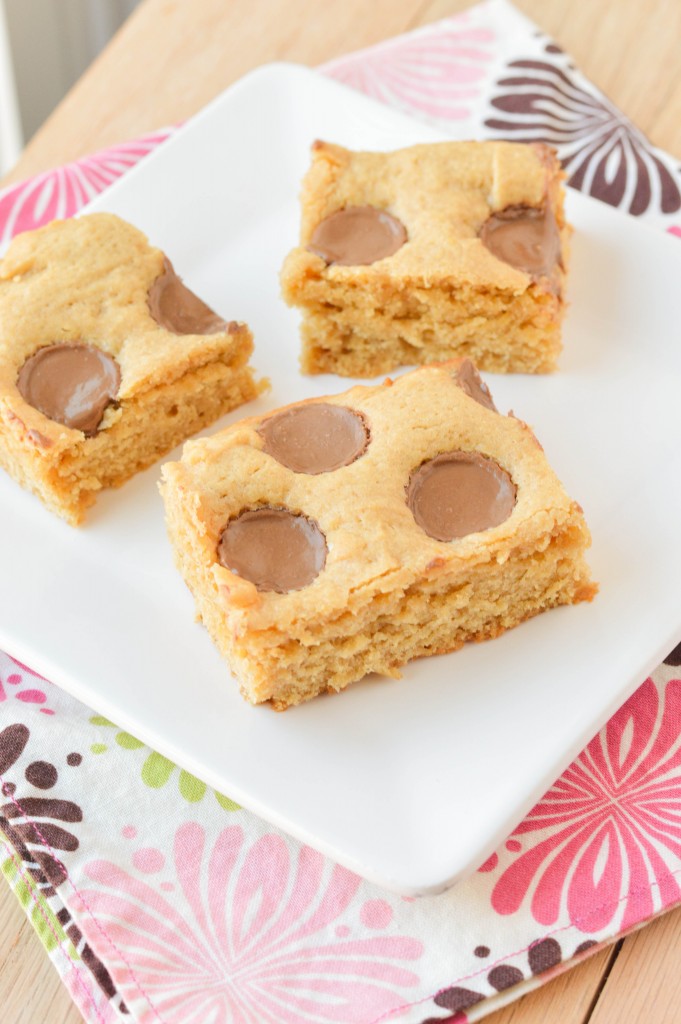 Reese Cup Blondies 
Source: She Wears Many Hats
Ingredients:
1/4 cup unsalted butter
1/2 cup creamy peanut butter
2 tbsp. milk
1 1/2 cups all purpose flour
1/2 tsp. baking powder
1/4 tsp. salt
2 large eggs
1 cup light brown sugar
1 tsp. vanilla
30 unwrapped mini peanut butter cups, or 16 regular mini cups*
Directions:
Preheat oven to 350 degrees. Line a 9 inch baking pan with aluminum foil, with some hanging over the edge long ways, and spray with cooking spray. Set aside.
Melt butter in 20 second increments in the microwave (or can do on the stove top). Once melted, stir in peanut butter and milk until completely smooth. Allow to cool slightly.
In a small bowl, add flour, baking powder, & salt. Whisk together until incorporated, set aside.
In the bowl of a stand mixer add eggs, brown sugar, & vanilla and beat together until incorporated. With the mixer on low, pour in the peanut butter mixture and beat until incorporated. Gradually add in the flour mixture and beat until just incorporated.
Spoon batter into the prepared pan (it will be thick) and spread evenly. Stick peanut butter cups into the batter in 5 rows of 6 each, or if using the bigger minis 4 rows of 4.
Bake for approximately 18-20 minutes, until set and a toothpick inserted comes out with moist crumbs attached.
Let cool completely in the pan, then using the foil overhang lift out and cut carefully into squares taking care to note cut the foil. Or you can peel the foil off and then cut them. Store in an airtight container.
Note:
*I used the unwrapped minis that are smaller than regular minis. They come in a stand up resealable bag. The regular minis are the a little bigger and come wrapped in the regular candy bags. You can use either.
*There are affiliate links in this post for your convenience.