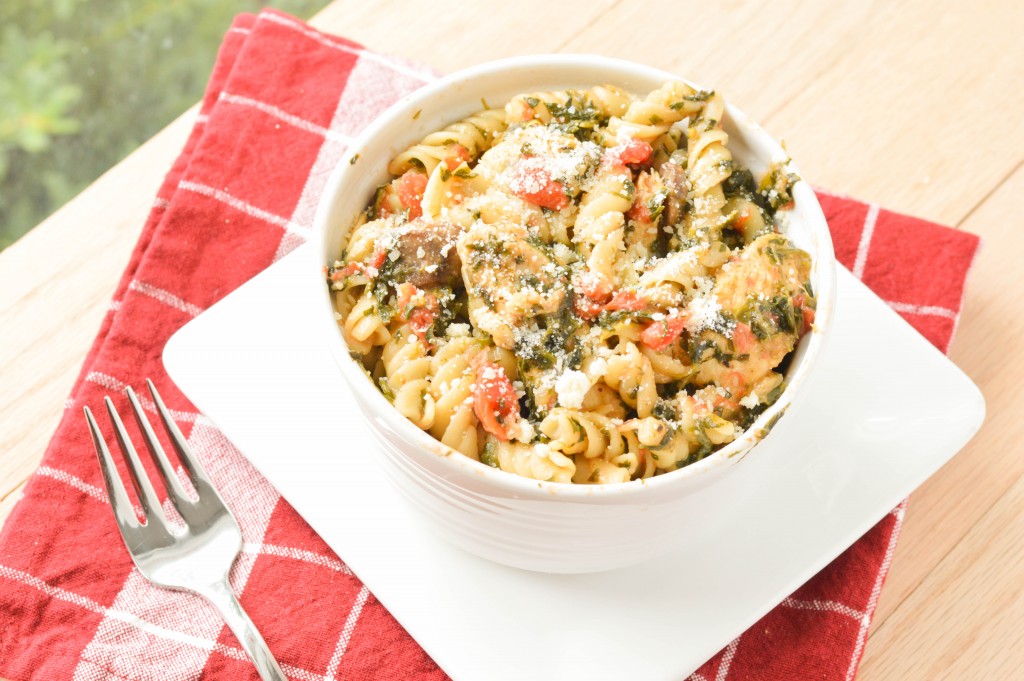 My dear friend Jennifer texted me the recipe for this Chicken Spinach Pasta one night after making it for her family. She thought I would enjoy it and that it would be a perfect to share on the blog, which was so sweet of her! I made it last week and it was fabulous!! Such great rich flavors and so easy to put together. This is a great weeknight meal as it doesn't take very long and most of these ingredients are kept on hand. It originally called for orzo, but Adam isn't a fan so I used rotini noodles and they worked great. This is definitely going on our regular meal rotation for sure! Thank you Jennifer for sharing such a delicious recipe!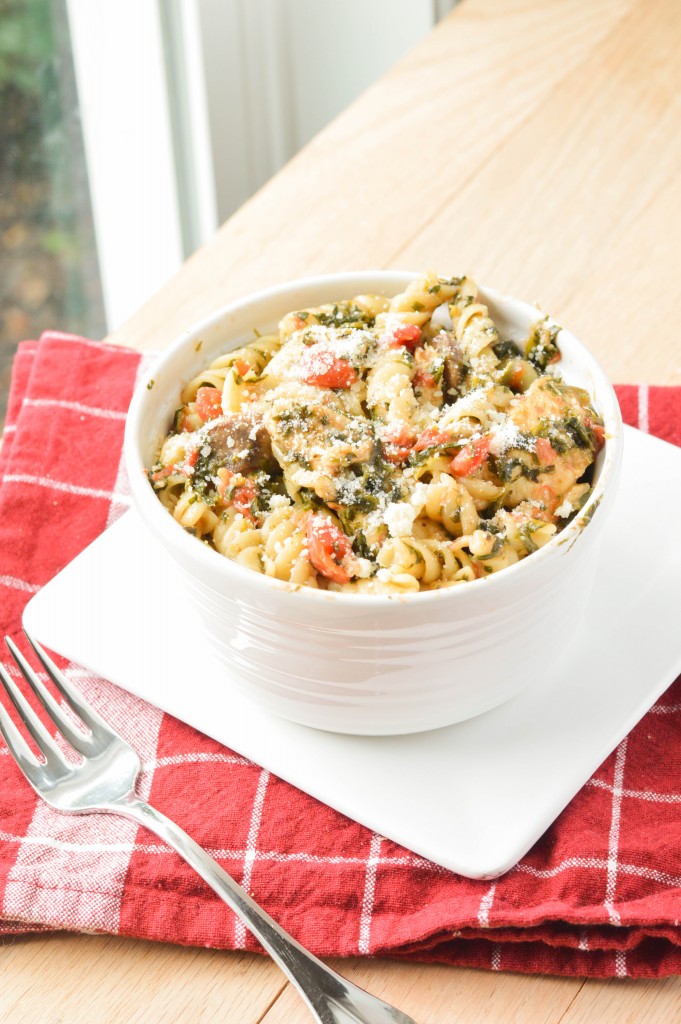 Chicken Spinach Pasta
Source: Taste of Home
Serves 4-5
Ingredients:
1 tbsp. extra virgin olive oil
1/2 medium onion, chopped
4 oz. baby bella mushrooms, roughly chopped
2 large chicken breasts, cut into bite sized pieces
1/4 tsp. garlic powder
1 tsp. Chicken Seasoning
1/4 tsp. salt
1/8 tsp. freshly ground black pepper
1/8 tsp. ground cayenne pepper
1 clove minced garlic
1 (14 1/2 oz.) can petite diced tomatoes (do not drain)
1 (10 oz.) pkg. chopped spinach, thawed & squeezed of excess water
1 cup milk
6 oz. uncooked rotini pasta noodles*
1 tsp. Italian seasoning
3/4 cup grated Parmesan cheese
Directions:
In a large skillet heat the olive oil over medium heat. Add onion, mushrooms, & chicken to the skillet. Sprinkle with the garlic powder, chicken seasoning, salt, pepper & cayenne. Stir to incorporate, then saute for approximately 5-6  minutes or until chicken is no longer pink.
Once chicken is cooked, transfer mixture to a large pot (4 quarts) and add the diced tomatoes, spinach, milk, uncooked pasta, & Italian seasoning. Stir to combine and try your best to cover the pasta with the liquid. Bring to a boil, then cover and simmer for approximately 15 minutes until pasta is cooked to al dente. Stir occasionally to make sure the pasta doesn't stick to the bottom.
Remove from heat and stir in the Parmesan cheese. Serve with more Parmesan on top if desired.
Notes:
*Can use 3/4 cup orzo instead of the rotini noodles
*Can make this a one pot dish & cook it all in the skillet if yours is large enough. I transferred to a larger pot to make it easier to stir without spilling, plus I don't have a lid for my skillet.