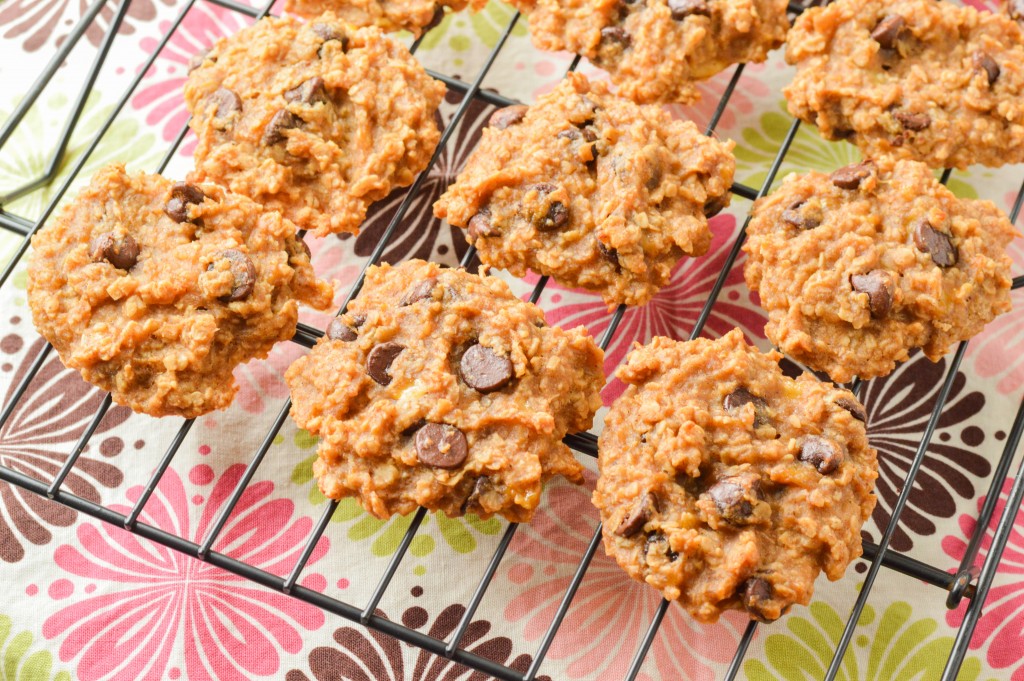 So now that it's March, we are inching closer and closer to bathing suit season. We just planned a trip to the beach for this summer and I'm so excited! However, I need to get back on track with my eating after indulging a bit too much in comfort food with all the snow we've had. I don't know about you, but I enjoy something sweet after dinner most nights. I try to keep that on the healthier side most of the time and I am always looking for a new healthy treat to try. These healthy peanut butter chocolate chip cookies were so good! Soft and flavorful; a great treat without any guilt! Sophie absolutely loved these too! And it's a great way to use up ripe bananas too. If you are a sweet breakfast lover like me, these would be a great breakfast treat! These aren't your typical cookie though, they are soft and not chewy. More like the consistency of baked oatmeal.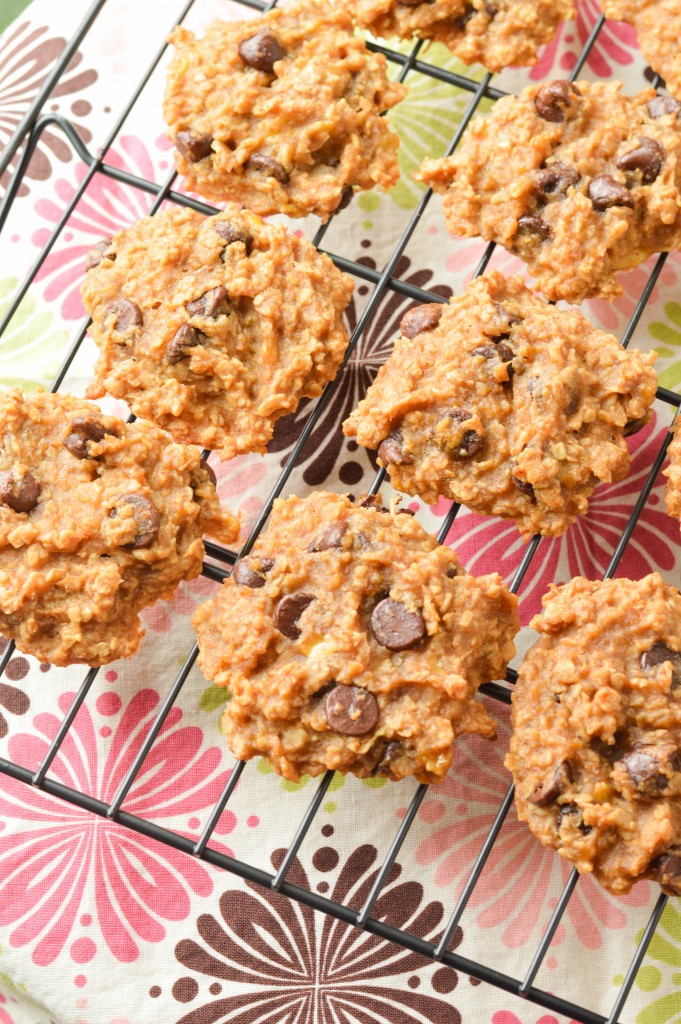 Healthy Peanut Butter Chocolate Chip Cookies
Source: The Skinny Fork
Makes approximately 16-18 cookies
Ingredients:
2 Ripe Bananas, Mashed
1/3 cup peanut butter
2/3 cup unsweetened applesauce
1 tsp. honey
1 tsp. vanilla
1/2 tsp. salt
1/2 tsp. cinnamon
2 dashes nutmeg
1 1/2 cups quick cooking oats
1/2 cup semi-sweet chocolate chips
1/4 cup chopped peanuts (optional)
1/4 cup unsweetened coconut (optional)
(other addition options: raisins, craisins, dried fruits, chopped walnuts)
Directions:
Preheat oven to 350 degrees. Cover baking sheet with parchment paper, set aside.
In a medium sized bowl, add banana and mash with a fork or potato masher. Add in peanut butter, applesauce, honey, vanilla, salt, cinnamon, & nutmeg. Stir together until incorporated. Stir in the oats until incorporated. Add in the chocolate chips and any other desired additions and stir until evenly distributed.
Drop dough by rounded spoonfuls (approx.  2 tbsp. worth) onto the prepared baking sheet, placing them 2 inches apart.
Bake for approximately 20 to 25 minutes, until cookies are set, slightly crisp on top and can easily be moved or picked up with a spatula. Remove cookies from pan and place on a cooling rack to cool.
Store in an airtight container either on the counter or in the refrigerator. (You can eat these room temperature or cold, whatever your personal preference).
Notes:
*I was out of peanuts & coconut so I omitted.
*if you use several additions (coconut, nuts, & choc chips) you may want to add a little less chocolate chips
*can use natural peanut butter
*can also make into bars, cooking for approximately 30 minutes