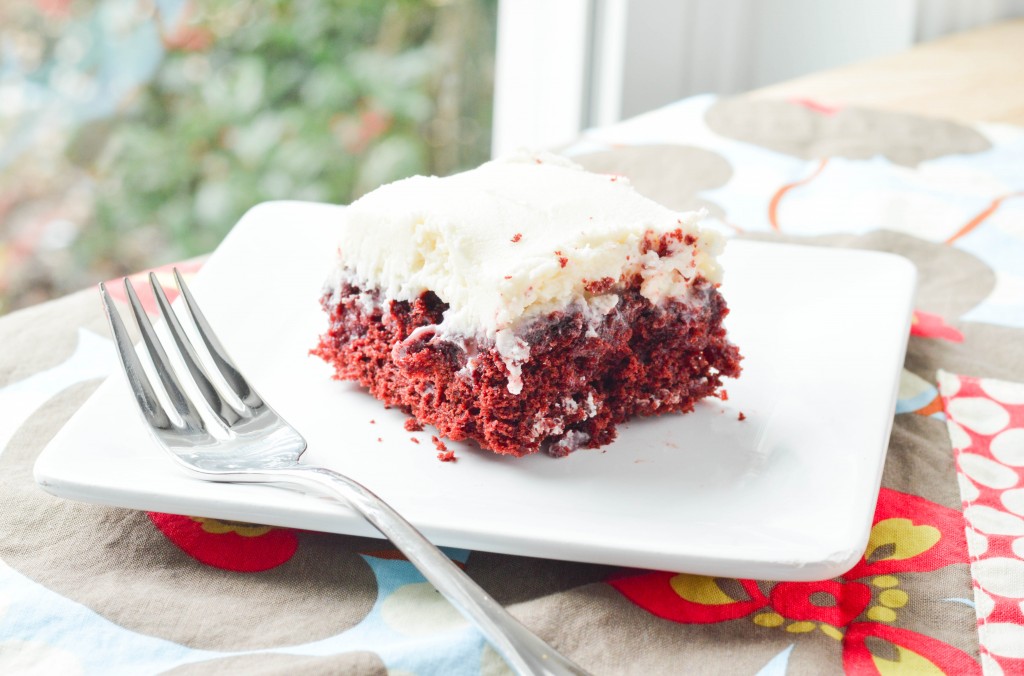 So, Tuesday I posted about getting healthier, but before we started back on track we had one more special treat. I love red velvet cake and I've had my eye on making this Red Velvet Poke Cake for quite some time but had forgotten about it. I knew this was the perfect treat to splurge on before we reigned in the indulgences. This cake did not disappoint, super fluffy and rich! It was definitely hard to stay out of, so I gave the rest of it away so I wouldn't be tempted this week!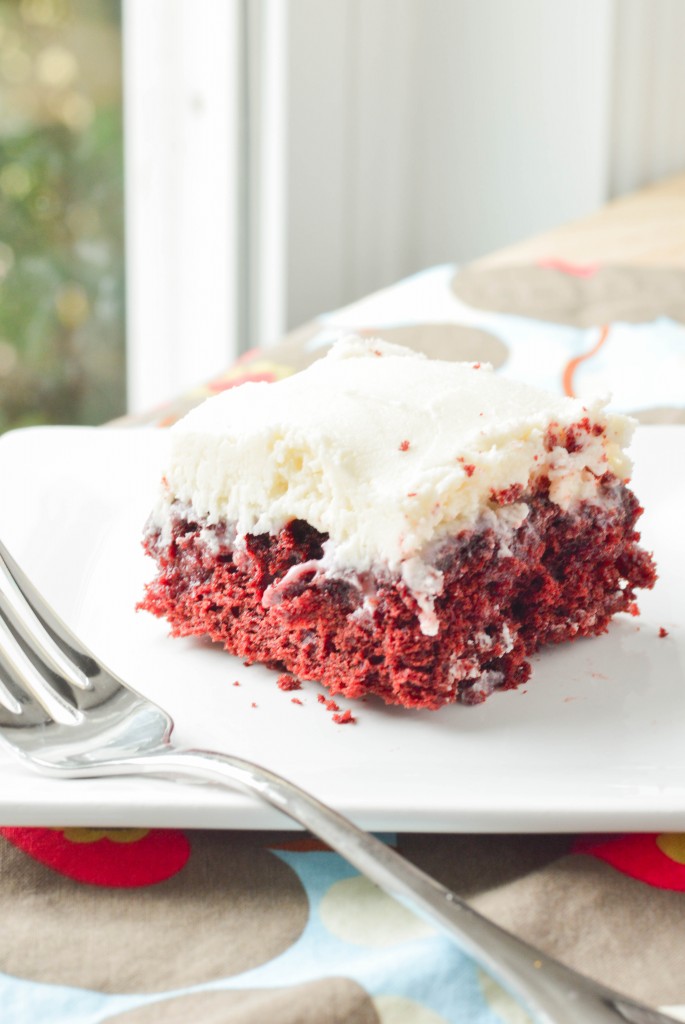 Red Velvet Poke Cake
Source: Brown Eyed Baker
Ingredients:
1 stick unsalted butter, room temperature
1 1/2 cups sugar
2 large eggs
5 tbsp. unsweetened cocoa powder
1/2 to 1 tsp. no taste red food coloring gel
1 tsp. vanilla
1 cup buttermilk*
2 1/4 cups all purpose flour
1 tsp. salt
1 tsp. baking soda
1 tbsp. white vinegar
1 (14 oz.) can sweetened condensed milk
Buttercream or cream cheese frosting
Directions:
Preheat oven to 350 degrees. Spray a 9 x 13 baking pan with cooking spray, set aside.
In the bowl of a stand mixer, add the butter and sugar and beat until fully incorporated and fluffy in consistency. Add the eggs and beat on medium high speed until incorporated.
In a small bowl, add the cocoa powder, vanilla and red food coloring. Stir together and add to the butter mixture. Beat on medium speed until fully incorporated and red in color. If needed, add a little more food coloring.
Reduce the speed to low and add half of the buttermilk. Beat until incorporated. Add in half the flour, beat until just incorporated. Add remaining buttermilk, beat and then add remaining flour. Beat until incorporated and mixture is smooth.
Add in salt, baking soda, & vinegar and beat until incorporated. Then turn mixer to medium high speed and beat for another minute or two until fully incorporated and mixture is smooth.
Pour batter into prepared pan and spread evenly. Bake for approximately 25 to 30 minutes, until a toothpick inserted comes out clean.
Take cake out of the oven and right away poke holes throughout the top of the cake using a skewer, forks, or the end of a wooden spoon. Pour condensed milk over top and spread evenly. Let cake cool completely.
Once cool, top with desired frosting. Store in an airtight container.
Notes:
*In place of the buttermilk, you can add 1 tbsp. vinegar in a 1 cup measuring cup and fill the rest of the way full with milk. Let stand for 10 minutes then use as directed for buttermilk.
*I used buttercream frosting for this as I prefer it to cream cheese icing and it was great!